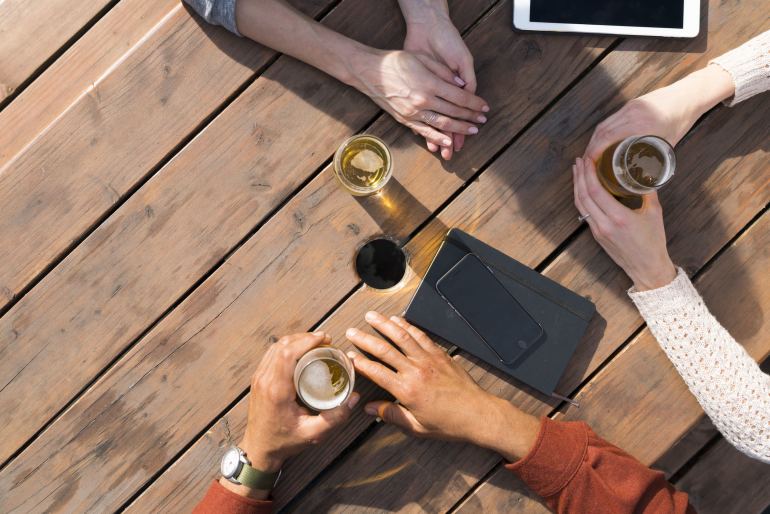 Highlights this week: Compelling social selling stats. | How to build a social selling ecosystem from IBM. | Aligning social media strategies across sales and marketing. | Some of the best sales management articles of the decade. | Some practical LinkedIn networking advice.
SOCIAL SELLING PROGRAMS
500,000 People Asked for Online Recommendations Since January 2016. People tend to trust peer recommendations the most. They are asking questions like "Can anyone recommend?" The majority of the tweets or Facebook status updates go unanswered. This is a good opportunity for brands, but even more so for employee advocacy and social selling.Employees and sales reps enabled with the right training and tools can listen and respond on their social networks with some of their most trusted connections.
_____________________________________
IBM is setting the standard for enterprise social selling. Julie Currie, Vice President Digital Sales Marketing at IBM, shared their transformational journey in her presentation at Linkedin Sales Connect 2016. Julie captures what it takes to build a successful program: Start small, learn and then scale. Engage all the right stakeholders, marketing, sales, operations, finance. They all have an important role to play. Training and enablement are key to setting a strong foundation for supporting successful social selling. Training should not just be about the tools but also best practices. Provide guidelines and best practices on: building engaging social profiles, social listening to learn about buyers and customers, and how to engage on social to support sales efforts. Content is critical. That means not just using your own brand content, but also curating 3rd party content that is valuable to your audience. The last thing you want is social sellers to be robots only sharing brand content. One of the most important points Julie makes is the value of capturing and sharing success stories. This is key to motivating and educating sales teams.
_____________________________________
Amway conducted a social selling survey and found that 85% of Americans who have purchased from social sellers are repeat customers. The research digs a little deeper on why. Social sellers are able to build trust through demonstrating their subject matter expertise by sharing valuable information with buyers. Building relationships is also key. There is a fine line between being persistent and bombarding someone on social media. It is important to find the right cadence, focus on adding value and being authentic in each interaction.
_____________________________________
Marketing and sales strategy alignment = social selling performance. Tamara Schenk, Research Director at CSO Insights, highlights only 20.7% of their global study participants reported having their social selling strategies aligned with marketing's social strategies. It seems most organizations are approaching social selling with some marketing campaigns and a few Linkedin training sessions. This impacts adoption and results. Salespeople need to understand why and how to approach social selling. Social Selling needs to be integrated into their sales methodology with training to support. And salespeople need easy access to relevant and shareable content. Each of these elements creates a strong foundation for sales performance.
_____________________________________

B2B MODERN SALES

4 & 5 caught our attention. #4 - Companies are investing in social selling. Making an investment in social selling is considered critical for the future of modern sales organizations. #5 - Communicate in the channels that your customers prefer. To create strong relationships with buyers you need to deliver valuable messages in the way that works for them at each stage of their journey. It is important to recognize that may include email, phone, face-to-face, social and increasingly messaging apps.
_____________________________________
"The digital age is turning the sales process on its head." So how do sales leaders keep calm, carry-on and meet end of year targets? These articles cover the most important topics from some of the top industry thought leaders. While we didn't manage to read them all this week, here are two of our favorites.
5 Surprising Statistics About Top Sellers: Here are a few: 91% of top sellers had medium to high scores of modesty and humility. They are clearly more focused on their customers than themselves. 85% of top sellers were highly conscientious. "They research, study and think about how they can help their customers make a good business decision."
7 Common Mistakes in Sales+Marketing Collaboration. Sales and marketing alignment is a hot topic and critical to success for modern sales. Simply put - it increases sales productivity. But so many organizations struggle to collaborate effectively. Do not ignore the problem it will not go away. You need to think about the importance of change management: ensure executive support, have someone accountable and take a long term, strategic approach - no quick fixes.
There are some great articles in this list. Have a look, I am sure you will find your own favourites.
_____________________________________
SOCIAL SELLING BEST PRACTICES

LinkedIn now has over 400 million members. If you want to build relationships, listen and research your buyers, you must have a strong presence on Linkedin. How you do this is important. Some practical guidance and best practices on: optimizing your profile for social selling, the right way to make connections (make sure you personalize the connection request) and engaging in groups.
*************************
Hope you found these useful. We look forward to sharing more next week. In the meantime Follow us on Twitter.
Kim