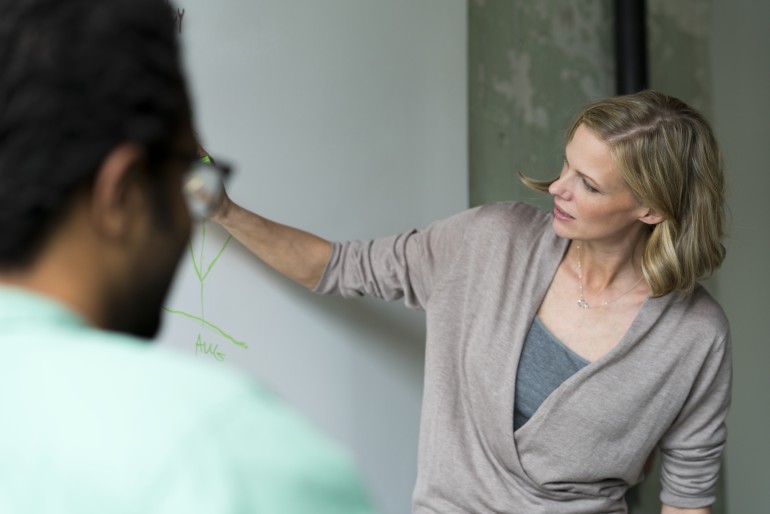 Highlights this week: Building social into your salesforce. | Is social selling just selling? | Aligning social selling and marketing. | Forrester's Mary Shea on ABM, millennials and the changing B2B buyer. | Is sales being left out of digital transformation? | Dreamforce highlights: B2B social media marketing. | Today's Twitter rules.
SOCIAL SELLING PROGRAMS
Most organizations struggle with fully integrating social selling into their salesforce. They know there is value, and it is important to evolve their organization. Alex Hisaka, Head of Global Content Marketing at LinkedIn, highlights that this is a journey, not a quick trip. You need to focus on behavioral change, the right training, leadership engagement and measurement. Help sales reps understand the value of social. The best way to do this is by sharing success stories from other sales reps. Sales reps will absolutely listen to their peers. Training needs to focus on the why and how. Executives should lead lead by example - get them engaged, trained and active on social. With the right strategy, leadership, investment in training and measurement, you have a strong foundation for success.
_____________________________________
The value of social selling is not "the ability to close a deal in 140 or fewer characters." In fact the term "social selling" can be quite misleading. Social Selling = Listening. Listening is a critical part of selling, and social media opens new ways to listen. Social Selling = Contributing. Share content, including curating content from others to help your buyers. You will be highly respected as a go-to source of knowledge, helping your buyers feel and be smarter. Social Selling = Collaborating. Collaborating across sales and marketing is critical to developing and curating effective content. Effective content increases engagement and relationships with buyers. As Peter Ostrow, Research Director at Sirius Decisions, points out , social selling is an important part of selling if done well. This requires the right training and enablement to drive these unique competencies.
_____________________________________
Nearly 80% of companies have not aligned their social selling strategies with their marketing's social strategies. And that's having negative repercussions on social selling programs. There is a lot of information on why marketing and sales need to be in sync, the how is the big question. You start with the customer. Focus on how you can solve their problems. This is a strong foundation for building a content strategy with marketing and sales aligned to the customer. Ongoing collaboration is key - feedback from sales and customer success can continue to evolve and optimize the content strategy and messaging. Mark Bajus, my colleague at Trapit, highlights Irene Sandler's excellent post on LinkedIn. Such a practical approach to marketing and sales alignment, one of my favorites. Enabling sales reps to share content and engage with customers is key. It is important to align on messaging and enable sales reps to use it to engage and build relationships. Mark shares some extremely practical guidance on how to execute.
_____________________________________

B2B MODERN SALES & MARKETING

New research has found that 74% of B2B buyers will purchase from the first sales rep who adds real value. This is driving the need for marketing and sales to work together to deliver that value. The "consultative seller" excels in this new environment. Marketing and sales need to adjust to enable and empower the "consultative seller" to create a valuable, frictionless experience for the buyer. This is more challenging today, with the buyer more in control. Account-based marketing is an opportunity for marketing and sales to collaborate. This is a growing trend that needs to be formalized and entrenched to really work. Mary Shea has done extensive and valuable research on B2B sales and marketing.
_____________________________________
"Aargh! I can see the headlines five or ten years from now: COMPANIES FORGOT ABOUT SALES." Jill Rowley, Social Selling Evangelist, highlights that most of the C-suite are actively part of digital transformation - CEO, CMO, CIO, CFO, COO, but rarely the head of sales. We know the buyer journey has changed, why isn't sales changing? Jill argues that it is not about automating the old sales processes, but transforming how we sell. Use highly sophisticated data and analysis to improve prospecting and build pipeline. Ensure salespeople are where their buyers are. Reps need to be enabled to understand their buyer's needs, educate, consult, build relationships. This requires a shift from product to a focus on the why, when and how for buyers. It certainly seems to make sense that sales is a key part of digital transformation.
Jill wrote a brutally honest follow-up: An Open Letter to Sales Leaders about Disruption. She challenges sales leaders to be more innovative in their thinking. She emphasizes "We need many more examples of sales leaders who recognize that human relationships will always matter, but that sales organizations also need digital devices woven into the very fabric of what we sell" - and I would also argue - embedding digital in how we sell.
_____________________________________
Think B2B social media marketing is ineffective? Think again. Caitlin Angeloff, Head of Global Social Strategy & Operations at DocuSign, and Ken Knitter, Manager of Digital Strategy at Bombardier Inc., did a great job in their Dreamforce session shooting down this thinking. Given that 70% of B2B buyers are researching online , it is clear that B2B marketers have a huge opportunity to connect with buyers, educate and deliver valuable information.
Ok, but how? Launching channels is easy - what is more challenging is development and managing compelling content that adds value. To be successful you need to understand your buyers, connect and engage with great content and have a two-way dialogue. How do you do this? Build a content pipeline focused on your buyers, prioritize your content, look for existing content engines (curating great content is so important) and limit your right hooks (focus more on educating obvious promotion of your product).
_____________________________________
B2B Marketers have a lot on their plate these days: increasing brand awareness, demand generation, customer experience and proving ROI. The modern marketer recognizes the value of employees and customers as advocates, the power of focusing on the customer and the importance of innovation. Employees and customers can and should play a key role in driving brand awareness - it can be a competitive advantage. Marketing automation plays a critical role in demand generation. Proactive social listening and engagement can garner important insights and transform customer experience. Enabling sales reps for social selling can be the driving force to bring marketing and sales together. Marketing and sales must align their strategy and collaborate on content. Sales needs to be enabled with the right technology, content and training.
_____________________________________
SOCIAL SELLING BEST PRACTICES

Bob Lefsetz, nails it with Today's Twitter Rules. While Bob hails from the music industry, these rules are universal and so applicable to social selling. Here are some of our favourites: "No Self-Promotion" - we have chose to follow you because we value what you have to say, not because we want to see pictures of you at your speaking engagement. Share "News We Can Use" - add value through sharing insights and expanding the views of your followers. "Have a Personality/ViewPoint"- add your opinion, be human. Bob shares important perspective on context. "Twitter is not Facebook, nor is it Snapchat." You should focus on building a community and sharing information that adds value to that community.
*************************
Hope you found these useful. We look forward to sharing more next week. In the meantime Follow us on Twitter. Oh and we promise to follow the "Today's Twitter Rules"
Kim