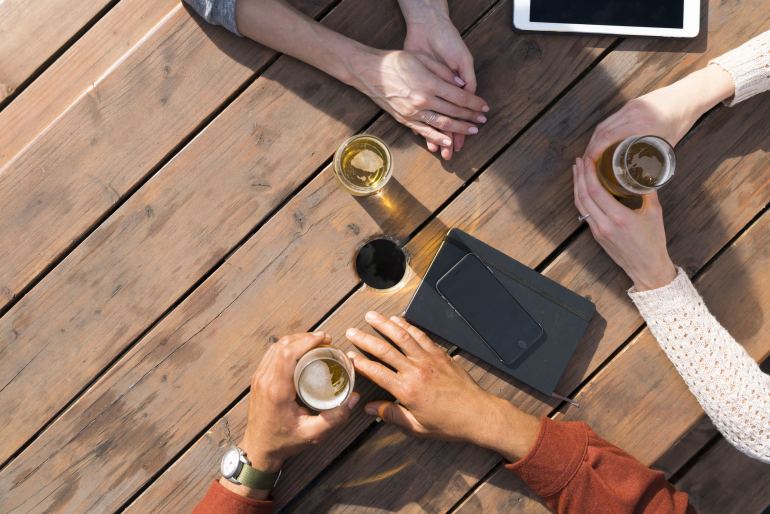 Highlights this week: Has social selling gone mainstream? | Step by step social selling. | Highlights from Forrester B2B conference and the Linkedin Social Selling Roadshow 2016 in London. | Pivoting your social media strategy to support Account-Based Marketing.
SOCIAL SELLING
Big data, the gig economy and social selling. Buzzwords or strategies with, mainstream business impact? Did these predictions from Fast Company come true? We re-read this one from last year. Let's focus on social selling. More and more organizations are seeing the value and are investing in enabling their sales teams to use social media effectively. These stats were shared from a study in 2015.
79% of salespeople who use social media outsell those who don't.

53% of buyers said they listen to peer recommendations before they make a purchase.

65% of buyers feel the vendor's content had an impact on their final purchase decision.
We have continued to see these results and stats throughout 2016. Sales leaders are recognizing that they need to enable their sales teams to sell on social media. But we do know that there is more and more noise on social platforms. Businesses and sales teams that can break through the noise with valuable content and authentic voices will succeed. Those that are investing early are cultivating personal relationships with their buyers and this is impacting sales.
_____________________________________
The importance of executive sponsorship, education and best practices: great dialogue from participants and presenters shared on Twitter.
We created a Twitter Moment with some of our favorites.
_____________________________________
Tim Hughes interviews Simona Pop, tech and social lover. She shares some very practical advice and steps for social selling research, listening and engagement. C-level executives are on social media, they may not be active but they are researching and listening. Simona starts her research on LInkedin, moves to Twitter, then direct messaging (DM) or email and finally a phone call. This approach enables you to get to know a buyer, break the ice and start the first stages of building a relationship. Twitter is not as formal and people are generally more open to a relationship. You are able to give signals through likes, retweets and replies to start conversations. This is how you gain permission to DM someone on Twitter, continue the conversation and if it is a good one, take it offline. Simona shares an important message: the buying journey has changed and we need to change the conversation. Get rid of the jargon and tech specs, and focus on communicating how a product can solve a buyer's business problems.
_____________________________________
B2B MODERN SALES & MARKETING
How do you enable your teams for 2017? The answer is clear: Training, alignment with marketing, tools integration and social selling. All these efforts need to support sales moving from a closing mindset to helping customers and becoming trusted advisors.
Training needs to focus on changing behavior and mindset. This should include how to support leads through their buying journey, listening and using business insights to have effective conversations.

Sales and marketing alignment delivers higher quality leads and enables sales teams with highly relevant content to support and educate buyers throughout their journey.

Integration of marketing automation and CRM ensures sales has the right information to start conversations with their buyers.

Social selling enables sales to build relationships with buyers, earn trust and establish themselves as credible advisors. With most research happening online, you need to be where your buyers are.
Each of these efforts, shifts the sales reps focus to helping not selling, which is critical for success given the modern buying journey.
_____________________________________
Forrester held it's annual event for B2B marketing and sales enablement leaders this week in Miami. There were great insights, conversations and messages from Forrester and industry leaders on how to navigate the rapidly changing B2B environment. One of the strongest messages: "74% of buyers will purchase from the 1st seller to add value. Think about that. via @sheaforr"
We created a Twitter Moment with some of our favorites.
_____________________________________
Your social media strategy should be aligned and enable your account-based marketing. Listening and learning about your target accounts, sharing highly relevant content and building relationships are key. While this article focuses on your brand social media marketing efforts, these elements are all critical to success for your account-based sales reps on social media:
Listening on social media enables you to better understand what is important to your target accounts.

Share content that is highly relevant to your accounts. This might include case studies and 3rd party content specific to their industry.

Engage with your accounts by liking, sharing or replying to their content. Look for ways to include links to content that may provide insights.
Remember this should not end after deals close. Listening, sharing relevant content and engaging with your customer is important to continue to build relationships with your accounts.
_____________________________________
Has the modern B2B buyer journey made sales reps irrelevant? Eliot Burdett, CEO of Peak Sales Recruiting, shares some important reasons why not:
Buyers are disengaged from the buying process. A well-trained sales rep can engage and educate buyers re-engaging them in the process.

While buyers may be doing much more research online, they want an educated sales rep that can guide them through the process, answering their questions, acting as a trusted advisor.

There is an increasing need for a consultative sales approach to deliver customized solutions that address business needs. Great sales reps have business acumen, take the time to understand their buyer's business needs, do their research, listen and focus on solving business problems.
While the robots are not taking over yet, sales reps do need to reboot and focus on these key behaviors.
*************************
Hope you found these useful. We look forward to sharing more next week. In the meantime Follow us on Twitter.
Kim