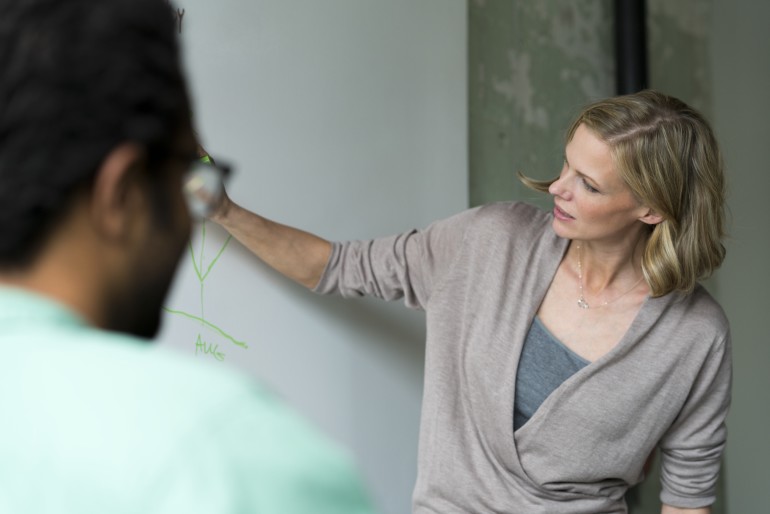 Highlights this week: A bit of LinkedIn training is not social selling training. | The importance of effective governance. | Keys to sales enablement success. | #DF16 Dreamforce takeaways. | Habits of successful social sellers. | RIP Cold Calls.
SOCIAL SELLING
Social selling cannot be treated as an add-on; it needs to be integrated into existing processes and training to be successful. Tamara Schenk, Research Director at CSO Insights, uses the example of trying to be healthier and get fit. You cannot go to the gym and eat a bit of fruit once a week and expect results. So many organizations think a bit of Linkedin training will achieve results for social selling. This will just lead to frustration by your sales team because social selling will be thought of just another thing they need to do vs. something that will help them sell more. Adoption will be low, and you will not see results. So what does effective social selling training look like? Alignment, integration, focus, and speed. Align marketing and sales. Integrate social selling best practices into your sales methodology and processes. Focus your efforts on enabling sales teams with the right skills, technology and coaching. Support sales with easy access to relevant and shareable content for their buyers. Each of the elements will accelerate the speed at which your sales team will adopt social selling and see results.
_____________________________________
Governance is a key to success in social media, especially in highly regulated industries like insurance. Over the course of this blog series, Accenture has covered some important topics for social media in the insurance business: being customer-centric, requiring tangible ROI, having robust analytics capabilities and establishing a test-and-learn approach. Governance rounds out the series as the foundation for long-term success. Embedding social media into a business requires transformational change for people, process and technology. In an industry like insurance, there are risks and considerations: brand and reputational risk, data privacy, security, regulations, customer engagement and retention. A cohesive strategy with clear governance over people, process and technology helps to not only manage the risk but also maximize the opportunity to increase customer engagement leading to sales and customer retention.
_____________________________________

B2B MODERN SALES & MARKETING

Strategy, people, process, content, tools and technology are all key to B2B sales enablement success for modern sales organizations. Matt Heinz of Heinz Marketing recaps the Dreamforce 2016 panel on sales enablement. Strategy sets the foundation. You need to know what problem you are trying to solve and how you will measure success. Simply put, it is about making sales teams more efficient and effective. Measurement for this would be selling time and increasing conversion rates. People is two-fold. Know your buyers more intimately than ever before. Understand their needs and motivations. Deeply understand your sale reps, how they learn and operate. This will ensure you enable them for success. Content that adds value for your buyers at each stage of their journey is key. Make it easy for your sales team to find and share the content at the right time. Tools and technology must be enablers of each of the above. "Don't let the tail wag the dog, select and integrate tech tools that solve your most important problems"
_____________________________________
"Be Your Best and Be a Trailblazer", were key themes at Dreamforce this year, both of which really speak to the future of sales. Colleen Francis highlights her top takeaways and will continue to dig deep on these topics over the next couple of weeks. Trailblazing is not just about innovative products and leading the market; it should be about your customers, as well. Trailblazing organizations are meeting customers' new expectations in the buying process, treating customers like partners and facilitating buying experiences. This sets the tone for customer success. Sales teams can be trailblazers by capturing and sharing success stories from leading sales reps. These success stories can help drive new behaviors and train the whole sales team. Colleen's final point is important. Everyone has a role to play in customer success: marketing, sales, product and support. Looking forward to more from Colleen.
_____________________________________
"Boilerplate recitation of features and functions won't move today's B2B customers." Customers have done their research and are looking for for insights, they want to learn something they don't already know. Sales needs to be prepared with the knowledge and content to add insights. Leading sales people are becoming subject matter experts on their industry and solutions, acting as consultants to their buyers. But this is only half the equation. Through "digital breadcrumbs" and social data, it is now easier than ever to understand our customers. Marketing knows more and more about leads. It is important that marketing shares this information when passing leads to sales. Marketing invests time in understanding buyers through research and customer personas. Sales should be involved in this work as a reality check, and to add any missing information based on their experience. Marketing and sales need to collaborate to move B2B customers effectively through their buying journey.
_____________________________________
SOCIAL SELLING BEST PRACTICES
Developing a routine, behaving like a consultant, engaging and building relationships are all key to social selling success. Wendy Van Gilst, Social Media at Sage, shares some simple and important social selling habits. Behaving like a consultant is critical to engaging buyers today. Successful social sellers are not talking about their product. They are focused on adding value through sharing interesting content. Sharing insights on the industries and markets they are selling into positions them as subject matter experts and trusted advisors Social sellers are prepared by doing their research and listening on social media. They know what social media platforms their buyers are using, what is important to them and engage with them prior to ever reaching out directly. Successful social sellers are focused on building relationships through engaging in communities and adding value.
_____________________________________
From the rolodex to social networks, the evolution of creating warm introductions. The "rolodex dump" used to be the only way to try and find warmer introductions for sales. Today Linkedin, Facebook and other networks are the new rolodex. But you need to make sure you leverage these networks appropriately and authentically. For example if an executive new to your organization has a contact at a company you are selling to, make sure you have their permission to reach out. Ideally you want someone to make the introduction for you, given that it is more authentic and impactful that way. There are so many opportunities through today's social media and communication platforms to warm up your leads. Warm introductions is just one of them.
*************************
Hope you found these useful. We look forward to sharing more next week. In the meantime Follow us on Twitter.
Kim