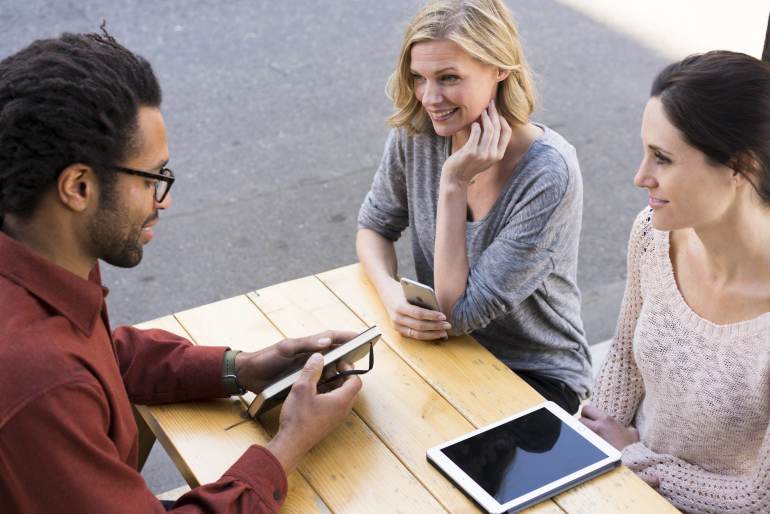 Highlights this week: 3 rules for successful social selling | 2017 predictions are rolling in: more CEOs on social media, Forrester says a sharpened focus on the the customer for B2B marketing in 2017 | Connect with customers on their own terms | A guide to B2B marketing | How to stop yelling at your customers.
SOCIAL SELLING & SOCIAL MEDIA
"First, let's get this out of the way – social selling ISN'T direct sales via social media." It is about building relationships and exercising influence to generate engagement with your audience, which, in the case of sales, includes your prospects, leads and accounts. Here is a simple, clear and important approach to finding success with social selling:
Target Clearly: Understand who you are trying to target, and go where they are. LinkedIn search, LinkedIn groups and Twitter hashtags are important tools to target your content and engagement to the right audience.

Share Generously: Curate and share content on topics that you know your audience is interested in. Your sharing should not be about you, your product or selling it should be about building credibility and influence.

Add Value Selfishly: Once you have targeted clearly and shared generously can you afford to then add value selfishly. This doesn't mean you start to actively talk about your product, but you focus your sharing and engagement on how you can help your target audience solve their business problems.
_____________________________________
The CEO should be taking the lead on social media as the public face of an organization. In this podcast Suzie Shaw, CEO of We Are Social Australia, explores the role of social media in business today for CEOs and brands. For CEOs there are significant benefits around building profiles and trust as individuals and for the organization. However, for many CEOs there are concerns around privacy, what to talk about and will anyone listen. So how do you get started:
You need to have a strategy as to why you are doing this - this will help you choose the right platforms, a content strategy and how you want to engage

Choosing the right platforms is important. Facebook should probably stay private for friends and family. While LinkedIn and Twitter are probably the right platforms for business and engagement. For global audiences you may need to look at other platforms such as WeChat and Weibo in China.

Sharing valuable content: while many social media platforms are becoming more about media than social. It is critical for brands and individuals to focus on good content that educates and adds insights.

Building an audience is done through sharing valuable content and engaging with others. For example on Twitter, you start to follow others, like, share, reply to their content, and they will follow back.

Having a CEO active on social media sets the stage for the organization, extending social across customer service, HR, marketing, communications and sales. For each business it is important to start with a strategy, understand your audience and build your approach from there.
_____________________________________
"People want more interaction from CEOs on social media, and to be able to integrate their personal and business brands in a way that generates opportunity." John White, Brand Ambassador at beBee (European social media platform that has attracted 11 million users in its first year) shares some of his predictions from working on the growth of the social network:
More top executives will be on social media: While that is not the case now (a study from CEO.com showed that 61% of CEOs in The Fortune 500 ). A few early adopters are demonstrating the value. Consumers are looking for deeper connections with brands, and CEOs on social may be one of the keys to achieving this.

Networking will become interest-based: Most social network platforms have been focused on connecting you with people you already know. This puts the focus on the past vs. your current and future interests. Building connections and networks based on interests expands opportunities and breaks down the barriers of traditional networks. This definitely expands opportunity for at the intersection of personal and business.

Will we see these predictions come true in 2017?
_____________________________________
B2B MODERN SALES & MARKETING
2017 will be the year of the customer, with sharpened focus through Account-Based Marketing (ABM). ABM, while not new it has surfaced in 2016 as a real business goal. Forrester is predicting in 2017 B2B marketers will shift their focus from their products and services to being highly focused on individual customers and their needs. So how will this play out? Forrester expects we will see:
Consolidation in the tech vendor software space as CMO's look for ways to increase collaboration and breakdown silos.

The right talent will be needed on the marketing and sales side to use data and insights to drive customer engagement.

Marketers will look for ways to crowd-source content, build B2B communities, implement advocate marketing and create messaging focused on customers.

There is definitely urgency for this shift as customers are driving the need. "Change is not really an option." Businesses who do not re-focus their efforts will lose out to those who do.
_____________________________________
"Engage with connected customers on their terms." I think the title says it all. Adam Wakefield from Media Update, highlights the importance of brands understanding connectivity. He references Connected Life, an annual study of connectivity that includes 70,000 people across 57 markets. The study covers device usage, digital activity, online and offline purchase behaviour:
Markets like Africa and Asia are dominated by mobile usage, as mobile has "leap-frogged the PC."

In the US, people access their phones on average 83 times per day.

People use their mobile devices to access messaging apps, social media, blogs, forums and online articles.

So how do you reach these customers? It is about engaging with them on their terms in these environments. For social media, this means being authentic, having conversations, building trust, and sharing. These are best practices for brands and sales reps on social.
_____________________________________
For B2B Marketing on Social Media, it is not about community size; it is about creating engaging communities around topics that matter to your customer. Jörgen Sundberg, founder @LinkHumans & @UndercoverRec, talks to Katie Canton about what it takes to be successful in B2B Social Media. For Informa, it is about building niche communities in the pharmaceutical industry and agriculture. The size of the communities is not important. The focus is about giving value to these communities through content and engagement. Katie shares some important considerations for B2B marketers:
Start with a strategy, with clear objectives so you know what you need to measure

Engagement is an important objective and measurement. Through engagement you are able to move customers through the funnel.

Valuable content plays a critical role in engagement. Focus on what is valuable for your communities.

Communication and training are key to ensure the organization understands the value and best practices for social media.

Don't allow social media teams to work in silos, you need to share best practices and learnings across the organization

Employee Advocacy & Social Selling: Katie says you would be foolish not to implement these programs for B2B marketing and sales. For Informa, their journalists and analysts already have a platform through their social networks. They just need to be enabled and empowered with content and training.

Some of Katie's favourite B2B examples are Hubspot and Marketo because they are telling stories and sharing valuable content.
_____________________________________
"Spray and pray" marketing is the equivalent of standing in the middle of the room at a party and yelling "be my friend." It doesn't work. When making friends it is about finding people to connect with around shared interests, topics of conversation. The same concept applies to B2B marketing and sales. One way to do this is to create an "Ideal Customer Profile" (ICP). Traditionally this might include industry, geography and company size. However we now have the opportunity to get into more detail and include attributes such as their marketing technology usage and the buyer's social media footprint and activity. The ICP is an important part of Account-Based Marketing, to better understand the buyers at your key accounts and what is important to them. So how do you go about creating and ICP?:
Ask your sales team: Get qualitative input from your sales team and gain alignment. You may learn about verticals where buyers are more receptive to your product.

Look at historical performance: Use CRM data to look for commonalities on closed deals as well as retention. Look at industries and also the attributes of the buyers.

Look ahead. Use marketing intelligence platforms with predictive intelligence to help find your ideal customers.
Taking the time to build your ICP helps you to focus on your most relevant prospects in a way that will resonate. It will help you to build your content strategy and engage with customers in a highly relevant way vs. just "yelling" at everyone.
*************************
Hope you found these useful. We look forward to sharing more next week. In the meantime Follow us on Twitter.
Kim