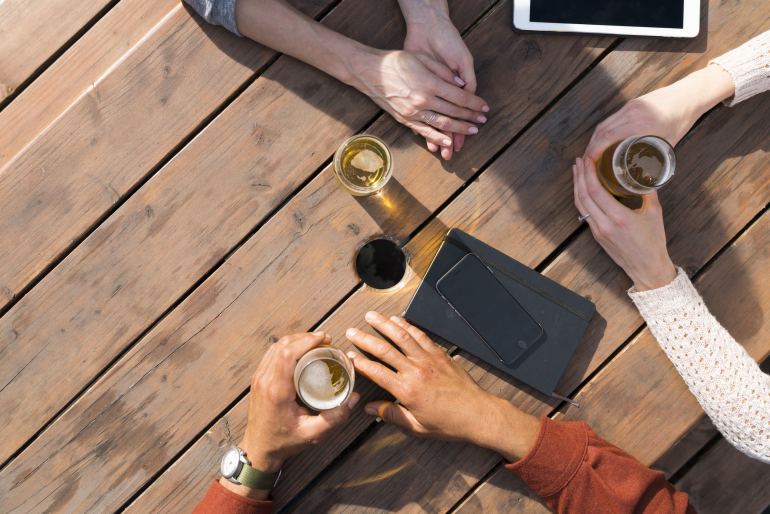 Highlights this week: CIO Influencers and Twitter | Social Proofing your Sales Team | Death of a Technology Seller | A B2B sales expert shares his buying experience |
It is a quieter week as many in the US are focused on Thanksgiving, sharing time with family and friends. We still have a few great nuggets to share.
A Happy Thanksgiving to everyone in the US. In the spirit of thanks - we want to thank all of the incredible sales, marketing and social media experts and thought leaders who share great content each and every week. It is a pleasure to read and curate your incredible insights and knowledge.
SOCIAL SELLING & SOCIAL MEDIA
The 'Internet of Things', cloud, big data, artificial intelligence, leadership, security and Pokemon Go - all topics that CIO influencers were talking about on Twitter last quarter. Leadtail, tracks social insights for B2B decision makers. In this case they looked at CIO's and their influencers. So what can we learn from how CIO's use Twitter and who influences them?
Top influencers are engaging with CIOs through video content and Twitter chats. (Michael Krigsman runs CXOtalk. Afshar and Ray Wang produce DisrupTV and Myles Suer runs the popular #CIOchat)

The key to having engaging Twitter conversations is listening, being open, accessible and sharing quality content that is helpful to others.
Vala Afshar, Chief Digital Evangelist at Salesforce, was ranked the top CIO influencer, and he articulates clearly what it takes to influence others on social media:
"To become a trusted advisor on social media, one must consistently deliver quality content. Quality content educates, inspires and ignites action....social CIOs can use Twitter...and other social networks, to teach and be taught. The secret to having engaging, productive conversations on Twitter is to be interested first, generous, open-minded, accessible and intentional about being helpful."
_____________________________________
63 percent of consumers indicate they are more likely to purchase from a site if it has product ratings and reviews. Personally, I make very few purchases these days without looking at reviews and/or asking my network. This is essentially the psychology of social proof. While we can see the connection clearly for B2Bc, social proof also plays an important role in B2B buying decisions. B2B buyers consult industry experts, analysts, their peers and colleagues as well as searching online. B2B sales and marketing need to demonstrate expertise and build trust in order to influence buyers. So how do you social proof your sales team?
Build and maintain social media profiles that communicate expert advice and have strong networks in the industry that you are selling into.

Identify and develop an area of focus for sales reps. This can be a specific vertical like the tech industry and/or a geographic market.

Deepen marketing and sales alignment through ensuring marketing resources are focused on enabling sales reps. This should include allocating resources to create and curate relevant, industry related content to enable the sales team to build and demonstrate their expertise.

This approach will help to ensure sales is well positioned to influence the modern B2B buyer through education and adding insights.
_____________________________________

Tiffany Hsu, shares some practical tips for social selling on the Salesforce Blog. While none of these tips are new, they are extremely important considerations and reminders.
Put your best face forward. Make sure your social media profiles are optimized for your buyers. Invest time in positioning yourself as an expert and trusted advisor. You may only be using certain social media platforms actively for social selling, but you should always consider everything you share and say on social media. Consider your potential audience and the impact of what you share on your personal brand and credibility.

Find your audience, and go to them. Take the time to understand what social media platforms your audience uses and how they use these platforms. For B2B, LinkedIn and Twitter may make more sense, whereas for Real Estate, Facebook can be a great place to engage with homebuyers.

Make a personal connection and be relevant. With the opportunity to listen and do research on social media, there is no excuse for reaching out to a prospect cold. Understand what is important to a buyer and engage with them in a relevant way.

Provide value and join conversations. Regularly share insightful content that is focused on your buying audience. Position yourself as an expert. Listen and join relevant conversations on Twitter. Join LinkedIn Groups where your buyers and their influencers are active.

Don't forget about your other communication channels! Email, phone, messaging and in-person are all important channels for engaging, building relationships, nurture and ultimately close deals. Social selling does not mean all social media all the time.
_____________________________________
B2B MODERN SALES & MARKETING

"Technology is impacting everything around us. So doesn't it make sense that the process of selling and buying technology should change as well?"
Sudheesh Nair, takes a unique and insightful approach to what it takes to build and lead a modern sales team. Rooted in psychology he approaches the challenges faced by sales organizations to evolve and succeed in the modern buying environment:
Information access: Buyers have access to information, reviews and insights from other customers. They are doing their research. Sellers no longer drive the process.

The market and competitive landscape is changing rapidly: Previously, the sales organization held a kick-off and armed the sales team with everything they needed to know and do for the upcoming year. The technology market and competitive environment is evolving too fast, for this approach to work today.

Traditional sales processes and habits are no longer effective: Sales reps traditionally followed processes and had an approach to take with each buyer reaction. These habits are developed over time and are hard to break.

High stress: Sales can be a high stress environment. The pace and rate of change in this environment has increased the potential for stress.
Sudheesh thoughtfully considers how the modern seller and sales organizations need to change, including the role mindfulness and exercise can play in managing stress and coping with change.
The modern seller:
Be the most curious person in the room. This includes, asking questions and listening to understand a buyer's perspective.

Be acutely empathetic. Deeply focus on the buyer and taking the time to understand their business, challenges and what problems they are trying to solve.

Be collaborative: Sellers need to be collaborative with their team and the rest of the organization. Sharing learning from buyers, best practices and competitive intelligence with their team, marketing and product is critical given the fast pace of change.

The modern sales organization:
Hiring: Hire for the traits critical in the modern sales world: independent thinking, empathy, collaboration and exceptional curiosity.

Sales team environment: Leaders must create an environment with less stress and that supports sellers to take the time be curious and focus on buyers needs. Sudheesh, suggests mindfulness and physical activity as important approaches to managing stress and encouraging the right behaviours.

Sales enablement: Sellers need to be enabled with training and tools that are focused on the behaviour change required to be successful. Training should not be focused on repetitive sales processes that don't take into account curiosity and empathy for the buyer.

Compensation: Compensation needs to be aligned to fostering learning, collaboration and teamwork.

I have done my best to highlight some key takeaways, but I recommend taking some time to read this interesting and thoughtful approach to modern technology sales.
_____________________________________
"B2B sales is now a totally different vocation in 2016 and beyond, than it was only 10 years ago in 2006," states Graham Hawkins, B2B sales leader. With the balance of power shifed to the buyer, sales needs to stop pushing their agenda. Graham shares a great example of modern buying and selling as he currently is searching for a marketing automation solution:
Through his network he heard Hubspot was an innovative solution, so he visited their website and eventually downloaded a white paper.

He received a phone call from a Hubspot sales rep (Inbound marketing specialist - a title much more focused on the buyer). The rep was polite, professional and had obviously taken the time to research Graham's company.

The rep, did not jump into traditional sales mode. He asked questions, focused on Graham's business needs and listened. He shared some important insights, but no mention of product or price. That was it, the end of the call, no pushing his agenda, he just left it with Graham to get back to him. That is certainly different from 2006.

A few weeks later, the sales rep followed up with an eBook that was relevant and useful.

Graham shares that based on this experience, Hubspot is clearly the vendor under consideration for his business needs. They have taken the time to understand Graham's needs, focused on his business and his buying journey.
Sales can no longer drive a buyer through their sales process. The buyer is on their own journey and sales needs to find a way to be a part of that journey in the most impactful way.
*************************
Hope you found these useful. We look forward to sharing more next week. In the meantime Follow us on Twitter.
Kim