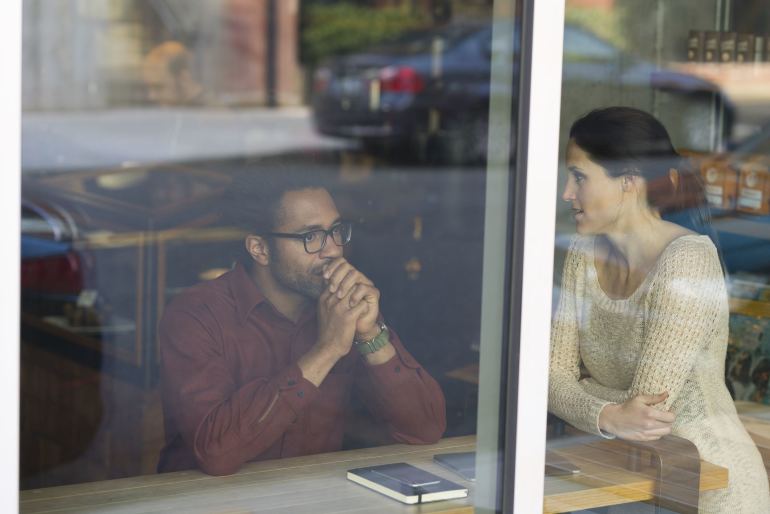 Highlights this week: 84% of B2B Sales Start with a Referral — Not a Salesperson | B2B Sales Reps Must Use Social Media | B2B Marketers Must Have the Best Answer | Why Account-Based Marketing is Right for B2B | Content Is Vital, But It Isn't King
SOCIAL SELLING & SOCIAL MEDIA

More and more buyers are avoiding salespeople. Research shared in this article from Harvard Business Review states, it takes 18 or more phone calls to connect with a prospect, callback rates are below 1%, and only 24% of outbound sales emails are ever opened. Sales organizations need to change their outdated approaches and thinking. Social selling is a critical part of that shift. So why does social selling work? Because your buyers are actively using social media to research and ask their peers for recommendations. The article shares compelling stats that continue to reinforce why B2B sales reps need to be using social media:
In a B2B buyers' survey, 53% of the respondents reported that social media plays a role in assessing tools and technologies, and when making a final selection.

(82%) of the B2B buyers said the winning vendor's social content had a significant impact on their buying decision.

A LinkedIn survey found that B2B buyers are five times more likely to engage with a sales rep who provides new insights about their business or industry.

The case is clear, so how do you get started?
Marketing and sales need to align to build a strategy, plan and set common goals.

Develop a customer-centric content strategy.

Choose technology that enables sales reps and integrates with other key tools (CRM).

Train sales reps on social media and social selling best practices.

This approach enables and empowers sales reps to use social media to research buyers, listening for intent to purchase, share educational content and answer questions. They are building relationships in a highly relevant, contextual and engaging way with modern buyers.
_____________________________________

As per the above article, the research is compelling, buyers are using social media, they are doing their research. Social selling is a critical way for sales reps to engage and build relationships. 78% of salespeople who use social media perform better than those who don't. Source: HubSpot.
This article includes a powerful example:
A sales rep is able to Identify a prospect's intent to purchase through social listening.

The sales rep engages with the prospect leading to further conversations.

Interestingly, this opportunity came from listening to the buyer engaging with a competitor. Certainly an important lesson learned about the right balance of public vs private conversations.

The sales rep had also taken the time to optimize their social media profile for buyers. They positioned themselves as an expert and a resource through their profile. This should also include a regular cadence of sharing educational, highly relevant, insightful content.

This is just one of many examples of how listening, sharing valuable content and engaging leads to opportunities and sales. Social selling is now table stakes for successful B2B sales reps.
_____________________________________
B2B MODERN SALES & MARKETING

B2B marketers are investing in content marketing. But the answer to achieving value from their investment is not more content but better content. Lee Odden, CEO of TopRank Marketing believes, "the 'more' vs. 'better' challenge starts with customer empathy." Your buyers are researching, asking questions and B2B marketers must provide the best answer. Great content marketing delivers those answers. A customer centric approach, moves from product focused content, to content that addresses customer needs, challenges and questions. An effective B2B content marketing approach is not only customer-centric in the content development but in the distribution. Ensure content can easily be accessed, found and consumed through search, email and social media. This is where customers are actively looking for information and asking questions.
_____________________________________

Content is not King. This is a bit shocking, as we have been hearing this for years across the industry, at conferences, on blogs, on social media... Augie Ray, Customer Experience advisor at @GartnerDigital, is saying it is still important, just no longer King. "The king isn't your content but your customer." A focus on customers is critically important, but why does it matter what is king? Because customers are more empowered than ever. They do their research online, innovative consumer brands are delivering incredible customer experiences. Customer expectations are high. By focusing on the customer as King, you then develop content and experiences that cater to the King. As Augie then says "the keys to kingdom are yours."
_____________________________________

Jay Baer of Convince and Convert states, "B2B marketing is harder than ever. Audiences are finicky. Bosses are panicky. Salespeople are hungry (for leads)." Jay has partnered with Terminus to develop this guide on Account-Based Marketing, what it is, why it works and how you can implement it at your organization. Highlights include:
ABM is about targeting accounts vs. specific leads at a company, recognizing the importance of speaking to a collective business and group of decision makers not just a specific individual.

Successful ABM requires close collaboration between marketing and sales.

ABM is not a marketing campaign, but a strategy, a program, a new way of doing business.

You need to focus on the right channels where your contacts are the most active, with content that is relevant.

The guide includes high-level, practical guidance on how to get started including identifying accounts, expanding your contacts and the right way to engage with accounts.
_____________________________________

Focusing on the bigger picture is key to creating marketing and sales alignment. Marketing is often challenged with driving a higher quantity of leads. While sales is more focused on quality as they need to turn those leads into customers. There is an opportunity to bridge the gap through increased collaboration and a joint focus on the end result. Some tactics to increase alignment include:
Executive commitment and active engagement will help to drive the change, reducing any tensions and ensuring everyone is on the same page.

Hold regular meetings, with a clear agenda, focused on knowledge sharing of learnings and best practices.

Gain alignment on metrics focused on revenue generation.

Develop a content strategy together, that is focused on the customer

Make it easy to for sales to access contextually relevant content to share with buyers at the right time.

With a keen focus on increased collaboration and alignment on processes, both marketing and sales are set-up for better performance.
_____________________________________

Marketing and sales are focused on the same end goal, but are often working in isolation. However, it is clear there is value in working together. Research has shown that alignment between marketing and sales leads to a 208 percent increase in revenue. Technology can be an enabler for great collaboration. But remember, it is not a solution without a plan. Probably the the best example is a customer relationship management platform (CRM). With the right processes and training a CRM is a powerful tool for marketing and sales to collaborate and focus on the customer.
It is a shared knowledge base, all about the customer. Everything marketing learns about a lead should be captured and then shared with sales.

Sales is then armed with all the information needed to take a relevant, tailored approach based on the business needs of the specific lead.

Marketing will also have insights on how a lead progresses, improving their ability to qualify future leads.

Ongoing communications and collaboration is key to ensuring the CRM continues to enable these processes.

Ongoing training and support is critical to driving adoption of your CRM. While the CRM is an important foundation, other technologies such as marketing automation and social selling are key enablers for sales. It is important to ensure there is seamless integration of these technologies, for ease of use and adoption.
*************************
Hope you found these useful. We look forward to sharing more next week. In the meantime Follow us on Twitter.
Kim