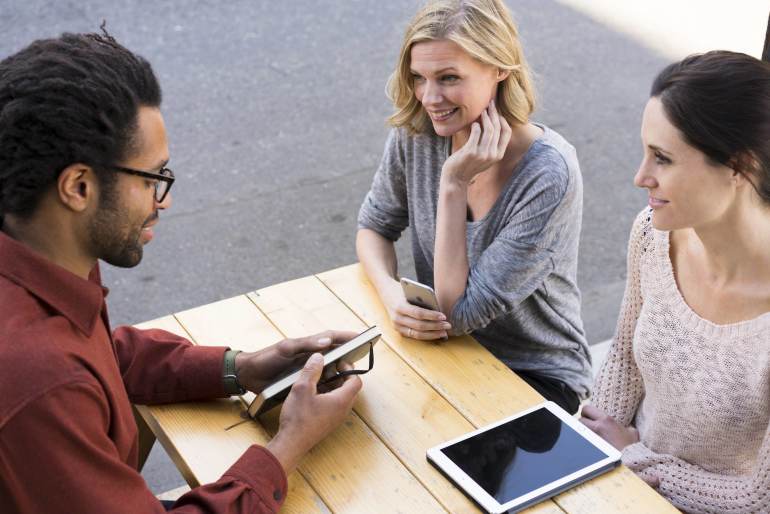 Highlights this week: 5 Ways B2B Sales Reps Should be Using Social Selling | How an online influencer found her 'why' | Here's What Your Digital Transformation Strategy is Missing | How to handle detractors to digital transformation | Sales Productivity Tools: Why Rep Buy-In Matters | The State Of B2B Sales Enablement
SOCIAL SELLING and SOCIAL MEDIA
The power of social media can help salesforces relate to and engage more intelligently with buyers. But social selling isn't the aimless use of social media. Rather, it's the use of social media to support and enhance smart sales processes.
On the Salesforce Blog, Shelley Cernel, Senior Marketing Manager at KnowledgeTree, shares ways sales reps should be using social selling. Here are some highlights.
Prospecting and Targeting: The first step is to understand your target market and how they are using social media. This will help you determine the best way to find and engage with your prospects on social media. The first step is to listen in order to be able to engage prospects with relevant content and insights during the sales process.
Social media provides access to unique behavioral data and buying signals and sentiments that can be very helpful, including where prospects encounter pain points, what's happening at their company or in their industry, and their responsibilities at work.
Networking and Connecting. Build relationships with your network by sharing relevant content, starting conversations, and asking questions. Engage with your prospects by liking or commenting on their posts. Consistent and authentic engagement will help to build awareness and your relationships with multiple decision makers at an organization.
Educating and Nurturing. Content plays an important role in educating and nurturing prospects throughout the B2B buying process.
And though buyers may have increased access to information, that does not necessarily mean that they are better informed. Nurture prospects with value-add content, relevant insights, and thought-provoking questions. This strategy enables reps to leverage social selling in building trust and credibility, nurturing relationships, and staying top-of-mind.
Retaining and Upselling. Sharing content and engaging with your customers after the sale is an important way to continue to add value and build the relationship.
The social selling revolution is here! The evolving B2B space demands new sales strategies and more modern sales processes. And sales reps must rise to the challenge to effectively win in the digital era.
_____________________________________
Danielle Guzman, Global Services Marketing Leader at Mercer is considered a top influencer in the financial services industry (Top 20 #Finserv #marketing | #2 #insurtech #instechpower100, #9 #CMO @richtopia, #6 @insurtechnews). The key to building her influence was finding her 'why'. Jay Palter, one of our featured experts on Sales Rebootcamp, talks to Danielle about building her influence.
Over the past year, Danielle Guzman has emerged in online social networks as a thoughtful and engaging influencer. She is an active participant in a variety of online communities and can be found sharing relevant industry content daily.
Danielle shares her journey and some great advice:
Getting started and learning to focus: I set out to build a social media presence for myself. I made some mistakes, but I learned from them. At first, I was all over the place in terms of the content I was sharing, when I realized I needed to refocus and go deep on topics I am interested in and have expertise in. I also realized that social media is not a media platform, it's an engagement platform.
Building your unique voice and sharing insights. Danielle shares a great quote that speaks to the value of sharing unique insights to demonstrate your expertise.
"Discovery consists of seeing what everybody has seen and thinking what nobody else has thought." (Albert Szent-Györgyi).
Social listening and engaging. It's about approaching this as you would face-to-face networking, except virtual networking has greater convenience and reach. It is about knowing and connecting with your audience, and paying attention to the conversations they are having on social media. If you roll up your sleeves a bit and do some social listening, you'll gain rich insights into what type of content is most valuable and relevant to them, and to you.
On the value and benefits. Social media networking keeps me in a state of constant learning – to me it is a source of inspiration and innovation into my day-to-day work. I engage with my professional network on a daily basis, and I continue to build and nurture a community of engaged followers that compliment a mix of my interests. I'm also focused on continuing to build relationships with influencers that are having conversations about the topics that are important to audiences I am trying to reach. This alone has enabled direct access to such a diverse group of brilliant people who are thought leaders in their industries.
Danielle helps brands in the financial services and insurance industries build and market products and solutions, and tell compelling stories about them. By positioning herself as a trusted advisor, and subject matter expert she is building her influence and building business as a consultant at Mercer.
_____________________________________

DIGITAL TRANSFORMATION
If you work at a global organization, you're probably tired of hearing the phrase "digital transformation." We all want to go digital – but for many companies, there's a missing link between choosing the right technology and capturing the long-term benefits of digitization. In many ways, thoughtful and successful implementation is that missing link.
Digital transformation, whether an enterprise project or transforming your sales organizations with digital and social selling, is not just about buying a new technology tool. Meredith Milshtein, practical advice for anyone leading a digital transformation program. Here are some highlights:
Make sure you're covered post-purchase. Make sure you ask your vendor about what services they offer post-sale, including their implementation methodology and resources. Training and adoption support are key, and a good vendor includes this in their implementation services.
Define your team leaders. Ensure you have the right project team in place and that all the right roles are covered. The two key roles are:
Executive Sponsor who owns the strategy, helps to engage and align key stakeholders and champions on-going adoption. An Executive Sponsor should be actively engaged throughout the project, continuing to remove obstacles, offering guidance to the project manager and driving the required change at senior levels of the organization.

Project Manager who owns the day-to-day success of the project, manages the vendor relationship and builds the program for ongoing success (including training and communications)
Articulate your goals early. Set measurable and attainable goals at the beginning of the project that are aligned to your business objectives. Get buy-in and clearly communicate these goals to all the stakeholders.
Think past the go-live. Your launch is just the beginning. Take a programmatic approach and make sure you continue to steward ongoing change management. This should include:
Two-way, ongoing communications on progress, learnings and success

Ongoing training and enablement for continued adoption

Capturing learnings and opportunities for continuous improvement

Measurement, reporting and insights

Share success: concrete examples of success will motivate your team and drive adoption
Executive leadership shouldn't underestimate the power of a thoughtful implementation – it's all about setting your team up for success so they can excel at their jobs. Regardless of which software solutions you employ, implementation is truly the crux of leading and sustaining an effective digital change.
___________________________________
It takes a lot of effort to align an organization to a digital strategy and build a digital transformation program. With digital transformation comes change, which people generally do not like. There will be detractors, and learning how to handle detractors is a critical component for your success. Isaac Sacolick, top 100 Social CIO & Digital Transformation Leader, shares advice from experts on how to handle detractors. Here are some highlights:
Start with the champions (they will help with the detractors) - "My advice is to forget about the Antagonists at first and to put the initial focus on your Champions. Because if you start where you already have a strong base of support, your Champions will spread that message throughout their vast networks, building the strong platform you need." - Mark Murphy, In Change Management, Start With Champions, Not Antagonists
Communicate and celebrate small wins - "Meaningful organizational change often takes [time], yet most people lose interest in an initiative after a few weeks or months. Be prepared for this, and bolster excitement and commitment by continuously rewarding the accomplishment of shorter-term goals." - Alexandra Levit, 10 Ways NOT to Do Change Management
Change management takes preparation and time - "We've heard the adage that for successful end user adoption and engagement of a solution, we can't "communicate on Monday, train on Tuesday, and go live on Wednesday." For an implementation to be successful, particularly one that requires stakeholder behavioral change, a key component is time, both collectively and individually, for the pending changes. Each person has to make the decision to change, and ultimately go along with (adopt) a new way of working independently, and this is not an overnight process." - David Chapman, The Grass is Greener
If you are building and leading a social selling program or any transformation initiative, this advice is useful. If you focus on the early adopters, communicate successes. This will help engage and drive adoption over time (even for the initial detractors).
___________________________________
B2B MODERN SALES & MARKETING
[S]ales teams are embracing new mindsets as they become more customer-centric and guide their companies into a new era. To be sure, this can be overwhelming for reps without the proper training and tools.
Tiffani Bova, Global Customer Growth & Innovation Evangelist @Salesforce, emphasizes that sales leaders will not realize the value of new sales tools without actively engaging sales reps in the change. It is clear that technology can help enable sales teams to engage modern buyers in the right way with the right insights. But they need to understand the value and adopt new technologies. Sending out an email blast or sharing a quick overview about a new technology at a sales kick-off meeting is not enough. Sales reps need to understand the 'Why' of new technologies.
With so much promised upside, it's easy to get excited about all that is possible with new sales tools, and to bring them online immediately. However, management must take the time to ensure it has buy-in from those with the biggest stake — salespeople.
Tiffani shares some important methods to incorporate when launching new technologies:
Earn reps' trust in tech. Share real examples of where reps can benefit. Examples that are relevant to them in their role will deepen confidence in the tool and motivate them to adopt.
Don't skimp on training. Training should not just be mandatory formal sessions once per quarter. You should also include additional opportunities for ongoing training and support that is accessible for the sales reps. Include self-service and just-in-time modules as well as informal sessions to share best practices and answer questions. Sales leaders should also be actively involved in the training, so they have the same knowledge and are able to focus on ongoing coaching and mentoring for their reps.
Focus on coaching and mentoring, not just productivity metrics. Listen to your sales team, get feedback and provide ongoing support and guidance. Look for ways to inspire sales reps by sharing success stories and recognizing progress. Tiffani shares some tips and best practices in this podcast with Walter Rogers, CEO of CCI Global Holdings.
If [sales reps] don't have a positive, value-based relationship with the tools at their disposal, companies will never see widespread adoption or realize the full impact of these investments.
__________________________________________
Research from CSO Insights shows that 33% [of sales leaders] want to improve communication between reps and clients, and 30% said they are looking to streamline their opportunity management process.
DemandGen Report has just published 'The State of B2B Sales Enablement for 2017'. This report highlights how sales and marketing can work together to drive deeper engagement with prospects, accelerate deals and improve win rates. The report is packed with insights from experts like Matt Heinz, Mary Shea and Jill Rowley. It is definitely worth a download. Here are some highlights from the report:
Enabling sales reps with the right content at the right time: While experts agree quality content should be at the core of sales enablement, many argue that careful planning, communication and the ability to serve up the right content are just as important.
"I'm not convinced the content we create for sales isn't good," said Matt Heinz, Founder and Principal of Heinz Marketing. "I believe that sales is not able to find that content or it isn't for their target buyer at that part of the buying cycle."
Understanding your customer is key to content personalization: Forrester's Shea agreed that clear customer profiles are key to better personalization. Understanding pain points and buyer needs leads to more relevant content that enables sales to have the right conversations."You need to be able to really understand your buyer before you have any kind of engagement," she said. "Your buyers are expecting that level of knowledge. If you don't have that, they are not going to deal with you."
Account-based Marketing: ABM also can position B2B companies to better align marketing and sales teams, according to industry experts. Joint account selection—based on fit and buying intent—enables both sides to agree on targets and align on messaging. "We want to encourage marketing and sales to come together and use historical data, along with new tools, to create account targets," Shea said.
Gain insights for better relationships through social selling. To become more buyer-focused, industry experts said sales reps must stop selling and start helping their customer. Social selling has become a popular tactic for sales reps and marketing teams because the ROI is clear. Research from Forrester shows that 72% of social sellers outperform their peers, and the practice enables companies to drive messaging and build deeper relationships.
"Social selling is using social networks to do research to be relevant and build relationships that drive revenue," said Rowley. "Social selling is about pipeline, revenue, renewals and referrals."

*************************
Hope you found these useful. We look forward to sharing more next week. In the meantime Follow us on Twitter.
Kim