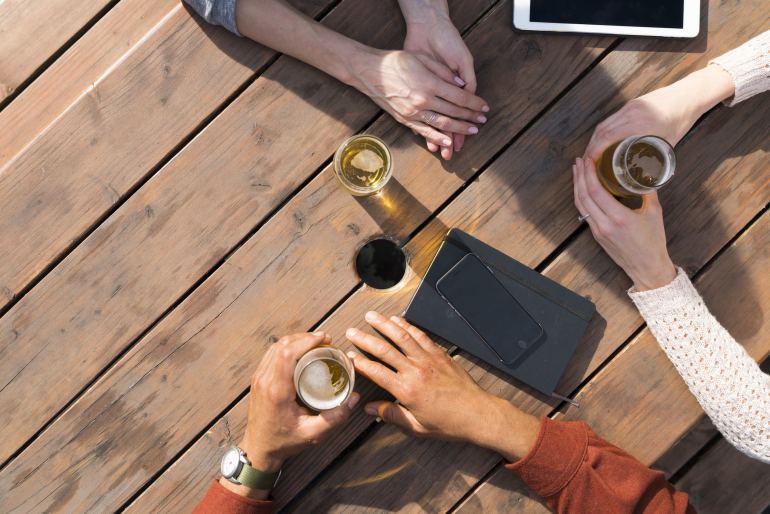 Highlights this week: An Interview with Carly Wennogle, Account Executive & SDR Mentor at Conga | | Canadian (All) Executives Need to get aboard the digital train | #DigitalGrowthCon - B2B Buyers Mandate A New Charter For Marketing And Sales | Understanding the Influencers | Influencers: The Most Overlooked Part of your Team | Why the Future of Marketing Is 'Business to Human'
FEATURED POST
I recently spoke with Carly Wennogle, Account Executive & SDR Mentor at Conga or, as she more appropriately refers to herself (on LinkedIn), Customer-Obsessed Seller. Carly truly understands the modern B2B buyer, the power of social and content for listening, research and engaging with buyers. Here are some of the highlights of our conversation, with some great advice on how to incorporate social selling into your sales practices:
How did you first get started with using social to help you with selling?
I began sharing (on an internal social network) what I was hearing from the front lines of our company, from our buyers and customers. It really helped our sales and marketing organization. This prompted me to reflect on the public social realm. Using social inside my company helped me better understand how to best interact and engage with my prospects on social media platforms like LinkedIn.
I realized there were rules (sometimes unspoken) about how to consume content and engage with others in the public social realm. Things like: listen, know your audience, make your point, ask thoughtful questions, be clear, make others look good, be collaborative, and use what you learn about others for good.
Carly's advice on social selling best practices:
Social sharing. It is not only the quantity of content you share, but what and how you share it. It is critical to put the stamp of 'Carly' on what I share, adding an insight, a point of view. This is key to help buyers see you as a trusted advisor.
LinkedIn is not just for hunting, but researching, listening, scanning what is going on with prospects and buyers. Did they get funding? Did they buy a company? Are they promoting their annual conference? Are they not sharing anything at all? It is so telling what gets shared.
Most of my success is related to research through social media platforms. You are educating yourself, educating others. It is a huge influencer when you are able to engage a buyer with insights you have found through social listening and research. You may not always be able to see direct success, but it is a huge influencer as it is part of the process.
It is really compelling what people share and what they put on the LinkedIn profiles. Do they write it as a resume? Does it sound like I might like them? Can you find a personal or business connection or something unique about a person? Who are they connected to? Where have they worked? Have they bought from us in the past? These things are so important and can be so flattering and impactful when you bring them up on a call.
On the role and value of content:
Educate prospects on the value of your products

Build your personal brand and show that you are an expert and educated seller that can solve a prospect's business problem

Engage buyers throughout their buying cycle
Getting Started: "Updating your LinkedIn profile is step one. You can't expect others to connect with you in the social realm if you don't have a clear, up-to-date social profile yourself. Your LinkedIn profile isn't a virtual resume, it's how you show buyers you're experienced enough to work with them.
Who does Carly follow and listen to:
I follow a lot of marketing and sales experts: Matt Heinz, Craig Rosenburg, Ryan Holmes. I also tend to read where I expect my buyers are reading. I follow SalesforceBen, Jenny's Admin Tips, Admin Hero… These are all blogs or sites that cater to the Salesforce Admin, my buyer. I want to understand what is important to my buyer, not only to woo buyers, but to speed up sales cycles and to also engage and upsell current customers. It is so important to know what is top of mind for my buyer.
_____________________________________
Social platforms are a powerful way for executives to communicate and engage with their buyers, customers, investors, media and employees. Rory Capern, Manager Director of Twitter Canada, has put a call out to Canadian Executives to take advantage of this important opportunity. He shares advice that is important and useful for executives worldwide.
"Conversations now happen in a far broader and far more inclusive way. The rise of social networks has given everyone the opportunity to tap into conversations about business – from industry dynamics to customer complaints through to politics and current events. All of these topics affect business. Critically, they do so whether senior executives choose to take part in them or not."
Executives who see the value and embrace the opportunity to listen, connect and communicate on social platforms are harnessing an important competitive advantage.
"Not joining the conversation as an executive means missing out on critical information about what's happening in your industry and, ultimately, what matters to you and your business."
Rory's shares important advice on how to join the conversation:
Humanize your content. Be real. "Corporate speak" does not work on social platforms, especially on Twitter. Consistently, share important content that speaks to your values, your industry and business. Do not hesitate to show your personality by sharing content and having conversation on topics of personal interest.

Engage with partners and peers. Communication on social is best when it's a two-way dialogue. Connect and engage in conversations with your industry colleagues and influencers. Look for ways to join and start conversations.

Connect with employees. Your employees are on Twitter. Sharing and engaging on all social platforms is a powerful way to engage employees and show leadership and demonstrate transparency. It is a great way to drive adoption of social media across your organization.

Inspire the next generation of business leaders. By being present and available on platforms like Twitter you can engage and share your knowledge with aspiring executives. A great way to attract the next generation of talent to your organization.
Don't be left behind. Thank you, Rory, for the great advice for all leaders (not just Canadians).
_____________________________________
With the recent changes to LinkedIn, Melonie Dodaro, LinkedIn & Social Selling Expert, has provided a good overview of the LinkedIn Membership levels. Melonie highlights the changes to the different levels of membership, to help people better understand and make an informed decision on what makes sense for you and your team. Melonie focuses on the Premium Business Plus and Sales Navigator Professional, as they are the most useful memberships for lead generation and social selling. She includes a great chart showing a feature comparison of the two membership types. I highly recommend checking out the details.
Melonie highlights that, regardless of which level of membership you have,
"LinkedIn is still the best place for most professionals, B2B businesses and salespeople to find and connect with their ideal clients….The very premise of LinkedIn is that it's an active social platform for business - the power of the platform is that you can quickly and easily find and connect with professionals and business people all over the world."

Even with the free membership: "You can still find and connect with your ideal clients, post regular status updates and LinkedIn Publisher posts, as well as engage in numerous ways with your connections.:
Thank you, Melonie, for this useful summary.
_____________________________________
B2B MODERN SALES & MARKETING
Sales for Life hosted the Digital Growth Conference this week to help leaders in sales, marketing and enablement align to better serve the modern buyer and grow revenue. A great line-up of thought leaders, experts and practitioners sharing insights and practical advice. Each day focused on a specific theme: strategy, people, content and technology. The first session really set the stage with insights on the the new mandate coming from buyers. Marketing and sales must align and embrace new organizational, collaboration, and compensation models. Here is a summary of the session with Mary Shea, Principal Analyst @forresterr, and Jamie Shanks, CEO of Sales for Life:
Why is sales and marketing alignment more important now than it ever has been? Mary highlights that we have been talking about this for over a decade (HBR article from 2006: Ending the war between sales and marketing). However there is urgency now because of the increased sophistication and expectation of buyers. We are starting to see the change because the buyer is demanding it. However there is still opportunity to do better. Ultimately, marketing needs to be more sales-oriented and sales needs to be more marketing-oriented.
There are many more complexities in the B2B buying process than ever before.
Early in the process, buyers are more self-directed and will tap into their social networks. They are looking to be educated.

Later in the process, they expect high levels of personalized engagement, consultative collaboration and are looking for new insights and innovation.
To engage the modern B2B buyer, the modern B2B seller needs to be a consultative seller. What does this look like?
Mary highlights that, organizationally, this means B2B organizations need to focus on:
Greater sales and marketing alignment

Account-based marketing and sales

Social selling
Mary predicts that social selling will become a ubiquitous marketing and sales distribution channel and relationship-building extension channel.
There is still one day left for the event, Friday, March 3rd. You can register and check out the previous sessions On Demand.
_____________________________________
"Influencers offer gallons of fuel to keep your marketing fire burning in the form of invaluable insights and knowledge about your customer base and about where your brand's industry is heading. These insights are the key."
Michael Brenner, CEO of Marketing Insider Group, shares the value of understanding, listening and learning from influencers to inform successful content marketing. By digging deep into what your influencers are saying, you are better able to understand what your buyers are hearing and thinking. Take the time to know and understand who your buyers and customers are following. Know who influences them.
You need to start by identifying the right influencers for your industry. Quality not quantity is key.
"While someone with hundreds of thousands of social media followers certainly could expose your brand to their followers, if they are not a snug contextual fit, their post or tweet would be moot as far as driving leads and customers." Kristin Matthews, Marketing and Community Manager for GroupHigh

"Influencer marketing is much more than a trend. As more and more people install their ad blockers and turn away from traditional media sources in favor of the islands of authentic content that consumers are able to find online today with the influencers, it's going to be big in 2017. Pay attention to what influencers in your niche are doing. Pay attention to how your audience responds to them."
_____________________________________
There is some really good dialogue and perspective being shared on the opportunity of working effectively with influencers. With the growing fatigue of traditional advertising and the new high expectations of B2B buyers, influencer marketing represents an important opportunity in modern B2B sales and marketing.
"The biggest issue with most brands that want to deal with influencers is that they confuse 'audience' with 'influence.' In plain English, having a lot of followers doesn't mean you have the power to drive them to action. You have to develop the ability to turn audiences into highly engaged customers."
The keys to success:
Relevance: Influencers need to be sharing content that is relevant to your business.

Reach: Influencers need to have reach with audiences that are highly relevant to your business.

Through relevance and reach you achieve resonance. Resonance is when you are able to engage a valuable audience through relevant content.
You want to identify the right influencers who will resonate with your target audience and authentically build relationships with them.
"As with anything in life, relationships are the cornerstone of future success. Always remember to pay it forward and take the time to genuinely engage with people."
_____________________________________
Tim Kopp, partner with Hyde Park Venture Partners, one of the leading early stage tech investors in the Midwest, speaks to a new era of marketing, Business to Human (B2H). As Jay Baer at Convince & Convert preaches, helping is the new selling. As we have increasingly personalized experiences in our lives as consumers, B2B buyers have the same level of expectations.
"Whether we play the role of consumer or business, we all want to be helped instead of sold to because we all have one thing in common—our humanity. People don't buy from businesses. People buy from people."
With all the talk of artificial intelligence, bots and machine learning, we expect more automation and less human interaction. Tim highlights that this feels counterintuitive given our expectations as humans. Cue, the new era of marketing.
"B2H marketing is the contrarian approach. In a world plagued by short attention spans and on-demand decision making, B2H marketing is the opposite of what everyone is clamoring for. It's a more thoughtful approach, focused on personalized customer experience in a way that is authentic and empathetic, with value added at each touchpoint. Hear me now: Technology can't solve all the of the world's problems. Frankly, you can't automate authentic relationships."
So how can a brand be relevant in this new era?
Listen and understand your customer's needs. This starts with empathy. Empathy creates authenticity. Empathy and authenticity build trust.

Establish yourself as a trusted advisor by being helpful, available, and adding value. It is about understanding and delivering meaningful value to a customer's unique situation.

Humanizing Your Brand from the Inside Out
"Your brand is the sum of the conversations you and your team are having with customers. The greater challenge here is how to empower your entire company to embody a B2H mindset and create an entire brand based on authenticity. When this happens, the compounding results are incredible and often create a broader movement."
Tim highlights that B2H can be hard to scale. However, the key is that it starts with engaging your organizations from the inside out. It starts with your employees. Your employees are in a unique position to listen, understand, show empathy, educate and add value authentically.
*************************
Hope you found these useful. We look forward to sharing more next week. In the meantime Follow us on Twitter.
Kim