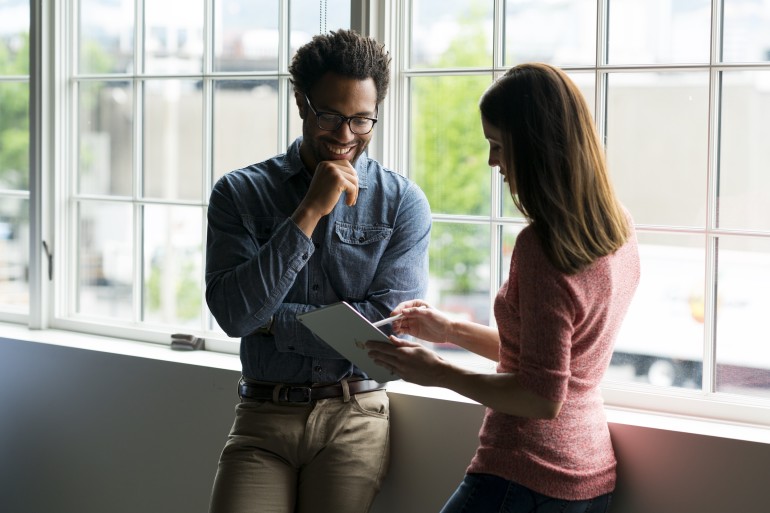 Highlights this week: How to Get Your Social Media Budget Approved | Microsoft Partner Network Podcast: Drive More Sales with Personal Branding and Social Selling | How bad can a tweet be for business? | LinkedIn Introduces Major Updates to Its Social Selling Tool – Sales Navigator | ABM – It's All About the People | Focus On The Customer: 14 Ways Account-Based Marketing Will Impact Your Work | B2B Marketers Are Way Behind on Influencer Marketing and Here's the Solution
SOCIAL SELLING and SOCIAL MEDIA
You know your customers are actively using social media to research and help them make buying decisions. Are you struggling to move forward with your much needed social media program because you cannot get your budget approved? Pam Moore, Forbes Top 10 SocialMedia Influencer, shares some concrete tips on how to get your budget approved.
Align your social media efforts to your top business goals and objectives.

Have a solid strategy as a foundation that includes knowing your audience, goals, and objectives.

Start small, learn and then scale. Start with a well-defined scope and plan to help you achieve results faster than trying to boil the ocean from day one.

Set key performance indicators (KPIs) and ensure all stakeholders and executives understand them

Ensure all team members and executives are speaking the same language.

Provide social media training and increased digital literacy for your executives and employees.

Alignment and collaboration across teams (sales, marketing, etc…) is key.
Pam also shares some useful tools and templates in the podcast summary.
_____________________________________
The Microsoft Partner Network Podcast features Microsoft's Jen Sieger talking about how to make the best use of your personal branding and social selling efforts to help drive business. Jen teaches Microsoft Partners about the power of using their personal brand online for sales.
Jen shares 6 steps for getting started leveraging social media for personal branding and sales:
Step 1. Define your brand and your goals. What do you want to be known for? What are you passionate about? What do you want to accomplish?
Step 2. Establish your presence. For most in B2B sales, LinkedIn and Twitter make sense. Both profiles should speak to your audience. Include your area of expertise and the value you add to your buyers.
Step 3. Build your network. Connect with partners and customers on LinkedIn. Join industry and other networking groups. Follow key thought leaders, industry experts, etc.
Step 4. Share relevant content. Jen recommends a balance of your own brand and third-party content that includes relevant content for your brand and audience including industry trends. For Jen that includes digital transformation and technology.
Certainly, as a Microsoft employee, I want to make sure that I'm telling the Microsoft story through the work that I do. But I also want to try to bring authenticity to that by sharing my own unique experiences.

I think one thing that a lot of people do mistakenly is they only share information about their own company or their own details of their product. And so, it's not very interesting. It doesn't capture people's attention. So, it's important to share information that's topical for everyone else.
Step 5. Listen, engage, and respond. Listening on social networks is an important way to gain insights about your industry, network, buyers and customers. Social should be a two-way conversation. You should listen for opportunities to engage with others and always make sure you respond to people who reach out to you.
Step 6. Measure results and refine your approach.
There are tools on social media platforms to help you measure your activity. On Twitter, you can review the demographic details of your followers and analyze the results of your tweets. You can also monitor your social selling index on LinkedIn. These types of measurement are "...a good indicator of what your audience wants to hear about and what they respond to."
Sales Reboot Camp Note: As we have shared previously on Sales Reboot Camp, you also want to ensure you find ways to align and attribute your social selling efforts to business metrics.
_____________________________________
The headline is a bit jarring, but there are some great insights and perspective in this article on CEOs and social media from The Sydney Morning Herald. While many CEOs and brands are still wary of using social media, the opportunity is important (as we have shared on Sales Reboot Camp: Why Every CEO Should Have a Social Media Presence). The approach should include common sense, planning and training. Ryan Holmes, CEO of Hootsuite, shares some important considerations for CEOs representing their own own brand on social media.
Crawl and walk before you run: "Get educated before you get involved" on social media, he advises. People often don't know where to start. Holmes recommends starting off with listening to get a good understanding of how people use and engage with others on social media.
Respond rapidly to complaints or criticisms: Brands and people need to be prepared to listen and respond quickly on social media. Have a plan in place for both listening and making sure you can get the right answer to respond quickly.
Invest in social media. "This is how customers are choosing to interface with you." You need to invest in the right resources and tools to be able to be strategic and effective. "It is not just something you can give to an intern and have them go away and work on it in a basement".
Ryan Holmes is definitely a leader and expert on social media, but he is not immune to making mistakes. He recently reacted quickly (and a bit flippantly) to a comment from a reporter on Twitter. What is important is learning from those mistakes and taking ownership.
He said his comment was not reflective of Hootsuite's culture of diversity and inclusion. "I've learnt to be more considerate in my choice of words, and that when you make a mistake, the best thing you can do is apologise, and own it."
A good lesson in the importance of representing your brand on social media, good judgment and pondering before you post. Regardless of the risk, the opportunity is great and there is a lot of important guidance available. Here is a recent one we shared on Sales Reboot Camp: 7 Practical Ways To Get Your Execs Using Social Media.
_____________________________________

INDUSTRY NEWS
LinkedIn announces updates to Sales Navigator
LinkedIn has announced some major updates to Sales Navigator, with coverage from Techcrunch: LinkedIn steps closer to CRM as it gives Sales Navigator an enterprise boost, Martech Advisor: LinkedIn Introduces Major Updates to Its Social Selling Tool – Sales Navigator, Silicone Angle: LinkedIn adds high-end Sales Navigator edition, and other industry experts.
Here are the highlights of the updates:
Introducing LinkedIn Sales Navigator, Enterprise version:
increases the the number of monthly InMails that users can send to 50

adds improved manageability features like single sign-on

includes a collaborative feature called TeamLink Extend that lets people within an organization join their LinkedIn networks to a common pool. This is being extended to employees who do not have a Sales Navigator license
Rollout out of PointDrive (LinkedIn acquired PointDrive last year) features:
PointDrive replaces multiple email attachments with a single, integrated web page that enables sellers to track how content is consumed.

PointDrive will be integrated into Sales Navigator Team Edition and Enterprise Editions at no additional charge. Team Edition customers will be limited to 10 PointDrives per seat per month, while Enterprise Edition customers will get unlimited PointDrives along with additional reporting.
CRM Sync and Widgets: improving CRM integration with Salesforce.com and Microsoft Dynamics:
Enables sales reps to sync calls, notes and InMails from the LinkedIn iOS and Android apps to their CRM with a simple click allowing Sales and Operations to record activity easily in the CRM.

CRM Widgets integrates Sales Navigator profile details into Salesforce and Microsoft Dynamics environments.

Additional integration is coming for CRM products from Oracle, SAP SE, Hybris SE, Netsuite Inc., SugarCRM Inc., Hubspot Inc. and Zoho Corp.

Sales Reboot Camp Note: This is an important update to be aware of if you are using or considering Sales Navigator. However, it is important to remember that LinkedIn Sales Navigator is not the only important tool for social selling. Here are some blogs you might find useful:
FYI: Which Social Networks Should You Use for B2B Social Selling?
LINKEDIN SALES NAVIGATOR IS NOT ENOUGH FOR MOST B2B SALES & MARKETING TEAMS
_____________________________________

B2B MODERN SALES & MARKETING
As we pursue the latest trends, the latest best practices, the latest response methods, we become entangled in a network of tools and processes, and as we travel further down that road, we begin to lose sight of where we came from. We begin to forget that marketing – lead, demand, pipeline, sales, and the rest – is all about the people.
Joshua Baez of Heinz Marketing isn't advocating to use technology less. Instead,he highlights the importance of not letting the use of technology move us further away from building relationships and engaging with the people we are doing business with: our customers. We need to take a human-centered approach.
Because at the heart of everything you do – behind the computer screen and on the other side of that phone call – are people. And people respond to people.
Joshua breaks a human-centred approach down into 3 parts that are critical for Account-Based Marketing:
Understand the people: Take the time to really understand the stakeholders at your target accounts: Who are they? What are their needs? Their interests? Their focus areas? Their pains? How can you solve their problems?
Provide relevant, valuable content: Leverage what you learn about your key stakeholders to develop highly relevant content that speaks to their unique challenges and needs.
Build meaningful, interconnected relationships: This takes time and you want to ensure you focus on building trust and mutual understanding.
If I could describe ABM in one word, it'd be "patience," and this stage is where your patience will really be put to the test. The worst thing you can do is rush a prospect into a buying decision when they're not ready to make one. A hard-sell too early in the game could cause future marketing efforts to be fruitless.

In an age where we are reliant on technology and automation, the need for human interaction and interconnectedness only becomes more apparent. We're not marketing to machines with preset responses based on trigger actions. We're marketing to people – people who have their own sets of needs, wants, and pains they want solved, but not without first establishing a connection.

Understanding the people, providing unique, tangible value, and building meaningful, interconnected relationships – those are the fundamentals of an ABM program, and the pieces to completing your marketing puzzle as a whole.
__________________________________________
Forbes Agency Council members share how ABM will impact how they work going forward. Here are some highlights:
Micro-influencers Will Become More Important
Instead of large impression numbers, brands will more effectively reach consumers through word-of-mouth marketing and peer groups. By identifying key regions and specific areas to focus on, ambassadors with a lower social following but large peer influence will be activated in strategies. - Jamie Wachlarz, Krupp Group
Education Will Happen Earlier In The Buyer's Journey
We see opportunities in combining a customer-focused approach with the principles discussed in The Challenger Customer (from CEB), where the focus is on influencing customers before they have identified a solution. B2B companies have a big opportunity to educate prospects very early on in the buyer's journey with content that educates and in turn, positions themselves as a trusted resource. - Rob Levin, RSL Media
ABM Will Start Customer Conversations
Account-based marketing will force us to find out what conversations our customers want to have with us. We'll need to listen, do research and then listen again. - Katina Kenyon, Applaudo Studios
Marketers Will Touch The Communities The Consumer Belongs To
You should already be using the best voice and medium to reach the consumer. To take it a step further, it should be a focused, community-based marketing program that impacts that consumer, because that's where brand affinity is created. The program should touch the communities that consumers belong to. - Coltrane Curtis, Team Epiphany
Companies Will Continue Putting Relationships First
Account-based marketing is not something new. Companies that respect the many needs of clients (both emotional and practical) have always been able to sell their clients additional services, assuming they've provided value in the first place, understand the needs of their customers, reported on what has been accomplished, and explained what else could be done. - Dian Griesel, Dian Griesel International
Companies Will Have To Better Understand The Needs Of Each Client
ABM starts with understanding the needs of each client. Do not treat that great phrase as a platitude: Really build personas around the target audience with polls, shaping content, etc. Closely examine and identify what makes that client click. Any roadblocks? Find them as well. Once you narrow down these components you will better serve that customer and continue to attract new ones. - Bernadette Coleman, Advice Local
__________________________________________
Influencer Marketing is a hot topic, but what is really working, what isn't and what are the future trends for marketers? Lee Odden of TopRank Marketing answers those questions in the research report Influence 2.0: The Future of Influencer Marketing. One of the things he found is that B2B marketers have not invested in the opportunity. Only 11% of B2B marketers are running programs vs. 48% of their B2C peers.
Lee highlights, some important considerations for B2B marketers and some scenarios for B2B marketers to consider:
Social network size and self-appointed influencer status do not equal the ability to effect a change of thinking or inspire action amongst buyers.

Working with influencers should be a long term opportunity. You need to focus on building a relationship based on collaboration and mutual value.
Scenarios:
Influencer Microcontent: Short form curated content with input from influencers is a great way to build relationships with influencers and share valuable content with your audience. (Ex. above 14 Ways Account-Based Marketing Will Impact Your Work, 9 Killer Social Selling Tips Straight from the Experts )

Influencer Campaigns: Build a longer term 'campaign' with a narrative to build a relationships with an influencer over time. Find ways to collaborate that are mutually beneficial such as blog posts, interviews, webinars...

Influencer Community: Build or join a community of influencers with common interests and goals
Lee is driving an important dialogue on influencer marketing, especially for B2B.

*************************
Hope you found these useful. We look forward to sharing more next week. In the meantime Follow us on Twitter.
Kim