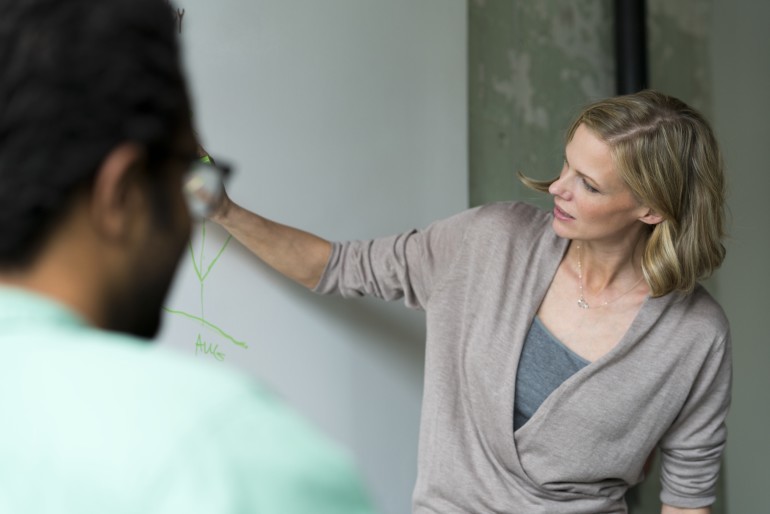 Highlights this week: Chris Hutson, Business Social Selling Strategist at Sprint | Social Selling is a mindset: Listen and learn | Dark Social: The Untold Story | Social Media Employee Advocacy is the Soul of Your Company | The New B2B Sales Imperative | 3 B2B Marketing Tips to Help You Understand Your Prospects
FEATURED POST
I recently had the opportunity to speak with Chris Hutson, Business Social Selling Strategist at Sprint. Chris is currently building a growing social selling program at Sprint. He shared practical insights and guidance on his experience, learning what it takes to build a successful social selling program. Chris shared the importance of leadership engagement, change management, training and support.
Here are the highlights of our program:
Leadership sponsorship and engagement: Chris highlighted that their CEO Marcelo Claure has always been active on social media and, since day one at Sprint, has been championing social media as a way to listen and engage with customers.
When Marcelo joined Sprint, one of the first things he observed was that the sales team had very poor LinkedIn profiles. They were inconsistent and did not reflect the brand. It was hard to even identify people as Sprint sales professionals. He tasked the VP of Brand, Advertising and Social Media with getting this fixed. This was the beginning of our social selling program. We decided to take a pilot approach so we could learn, as well as capture best practices and successes in order to scale the program.
On training and support. This was not our usual training at Sprint on our products and services. It was modern sales training, professional development for the sales team to grow in their roles and their careers.
Our goal was to help the sales team understand the importance and value of building their social media presence and to effectively use social to help them sell. They needed to stop cold calling and door knocking and build their personal brand online, position themselves as subject matter experts and trusted advisors. Training is the important foundation to help change behaviour. You do not want to give a 16-year-old a Ferrari who doesn't know how to drive.
Chris emphasized that once training was complete, ongoing coach and support were key to drive adoption and the mindset change needed for long-term success.
On measurement. Chris measured a number of factors to capture the adoption and success of Sprint's social selling pilot program. Initially, it was about measuring training and adoption.
Training: 100 people participated in the training program. 90% completed the training and are now certified social sellers.

Adoption: The LinkedIn SSI score was used as an indicator that the pilot participants were adopting social selling best practices.
What the SSI score was capturing was the behaviour change. We saw an average increase of 40% in 10 weeks.
Chris also tracked the impact of social selling on business results. He was able to capture sales data directly attributable to social selling activities for the pilot participants.
On content. Chris and I discussed the important role of content in social selling.
Content is key to help position yourself as an expert and trusted advisor. A good sales rep will not just share information about the latest product offer. You need to find the right balance of content to nurture your buyers through the buying process.
What is key to building a successful social selling program?
You need executive leadership who understands the value of social selling and a program manager with full support from the organization. Visibility and accountability at all levels, from executive leadership to sales reps, to the program manager, helps to drive buy-in, adoption and momentum for your social selling program
Chris shared a great success story
One of the best anecdotal stories from the pilot was one of our sales reps who had been trying to get time with a prospect for 3 years. During the pilot she built her personal brand online and started sharing valuable content regularly. The buyer was influenced by what she was sharing on LinkedIn. He actually reached out to her and said, "I will give you that 45-minute meeting you have been trying to get if you can show me how your network is better and can meet my needs." She educated him and caught his attention through the content she was sharing.

This is now a thousand-phone-line opportunity in Salesforce because she was out there sharing the right content, not just offers. It is not just about a deal on a bunch of iPhones. It is about how you can add value and solve the customer's business problems.

Thank you Chris for a great conversation.
_____________________________________
DIGITAL AND SOCIAL SELLING
Sandy Kim Benoit, Social Selling, Sales Enablement Specialist at PTC, highlights the opportunity of social selling to deeply focus on customers. She shares her learning and experiences in working with global sales teams to help them build their social selling skills and shift their mindset. Sandy's approach is very focused on helping sales teams understand the value and role of social selling in their overall sales efforts. She is not just focused on the tools and technology, but really gaining buy-in and engagement with the social selling opportunity.
One of Sandy's training sessions is on 'Prospecting online and writing a good InMail.' She emphasizes the importance of doing your research and learning about your customers through their online profiles and what they share and write about.
When talking about InMails, my main message was to personalise, personalise, personalise. On that, [a] salesperson shared his point of view: ''Online or offline, it is always a priority to stay focused on the customer's needs but we might have gotten distracted at some point by the pitch and forgot the power of a good relationship.''
Sandy highlights that the mindset of focusing on the customer translates online and offline.
Social selling means to transfer our knowledge and skills as a salesperson and learn to connect with our audience online. But the skills and mindset can also be applied to any offline conversation, first meeting or handshake. We should always take an interest in our customer and tailor the approach to their needs by listening to what they need.
There is clearly a mindset shift happening. Sandy is preparing the salesforce at PTC to engage with their current and future buyer. This is clearly resonating. As one salesperson selling into a very conservative industry shared:
''Although my contacts are not yet active online, they soon will be. As we look into innovating our customers systems and supporting their digital transformation, the same will happen in the companies we work with. And we will be ready to welcome them and show them the way.''
_____________________________________
What is 'Dark Social,' and why should marketers care? Bibin Alexander, Digital Enterprise Strategist at IBM, shares a great overview of 'Dark Social' and why it is important.
The term "Dark Social" first came into the picture in an article written by Alexis Madrigal in The Atlantic in 2012. It is used to describe content shared by users through private channels such as instant messaging programs, messaging apps, and email.
With the growth of messaging apps such as WeChat and WhatsApp (especially in global markets), people are demonstrating that in many cases they prefer to share content privately; either 1to1 or in private groups. In this study, the Atlantic shared that 56.5% of its content was being shared through 'Dark Social'. Bibin predicts that 80% of content will be shared privately in 2017.
The value of a 'Dark Social' sharing is in some ways higher than open social sharing. When you do it, it's because you really want the recipient to click on the link or look at the content you're sharing.

So, What Can We Do About Dark Social?
Make sharing through private channels easier for your employees and audience by adding email and messaging sharing capabilities.

Ensure that you're capturing and measuring the impact of 'Dark Social' by tracking individual links.
_____________________________________
I look at social media for business from a holistic viewpoint. Crafting an effective social media strategy starts with your employees. Too many companies work backwards, trying to fit employee advocacy into a pre-existing social media program. And, that's why they fail.
Mindi Rosser, a social media strategist, shares some key guiding principles for a successful employee advocacy or social selling program.
Have an internal champion to drive adoption and engagement with the program.

Enable your employees to have their own voice and share authentically.

Teach your employees the value in establishing and building their own personal brands.

Training to help your employees know how to effectively engage on social media.

Help employees understand the value of curating good content that is relevant to your buyers. Mindi recommends the 10:4:1 Rule on your social channels (For every 15 social shares: 10 link to 3rd party content, four link to your own blog articles and one links to an offer/landing page.)
According to LinkedIn, when employees share content, it's perceived as three times more authentic than company messages and typically see a click-through rate (CTR) that is two times higher than company shares of the same content. Their messages are better able to cut through the noise.
_____________________________________
B2B MODERN SALES & MARKETING
Most B2B sellers think their customers are in the driver's seat—empowered, armed to the teeth with information, and so clear about their needs that they don't bother to engage with suppliers until late in the process, when their purchase decision is all but complete.

Customers don't see it that way. They may be better informed than ever, but CEB research shows that they're deeply uncertain and stressed.
Yes, customers have access to more information than ever before. However with so much information available, multiple stakeholders involved in buying and increasing number of options, customers needs guidance from experts. The complexity often results in no decision.
The solution? Make buying easier.
In the latest Harvard Business Review, CEB experts Nicholas Toman, Brent Adamson, and Cristina Gomez highlight the new B2B sales imperative to engage effectively with customers to support them in making decisions. More information is not always better. It is about adding value; sharing insights and guidance in the right way at the right time with customers. In short, help and guide customers in their decision.
A proactive, prescriptive approach that guides customers through decision making increases the likeliness of purchase ease and decreases the likeliness of purchase regret.

CEB research shared that, when customers experienced a more prescriptive sales approach, they reported 86% purchase ease and -37% purchase regret. This is compared to a responsive approach, with 50% reporting regret and -18% reporting purchase ease.
So what do leading prescriptive sales organizations do well?
They work to deeply understand the customer's purchase journey; identify the most significant customer challenge at each buying stage; arm their salespeople with tools to help overcome each challenge; and trace the customer's progress so that they can intervene at any moment to keep the process on track.

[They ] work across functions, tap star reps' expertise, involve customers...to tailor the process to their circumstances.
Understanding what slows customers down is key for the new sale imperative. This will look quite different at each stage of the buying journey.
Early: Information Challenges: Filtering through and making meaning of all the information available. This includes interpreting conflicting information.
Middle: People problems: Competing priorities and conflicting views on the need for change.
Late: Options issues. Too many options can be overwhelming. Understanding the implementation plans for each option.
Today's best suppliers help customers consider not just what to buy but how…. they also share two overarching organizational characteristics:

First, they avoid focusing on getting customers to buy from them and instead concentrate on how customers make purchase decisions.

Second, they tightly align their sales and marketing teams to support the customer journey from start to finish—breaking down the historical barriers between those functions in the process.

As a result, these companies create consistent and relevant tools, messaging, and guidance to shape and simplify the purchase journey, drive sales, and ultimately increase customer loyalty.

The article shares great examples, it is definitely worth a read.
__________________________________________
Modern B2B marketing isn't about spewing the message that your brand wants to send.

More importantly, it's about offering the talking points that your prospects need to hear. If your content is highly relevant, you will shine above competitors. But without relevancy, you run the risk of seeming out-of-touch and losing prospects in the extensive research phase.
The key to engaging your prospects with highly relevant content is first understanding your prospects. Marketing agency Ironpaper shares some useful tips on understanding your prospects:
Become Your Prospect's Audience. This is about deeply understanding your prospect's business by understanding their customers.
Subscribe to your prospects' newsletters.

Explore their product and service lines.
Leverage Social Media Monitoring. Learn more about your prospects by following and listening what they are sharing on social media. LinkedIn and Twitter are ideal platforms for B2B as they are more geared to professional engagement, learning, and networking.
Follow all of their brand social media feeds.

Find and follow the leadership and buying team.
Get to know your prospects in more detail by monitoring social media for topics that your prospects find interesting:
What are they commenting on?

What are they sharing?

Who are they following?

Do you have shared connections?

Is there previous experience relevant?
Consume their blogs. If your prospects have a blog, it can be an incredible source of insights. Their blogs can provide great information on your prospects' areas of expertise and what they are thinking about out.
These are all ways to gain the insights to help marketing and sales drive more relevant and engaging conversations with your prospects. Simply put, find ways to read what your prospects are reading, understand what is important to them and their business.

*************************
Hope you found these useful. We look forward to sharing more next week. In the meantime Follow us on Twitter.
Kim