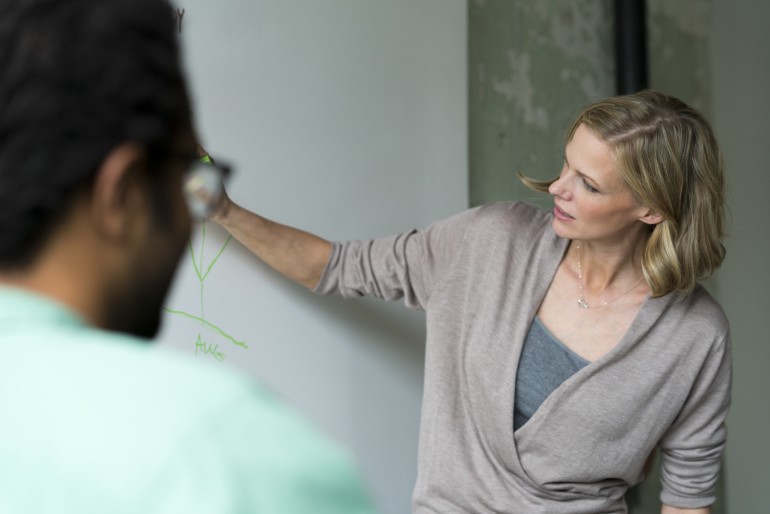 Highlights this week: Social Selling for all in 2017 | Social Selling Tips from Some of the Best Salespeople | Social Selling is the New Way of Doing Business | "How to Sell Like a Human" with Jill Rowley | The Death Of A (Traditional) Salesman | Heinz Marketing: Top 10 Blog Posts from 2016
SOCIAL SELLING & SOCIAL MEDIA
Social Selling has been a hot topic during 2016 and will continue to be in 2017. Jordi Gili, Managing Director, Execus Social Selling Training and Consulting, highlights the important role social selling plays in developing and closing deals as well as ongoing account management.
Once you have engaged and built a relationship with a buyer, perhaps given a great sales presentation, social continues to play an important role in developing and closing deals:
Nurture the relationship, keep the communication lines open and stay top of mind by continuing to share valuable content

Social selling helps sales understand who your buyers are and what is top of mind for them especially when there are multiple stakeholders.
Social selling for key account management:
In large, complex accounts, social listening enables the account management team to stay informed of organizational changes at an account. You can easily see who has moved roles, joined or left the company.

Social listening and social sharing ensures you engage customers with valuable insights by sharing relevant and useful content vs. "just checking-in."

By continuing to build relationships, listening and engaging by adding value, you can find ways to generate new business.
From building relationships to adding value to social listening, social selling is an increasingly important part of everyone's role.
_____________________________________
All-star B2B sellers share proven social selling techniques. Rather than just share best practices and tips, Peg Miller, VP Marketing @tax_guard, and co-founder @B2BMktgAcademy, reached out to two B2B sales practitioners to get them to share their stories:
"Carly Wenoggle, account executive at Conga, who finds a large majority of her targets through their social profiles; and Jeff Renaud, Senior Account Executive at Localytics, who encourages salespeople to bring a point of view about a prospect's product early in the conversation."

Carly and Jeff shared some very practical advice and guidance:
Use social networks to better understand your buyer as well as present yourself as an expert and thought leader. Through listening and building your personal brand on social media, you can increase engagement and build relationships with your buyer.

Use social media to build your network. By adding value through sharing valuable content, you can drive referrals and leads through your network.

Get started by building your LinkedIn profile to demonstrate your expertise. Carly shares some great resources on this: The Ultimate Visual Guide to Optimize your LinkedIn Profile for Social Selling by Craig Rosenberg and 3 Ways to Create a LinkedIn Profile That Boosts Sales Credibility by Jill Konrath.

Listen, consume content, engage with others and share content with your point of view.
Carly: "I've received countless responses from cold emails because of the research I've done on my prospects. In one case, I realized this particular prospect was a huge advocate for our solution and had used our solution at two prior employers. Not only was this an instant conversation starter, but after some time and collaboration we won the business!"
Jeff: "My employer Localytics encourages sharing content religiously. We use social selling software to curate, share, and measure engagement from all types of content I share at a minimum of four times per day, and my engagement is off the charts….I'm finding that coming into a conversation with a unique point of view about a prospective customer's business helps guide the conversation the way I want it to. It helps lead the prospective customer to how I could add value to their business."
_____________________________________
Customers are more likely to buy when they have had a good experience and feel like they have been helped with information and conversations along their buying journey. The same cannot be said about cold outreach that adds no value. Social selling helps to create a great experience. Malin Liden, VP SAP Experience, shares insights on how social selling changes the game as a new way of doing business. At SAP they are seeing significant results, with over 7K salespeople generating billions in pipeline from their social selling efforts.
Malin shares how they have built a successful social selling program that is delivering results:
Training: Marketing has led the training efforts and they are seeing 7x pipeline growth from sales reps who are effectively training for social selling.

Breaking down silos: The modern buying journey is blurred across disciplines. Marketing and sales collaboration is key for success

Culture is key: Effective social selling requires a behaviour shift.
"Social selling changes how we engage with customers. It´s not done by taking a webinar or learn to use a new tool. It takes the mindset of a customer advocate. It means going from hunting and chasing after customers to being farmers who plant seeds that grow interesting enough for our audiences to want to come explore what we have to offer."
_____________________________________
"Advances in sales technology transform how we reach customers and prospects, but the human element is still essential."

Jill Rowley, #SocialSelling evangelist, talks, "How to Sell Like a Human" on the Quotable podcast with Tim Clarke and Kevin Micalizzi. Here are some highlights from the podcast:
Jill: "I am huge fan of tools and technology that can make us more efficient, but you cannot automate building human relationships."

Most organizations are investing in hiring more sales reps and automating processes to drive more calls and send more emails. Buyers are now getting a higher volume of calls and emails that are not personalized and are not relevant. This traditional "spray and pray" approach is not working. More is not better, but more personal, more human is better.

Jill believes that technology can automate some of the processes that the best sales reps are doing manually today. This could include research on social media, finding connections for warm introductions, social listening to find what is important to buyers. All of this information can help craft messages, understand how and where to reach out to buyers. But you cannot automate human relationship building.

Jill highlights that there are great sales reps that are doing this type of more human, personalized research to build relationships. They are using this information to build relationships. What we are not seeing is this being done at an organizational level in a programmatic way. Most organizations are still focused on the volume play.

Work needs to be done in sales enablement and building programs. The challenge to scale this type of modern sales is ensuring the change is happening at the sales leadership level. We know digital transformation is at the top of the agenda for most of the C-level executives, but sales is rarely at the table.

So how do you drive this organizational change in sales? You need to start with culture (mindset of social selling), then focus on competency (Is your sales team digitally savvy?) and then get the right technology to enable.

How do you balance your time between research and listening and content curation and sharing? Jill believes it depends on your role and your priorities. What you need to do is embed social and digital into how you work, into your existing sales processes.

Marketing and sales leadership need to work together with sales enablement and training to understand and drive the transformation needed to be successful with the modern digitally driven buyer. Ultimately it requires an organizational lens.
We highly recommend taking the time to listen (approx. 25 mins), as Jill is a very dynamic and knowledgeable speaker and thought leader.
_____________________________________
B2B MODERN SALES & MARKETING
"When I started in sales, my boss told me, 'Your job is to get to know your customer and build a relationship, Nothing is more important than building a relationship'." shares, Tony Rodoni , EVP of Commercial Sales and Market Readiness at Salesforce.
While relationships still matter, they are not the end game in modern sales. Informed buyers are doing their research first and when they do speak with sales, they expect more. They are looking for insights, guidance, expertise, essentially they are looking for consultants. So how do modern sales teams focus on becoming consultative sellers?
Think like marketers: The best salespeople moving forward will partner closely with marketing and learn from them to better help customers on the buying journey.

Be consumers of data: Use the tools you have to better understand your buyers. Tools like LinkedIn and your CRM are incredible sources of information.

Own the entire customer experience: Great modern salespeople 'quarterback' the entire customer experience, looking for ways to engage, educate and add value throughout the customer journey, beyond the sale. This can simply be sharing an insightful article your customer might find useful.
"We all know sales is changing fast, from longer buying cycles to loss of jobs. But it's not all doom and gloom. The opportunity to become a highly valued consultative seller and trusted advisor is great.Thinking like a marketer, minoring in data science, and owning the customer experience is how a modern salesperson can successfully adapt."
_____________________________________

Heinz Marketing, thought leaders and experts in B2B Marketing and Sales, shared their 10 most popular blog posts from 2016. Definitely a big focus on account-based marketing (ABM), sales development/sales enablement and technology. Here are a few highlights:
"Aggressive pursuit and follow-up from salespeople isn't anything new. But the volume of 'why haven't you responded to me' emails appears to be on the rise."

While proactive follow-up is important, aggressive follow-up with no focus on value to your buyer is not an effective approach. Take the time to learn about your audience and customize your approach and focus on them. Matt shares some direct and useful advice:
"Make your message about the recipient. Take two seconds to learn a bit about them and customize your approach. Pitch the outcome, THEN ask for a response."
There certainly has been a lot of focus on Account-based Marketing (ABM) in 2016. Emily Sue Tomac, Research Manager and Lead Analyst, TrustRadius, highlights the danger in the term ABM. Effective 'ABM' requires alignment and collaboration across many functions, especially Sales. Only using the term marketing leaves sales and other department such as customer support on the sidelines. The article goes on to highlight the key elements to successful ABM or should we say ABE, including organizing teams around accounts; making every interaction valuable for the buyer; and ensuring the appropriate number of touches.

We definitely recommend checking out the other posts.
*************************
Hope you found these useful. We look forward to sharing more next week. In the meantime Follow us on Twitter.
Kim