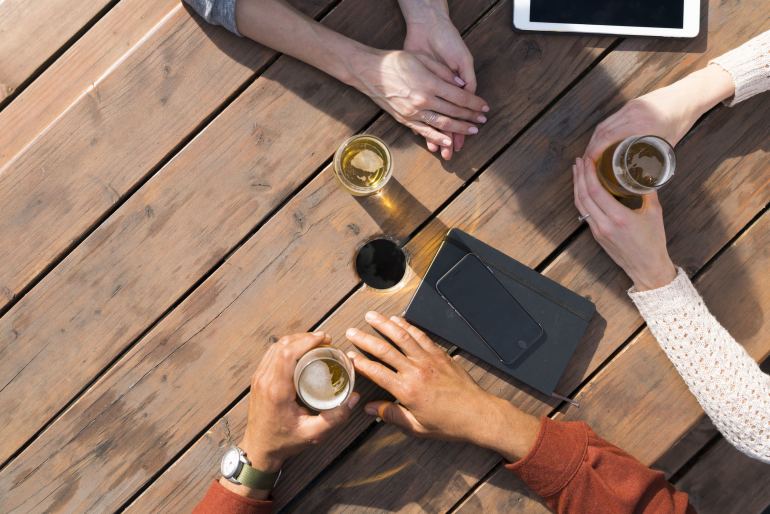 Highlights this week: Social Selling: Engaging Today's Buyer with Jill Rowley | Changing the Game with Social Selling | Social Selling Is More Than Just LinkedIn | Measuring B2B's digital gap | Today's Evolving Sales Professional Needs These 9 Top Skills
This week we summarized a few podcasts and a webinar, capturing key learnings from some of the leading industry expertis and experienced practitioners. So many great insights it was hard to leave anything out.
SOCIAL SELLING & SOCIAL MEDIA
Marketo hosted a webinar this week with Jill Rowley, #SocialSelling expert and evangelist. Over 4000 attendees dialed in for this interactive, engaging, and valuable session.
Jill asked: Who is listening today?: 56% marketing, 19% sales reps, 8% sales leadership, 1% sales enablement and training and 14% other. Certainly seems like marketing is driving social selling at most organizations.
Here are some highlights from the webinar:
The buyer has changed more in the last 5 years than the last 50. We live in the age of the customer, not the seller.

Social selling is is using social networks to do research to be relevant to build relationships that drive revenue.

Jill references Forrester's 'The Consultative Seller' as necessary characteristics for the modern seller: leverages data, embraces technology, shares new ideas, exhibits business acumen, communicates effectively and seeks collaboration.

You need to invest in a programmatic approach with a focus on training and skills development to be successful.

Jill recommends that sales enablement owns social selling programs to focus on the right training and adoption and tools to achieve results.
Jill's 5 Pillars for Social Selling
From Resume to Reputation

Always Be Connecting

Content is Currency

Social Listening for Leads

Measure What Matters
5 Things for Marketing to do Right Away!
#KnowThyBuyer

Centralized content library

Content aligned to buyer's journey

Curate third party thought leadership content and identify influencers for sales

Make social sharing easy
5 Things for Sales to do Right Away!
Optimize your LinkedIn profile for the Buyer; not the Recruiter.

Personalize your LinkedIn invites. Always!

Expand your professional network. ABC = Always Be Connecting. Leverage your college alumni.

Follow your customers, partners (and competitors) on LinkedIn and Twitter.

Read what your buyers read and share across your social networks.
_____________________________________
Kirsten Boileau, Social Selling lead @SAP, sponsors a monthly podcast series on social selling hosted by Bonnie D. Graham from SAP. Kirsten recently changed the name of the podcast to reflect the changing world of sales. She shared that social selling is not just for sales executives but presales, value engineers, marketing, developers. It is really about how all employees can change interactions with customers through social and digital channels.
This weeks guests were B2B Sales and social selling experts Barbara Giamanco and Kurt Shaver. An engaging dialogue with great insights shared from these experts. Here are some highlights.
Kurt believes that only about 10% of organizations have truly embraced the idea of social selling and have a strategic program in place like SAP.

Barbara: Social selling requires a shift in mindset. So much of change starts with a mindset. If you are not willing to change your mindset, it is difficult to change behaviour.
Is the challenge to driving change sales management or the sales team?
Barbara believes it is a little of both. "Mostly it has to do with management. If you want to effect change in your org it does start from the top. I am not seeing enough sales leaders that are embracing the change. It is not about about holding one LinkedIn training session. It starts with the commitment from leadership to embrace and drive the change."

Kirsten: Many organizations have the mindset: we have invested in LinkedIn, so we are social selling; or just get on social media, and we will be doing social selling. "This is wrong on so many levels. Many leaders are focusing on tools. Tools are part of the mix. But it is not just training on how to use tools but how to interact differently, how to engage differently. It is about changing mindset and changing how we engage with customers."

Kirsten shared results of a 2014 pilot where they gave full social training to one group and just tool training to another group. Those with full social selling training delivered seven times the pipeline than those who just get the tool.
On the value of social selling
Barbara shared the top reasons why you choose a winning vendor: timeliness of response; they helped me to better understand/had expertise; understood our company and needs. Buyer expectations are much higher than they have been, they are looking for insights and expertise from their vendors.

Kurt: "Social is a great platform to demonstrate your expertise. Social can give an individual sales person a platform for engaging (sharing content, commenting,...) and an opportunity to showcase expertise."
Content marketing and sales alignment.
Kurt: "Social selling is the greatest opportunity for sales and marketing to work together. The internet gave buyers power, they have access to more information. Marketing has invested in content marketing to educate and help buyers. Sales has the audience, reach and opportunity to engage with their networks, influencers and buyers."

Barbara: "If the content is only yours, buyers will tune you out. Do not just share a brochure. Buyers are looking for info providing insights. Sharing great content on social is an opportunity to demonstrate credibility because you are focused on buyers and their business problems."

Kurt: "Content curation is critical to sharing content that is highly relevant to a specific audience based on vertical, geography, business, etc."

Looking forward to upcoming episodes: LinkedIn and Microsoft, use of video. social selling and Artificial Intelligence.
_____________________________________
When building your personal brand and building your social selling practice, you need to focus on more than just LinkedIn. Barbara Giamanco, #SocialSelling #sales advisor, speaker, author, talks with Ian Moyse, a thought leader on Cloud technology and Social Selling sectors, about building your personal brand online. Here are some highlights from their conversation:
Ian describes social selling as a tool in your kit bag. Social selling does not replace traditional selling methodology. It is more about engagement than selling. Social is just a different medium, another way of communicating.
"I would encourage listening and learning about customers and buyers and their organizations. A website is reasonably static. On social you can listen for business and industry news items as well as from individual buyers and what is important to them."
Ian re-enforces that social selling is not a quick, immediate solution. It is not just moving your cold pitch from phone or email to a LinkedIn InMail. You need to adjust your approach and use these tools to build that relationship with the buyer.
Ian's advice: "Slow down. Sales leaders need to understand the need to slow down on social media and the importance of engaging with something that is relevant. The importance of listening to social and buying triggers that would make that piece of content or insight highly relevant and timely for that buyer."
Barbara highlights that too many experts are just focused on building a good-looking LinkedIn profile. This is important, but it is not the only thing. It takes time to build your presence and build relationships. It takes time to nurture relationship with valuable content and engagement, especially with larger enterprise deals.
But both Ian and Barbara emphasized that social selling is more than just LinkedIn.
You need to think about other platforms. Many people don't want to use Twitter and they are apprehensive to get started. Ian shared some great advice to get started on Twitter:
Start with listening, listen for social selling triggers, something you can comment on, retweet with a quote.

Share relevant content.

When someone looks at your profile or starts following you on Twitter - don't start to pitch them. Continue the conversation.

When you have added enough value you will often find that buyers will take that action to connect and/or follow, you can look for opportunities to engage further.
Barbara highlights that there are no barriers to a conversation on Twitter; it is expected behaviour. People are there to listen, learn and engage with others.
_____________________________________

B2B MODERN SALES & MARKETING
B2B companies have some work to do in improving their strategic investment in digital. McKinsey Quarterly highlights that B2B companies fall short of their B2C counterparts in key areas of their Digital Quotient assessment. The need for B2B to invest in digital capabilities across their organization is increasing as their buyers are gravitating to digital tools to do their research.
"—after all,(B2B buyers) use Amazon at home just like everyone else does. Yet B2B buying and selling is often more complex. There are more decision makers and influencers involved in final purchasing decisions, B2B customers can also have different needs at different stages of the customer decision journey, requiring a balanced approach across channels that includes, at times, digital-only interactions."
McKinsey's Digital Quotient looks at various management dimensions aligned to strategy, culture, organization, and capabilities. Digital strength in these areas strongly correlates to performance. Here are some highlights from the research:
Strategy—attention deficit.
Fewer than 24 percent of executives understand how their industries are being disrupted by digital.

Only 6 percent of B2B companies have a mobile strategy, compared with 30 percent of B2C companies.
Capabilities—skills deficit.
B2B companies are behind those in the B2C sector in digital capabilities.

They aren't using social media or digital content creation as effectively in their outreach to customers.

They are also behind in their use of data and advanced analytics to better understand and engage with their customers.
McKinsey highlights that there is tremendous opportunity for B2B organizations that invest in digital strategy and capabilities, supported by the right culture and organizational change to support their efforts.
"As the "consumerization" of B2B proceeds, pressure will grow on leaders to accelerate their digitization efforts. Doing so should help boost effectiveness across the board, and it holds particular promise for companies seeking to raise their omnichannel game by putting better tools in the hands of sales teams and striking the right balance between new and traditional channels."
_____________________________________

Will cold calling end? Will social selling replace cold calling? Is cold calling dead? This certainly seems to be quite a divisive debate these days in the sales industry. Daniel Disney, Founder of The Daily Sales, tackles this discussion in the context of the millennial generation, arguing millennials will kill cold calling. I would argue his reasons are relevant across generations. Here are some highlights:
Reason 1: People don't like cold calling. It interrupts your day, adds no value and the conversion rales are ridiculously low.

Reason 2: The majority of salespeople and their customers will soon be millennials, and millennials prefer communicating through digital channels like social and text.

Reason 3: Social media will replace cold calling! "Social media allows you to build relationships and gather information before taking it to a face to face or telephone stage. If you phone someone after socially engaging with them it's not really a cold call anymore, is it?"

Reason 4: We have to adapt and move with the times. Many argue for cold calling as it has always worked for them in the past. We are experiencing significant change. Buyers are digitally driven. Sales needs to adapt and change to the modern digitally driven buyer.

Reason 5: Buyers are looking for value and trust from their vendors. Sales can build trust and relationship through adding value on social and digital channels. By sharing content and engaging with value, you are warming up and building a relationship based on trust and value.
Daniel has shared some important insights and a valuable perspective. Check out the post for some important debate and dialogue.
_____________________________________
There is no doubt the the buyer has more power today than ever before. This is changing the sales profession at an alarming rate. Nikolaus Kimla, CEO at @PipelinerCRM, shares some fundamental skills that are required for the modern sales professional to be successful. Here are a few that really stood out as critical:
Fully Understand Lead Qualifying: Understanding the difference between leads that are "ready now" (on the short list for immediate action), and "not ready yet" is important to driving the right sales activities to move forward and nurture.

Be Open to Technology: Identify and adopt best practices and new technology tools that will help you to gain insight, save time and engage with prospects. Understand where and how your prospects are using digital and social media and know how to engage and communicate with them on their terms.

Sharpen Your Research Skills: Learn how to research and gather information online. From content curation, to Twitter lists and LinkedIn profiles, there is a tremendous amount of information available to better prepare you to understand and engage with your buyers.
Check out the article for all of Nikolaus's recommendations.
*************************
Hope you found these useful. We look forward to sharing more next week. In the meantime Follow us on Twitter.
Kim