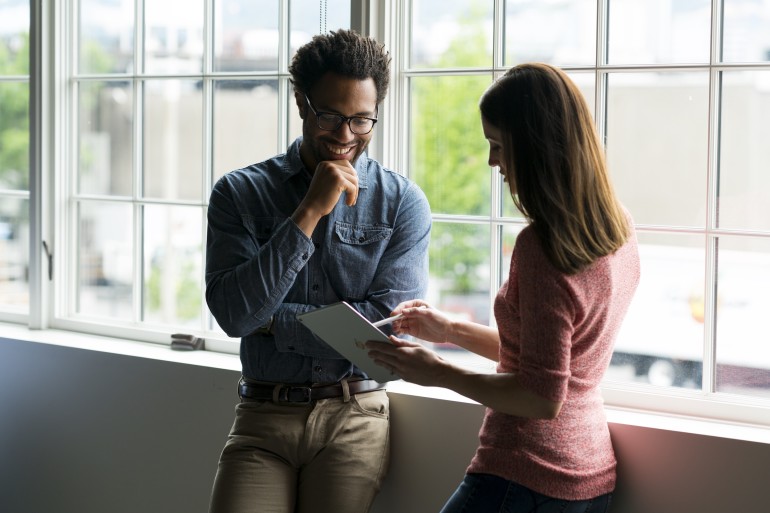 Highlights this week: Carola van der Linden on Building a Successful Social Selling Program at Cisco | Personal Branding for Sales People | Rising Above the Noise on Social Media | Sales Enablement, Content Marketing and Social Selling | Top Influencers Of Tech B2B CMOs In 2016 | Account-Based Sales And Marketing: New Tech, Old Principles | LinkedIn Desktop Redesign and the New LinkedIn Search
FEATURED POST
I recently had the opportunity to speak with Carola van der Linden, a social selling expert. Carola has in-depth experience in building a leading social selling program at Cisco. She shared powerful insights on her journey and what it takes to build a social selling program. Here are the highlights of our conversation:
Industry research, impact to sales and customer feedback at Cisco were prompting the need to adjust and adapt for the modern buying journey. Carola was given fifteen LinkedIn Sales Navigator licenses for her sales reps and was asked to do something social.
"It was quite clear from the start that giving people a tool does not work. We needed to create a program to build awareness of the value of social selling, train effectively, build best practices and share them with the sales team."
Enabling social selling through effective training and adoption: Carola took a multi-faceted approach that included formal training; support material with specific examples and best practices for each role; and regular sharing of best practices and success stories across the sales team.
Sales leadership was highly engaged in the program: Their sales teams was experiencing first hand the shift of the modern buying journey. The sales managers needed to embrace social selling themselves to lead by example, teach and coach their teams. They took ownership of 1on1 coaching and encouraged adoption and training. This was the most effective way to scale the program.
The role of content in social selling. "Content is super important to help sales people connect and engage with their customers. It allows salespeople to position themselves as subject matter experts. It is the petrol that fuels social selling. Sharing third-party content is very important. Salespeople need to be careful about only posting only their content. You then are only saying, 'look at me, look at all my shiny product features.' It is critical to have a balance, especially early in the buying journey. You need to find great third-party content so you can learn as much as possible about your customers and their industry and share that content with your customers."
Measurement: Carola recommends a staged approach to measurement. Early in the program you want to focus on measuring training, adoption and engagement with the program. Once the program is established you should shift your focus to measuring success stories and business results.
Social selling is not just for sales. Modern buyers, especially at senior levels, are looking for more insights and innovation from their vendors. While salespeople need to position themselves as subject matter experts and trusted advisors, buyers are also looking for thought leadership and innovation from across the organization. C-suite executives, product leaders and other experts throughout the organization need to understand their role in the buying journey and how they can position themselves as experts, and share innovative ideas on social media.

SOCIAL SELLING & SOCIAL MEDIA
"It is becoming more and more important for professional salespeople to develop a strong personal brand in order to be seen as credible and potentially valuable to meet with."

John Smibert, B2B Sales expert, talks with Cian McLoughlin, who has built a strong personal brand. Together they share some effective strategies to help salespeople build their personal brands. The interview is worth a listen, but could simply be summed up with the following:
"...the customer's going to 'Google' you, she'll be checking you out on LinkedIn and what are they going to see. She wants "to see that you have an opinion, she wants to see that you are out there expressing yourself, because she's going to join the dots." She'll ask herself "is this a person that will create value for me"
Cian shares some practical advice for salespeople in building their personal brands.
Update your LinkedIn profile (it should not look like your CV). Ensure that it speaks to your buyers. Add rich content that will demonstrate your expertise and add value to your buyers.

Share content including your customers successes, insights that will help your buyers.

Have an opinion that demonstrates your expertise.

Curate and share content written by experts and thought leaders in your industry.

Have meaningful conversations on social media (ex. Linkedin Groups, respond to posts, Twitter conversations) about topics which are relevant to you and your buyers, by answering questions and sharing insights.
_____________________________________
Social media is noisy; how do you break through the noise and clutter? Have a clear purpose, listen effectively and focus on engaging in communities and conversations that are relevant and valuable for the audience that you are trying to reach. Lucy Rendler-Kaplan shares some practical insights and tips to help you rise above the noise:
'Let go of the ego' and be authentic: What works offline, translates well on social media. "You don't walk up to potential friends and introduce yourself, then go on to pitch them on what you do for a living and how they can buy in, they'd get bored and walk away. Rather, you introduce yourself to people and ask questions about them, try to get to know them, see what they are interested in and where you have things in common."

Focus on your customer: Focus on sharing content that is valuable to your customer, not you. As above, your content should not be all about you, your brand and your products. Ask questions, engage and respond to others.

Do More Than Just Listen: While listening is one of the most important things to do on social media, use what you learn from listening to share valuable insights, respond to others. Look for ways to have open 2-way conversations.

Be consistent: "Consistency also leads to reliability, and reliability leads to trust. And trustworthy people and brands always stand out.". Establish a regular cadence of sharing and engaging on social media and keep it consistent.
Thank you, Lucy, some great guidance for brands and individuals to break through the noise, build your brand by adding value and engaging on social media.
_____________________________________
"Craig Davis, Chief Creative Officer of J. Walter Thompson, famously said, "We need to stop interrupting what people are interested in and be what people are interested in." (Fun flashback here, foreshadowing the content marketing revolution.)"

Social selling, content marketing, sales enablement; B2B sales and marketing buzzwords or what it takes to stop interrupting and engage with today's digitally driven modern buyer? Barry Feldman, one of the top social media marketing experts, shares important insights on how each of these elements supports modern B2B sales and marketing.
Buyers are interested in a trusted source of information that helps them solve their problems and make decisions.
Sales Enablement plays a critical role in equipping sales with the right content, tools and knowledge to become that trusted source of information that buyers are looking for at each stage of their buying journey.
Content Marketing: The challenge is that much of the content that is produced goes unused because it is hard to find and sometimes not relevant to specific accounts. So how do you solve for this? Marketing and sales collaboration. Barry recommends a three-step collaboration process:
Map the buyer journey. Marketing and sales should work together to understand the buyer journey and identify content that can help at each stage.

Create a content awareness initiative. Marketing should develop an easy approach for sales to find and share the content. This should include helping sales understand the value of the content and when and how they can best share with their buyers.

Enable content personalization. Barry shares lots of simply ways for marketing to help sales personalize the content including scripts, personalized emails and customizable proposals and sales decks.
Social Selling Enablement: Marketing should play an important role in enabling the sales team with effective social selling. Create a library of content that sales can easily share with their social media networks. The content should be customizable to ensure relevant messages for each sales person's audience. (Each sales rep may be selling to different accounts in different industries). This same content can also be shared 1to1 with buyers later in the buying journey where relevant.
_____________________________________
INDUSTRY NEWS & UPDATES
LinkedIn is rolling out new design and updates to the platform. Some users are starting to experience the new design and they expect to rollout globally in the next few weeks.
According to LinkedIn: "this desktop redesign brings conversations and content to the heart of the platform, so you can more easily share ideas, join a discussion, and discover news and topics you care about."
Enhancements include:
Updated navigation: There are now seven core areas on the bar navigation -- Home (Your Feed), Messaging, Jobs, Notifications, Me, My Network, and Search. You click on the "more" icon on the navigation bar to access other capabilities such as LinkedIn Learning.

Updated messaging: Real-time messaging interface, you can message a connection wherever you are on LinkedIn. This is a change for more email type messaging capability. The plan is to also include further insights across the site to help you break the ice in any conversation.

Richer Feed to keep you informed: A combination of algorithms and human editors working together, will surface the most relevant content from people and publishers based on your interests.

Updated search: You now have one universal search box to easily find people, jobs, companies, groups and schools. You can refine your search by using filter options on the right hand side, with the ability to search posts coming soon.

Greater insight into who's viewing your content: You will be able to see who's reading and engaging with the content you share, including the company, job title and location.
Check out these posts for more detail:
LinkedIn Desktop Redesign Puts Conversations and Content at the Center
How to Make the Most of the New LinkedIn Search
I have not received the updates, but look forward to experiencing the changes myself soon.
_____________________________________
B2B MODERN SALES & MARKETING
In B2B sales or marketing, it is important to understand who influences your buyers. Take the time to understand the influencers and what they are talking about and you will inevitably understand what is important to your buyers. There is also an opportunity to learn from how influencers develop their own personal brands and become influencers.
Kimberly A. Whitler, Former #CMO, Prof at Darden Business School and Forbes and CMO.com contributor - looks at the top influencers of Technology B2B CMOs. Using research from Leadtail (a leading social media insights company), she digs deeper on who the influencers are, how they have developed their influence and what they are talking about.

So what are the these influencers talking about? #MachineLearning, #WomenInTech, #AI, #SAAS, #SocialSelling, #MarTech, #CX, #Digital, #Innovation, #DigitalTransformation, #VR, #ABM, #MachineLearning, #cybersecurity.
Leadtail looks at four paths to becoming a top influencer. Each of these is applicable and has lessons in building your brand or personal influence.
Leveraging insights gained from your position

Sharing about your specific area of expertise

Create and curate compelling content

Building influence through engaging with other influencers, experts and your target audience.
Tip: Research what the influencers are talking about in your industry, find the hashtags and make sure you incorporate into your social listening and sharing.
_____________________________________
While account-based sales and marketing might be the latest buzzwords and part B2B trends and prediction for 2017, they are rooted in solid sales principles that have been in practice for decades, including: named account sales and marketing: account plans, territory management, field marketing and consultative selling. The conversation on ABM is putting greater focus on the opportunity for marketing and sales to work together by focusing on specific accounts. Technology is also enabling greater focus and efficiency in understanding and engaging with prospects. Scott Cotter, CMO at Skuid, highlights some of the core tenets of ABM that are critical for marketers:
"Understand your prospect. Engage your buyer on their terms — and on the subject matter they care about. It's an ongoing dialogue, not a one-time communication. Decisions are made collectively and each person has different motives."

The guiding principles for getting started using technology to support these:
Move from reading business magazines, industry publications and rolodexes to online research and social listening with LinkedIn and Twitter to better understand your buyers.

Share content at the right time with your buyers based on your listening and research.
Ultimately it is about understanding and focusing on your customers' needs, providing a customer-centric context for your product, and sales and marketing working together to add value and engage with your prospects.
*************************
Hope you found these useful. We look forward to sharing more next week. In the meantime Follow us on Twitter.
Kim