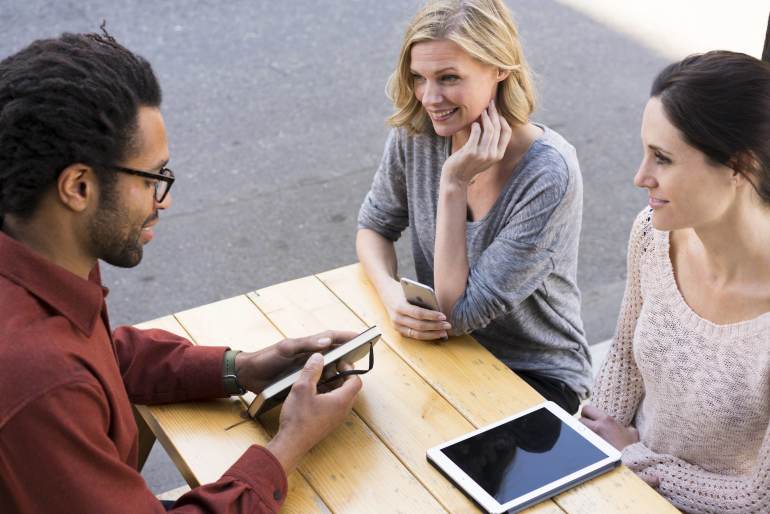 Highlights this week: Matt Heinz B2B Marketing and Sales Thought Leader | Social Business Predictions for 2017 | The 1 Sentence That Will Make (or Break) Your LinkedIn Profile | 14 Things You Should Never Do on Twitter | Selling to a Highly Informed Customer | Sales Enablement Resolutions for Successful Reps
FEATURED POST
I recently had the opportunity to speak with Matt Heinz. Matt is a thought leader and expert in the B2B Marketing space (Top 50 B2B Marketing Influencers). Matt shared some powerful insights into how we can take a strategic approach to master the modern B2B buyer journey. Here are some highlights from our conversation:
The biggest challenges facing B2B marketers today
Matt believes there are a number of challenges facing B2B marketers. Re-defining their role as a profit center for the business is probably the most crucial. They are working in isolation and executing tactics without focusing on revenue generation. Marketers need to be able to articulate the role each tactic plays in driving revenue. This comes from working closely with sales. He sees one of the keys to success through greater marketing and sales alignment.
"If you go from nothing to doing a crappy job of integrating sales and marketing, you are at least moving the needle forward, you will see value."
On Marketing Technology
"Technology is not a strategy - it is an enabler of the strategy. Don't let the tail wag the dog.
It is becoming more and more difficult to manage B2B marketing without the right technology stack. However, the stack will look different for every organization, it will depend on their strategy. The right marketing technology stack will be a powerful enabler of your strategy."
On Account-Based Marketing
"On one hand ABM is the latest shiny, bright object. But there is a real advantage for the organization. It is not just about marketing. ABM is an organizational change in how you sell. It is not about marketing doing their thing and sales doing their thing. It is about all customer-facing groups taking an account orientation."
On Social Media and Social Selling:
Matt believes, social media has a role to play if your prospects are engaged with social media. He struggles with the term 'social selling,' as social is a great way build trust, reach and engage with buyers. But it should not stand on its own. Marketing and sales need to take an omni-channel approach.
"Social selling because it is new for so many, it may need a little more attention. It needs to be understood as a concept, but ultimately to be successful, as with ABM, it needs to be part of your broader marketing strategy. Social selling will reach maturity, come into its own when it is called sales. Just like it is not social marketing, it is marketing."
Some final thoughts:
Matt highlights: "you have 2 seconds to earn 5 seconds to maybe earn a 20-second phone call."
"If you are in sales or a marketer and you are trying to get someone's attention, you need to get something in front of someone early in the relationship that is so good they would have paid for it. What insight, trend what approach can you deliver that is that valuable?"
Matt re-enforces that you need to take this approach and mentality throughout your relationship with your buyers and customers.
_____________________________________

SOCIAL SELLING & SOCIAL MEDIA
From social coaching to social selling, Sarah Goodall of Tribal Impact shares her predictions for 2017 that include some important insights for B2B sales and marketing leaders. Here are some highlights:
Employee Advocacy Is A Program. Not A Tool. In 2016 many marketers rushed into employee advocacy by buying a tool. Sarah highlights that marketers have learned their lesson. Building a program will be the key to success in 2017. A program needs to focus on the employee first, then the brand. The program needs to include training, content and the right tool to enable.
Social Coaching For Leaders: Executives play an important role on social media in engaging with customers and employees. One of the keys to success is authentic sharing and engagement. In many cases, executives have deferred sharing and engagement to their corporate communications teams to manage. As a result, they lose the opportunity for true engagement and authenticity. True value will come from this prediction coming true:
"2017 will be the year when leaders can no longer hide behind managed accounts. Authenticity will prevail, and they will seek out executive social coaching from internal communication teams."
Social Selling Is Here To Stay: With buyers already ahead of the curve, Sarah predicts businesses seeking a competitive advantage will adopt social selling. While you may need to start with LinkedIn, social selling programs should expand across other social platforms. The programmatic approach Sarah highlights above for employee advocacy is also critical to successful social selling at scale, including quality training, content, measurement and the right tool.
A Social Business Is A Mobile Business: Employees are actively using mobile devices for their work and personal lives, especially for engaging on social networks. Sarah shares:
"I believe we'll see a fundamental shift in mobile adoption within the workplace this year, where a BYOD (Bring Your Own Device) policy will encourage employees to connect with each other, to customers and their wider network."
_____________________________________
"Is your Twitter presence infuriating rather than delighting followers?"
Whether you are in B2B marketing or building your B2B social selling practice, getting the right approach on a social media platform is critical. This guidance on Twitter from B2B Marketing is absolutely spot on. Here are some of our favourite highlights:
Don't Be Boring. Regularly ask yourself: 'Is it of interest to my audience?' and 'Is it in my audience's interest to know?' You want to focus on adding value with everything you share.
Don't Be Selfish: In order to add value, demonstrate your expertise, influence others and build relationships, you want to be generous in what you share. Share content relevant to your industry and your audience. A good guideline is the 80/20 rule; 80% valuable content and 20% from your brand. People will tune you out on Twitter if you only post about yourself.
Don't Voice Opinions on Sensitive Topics. Avoid sensitive subjects like politics and religion – you do not want to alienate or offend your audience.
Never Interrupt a Twitter Chat by Trying to Sell Something. Do not jump in on a Twitter Chat or in fact any conversation on Twitter and try and promote your product or service. Instead, take the time to listen to to what is being said and look for opportunities to educate, answer a question or share a relevant insight.
Be Consistent: Consistently sharing valuable content that is relevant and engaging will help to build your audience, establish your credibility and influence. Build the right cadence of sharing and be consistent. A good guideline for Twitter is 5-7 tweets per day.
Check out the post for some more great guidance.
_____________________________________
Have you optimized your LinkedIn profile for social selling? John Nemo, LinkedIn trainer and speaker, highlights the first step in setting up a customer focused LinkedIn profile.
"Because LinkedIn is a searchable database, similar to Google, users can type in keywords and phrases to find certain types of professionals to connect with or services they want provided. Along with using LinkedIn to find your ideal prospects and clients, you can also get "found" on the world's largest social media platform for professionals.
And it all starts with a single sentence."
Your LinkedIn professional headline is the first thing everyone sees, it is searchable and it follows you everywhere you go across the platform. With every comment, like or share on LinkedIn people will see your headline. You have 120 characters (18-20) words to communicate to your prospects and clients. Take the time to get it right.
Do not simply use your job title, that is not meaningful to your prospects.

Use words and language that will resonate with your prospects and clients.

Include keywords that your prospects might use for search (your marketing team can help with this).

What solution do you offer or what business challenge can you help your customers solve
Here is a resource from Trapit with some more tips: 6 Quick Tips for Perfecting Your LinkedIn Profile for Social Selling
_____________________________________
"The explosive growth in the use of social media has dramatically altered the way customers discover and evaluate products.They are no longer dependent on the information provided by the salesperson to make a buying decision. Today, people can get all the information they need about a product by surfing the Internet or by contacting their "friends" on social media. In fact, research shows that about 60% of customers make a decision to buy or not, even before meeting a salesperson."
RK Prasad, Founder-CEO of @commlabindia, shares some practical advice for sales reps on how to effectively sell to highly informed customers. Here are some highlights:
Finding 'customer watering holes': Do your research, talk to your customers and find out where they doing their research. For example, if your target customers is a chemical engineer, you will probably find them in the IChemE (Institution of Chemical Engineers) group on LinkedIn. Many buyers are on LinkedIn and Twitter, engaging with their peers and following industry leaders.
Starting an "intelligent" conversation with the customer: When engaging on social media or offline you want to look for opportunities to add value through educating your customer. Do your research online about your customers, listen to what they are sharing and saying on social media. This will provide opportunities for you to have intelligent conversations that add value. Stay away from the product pitch, this will definitely turn off the 'highly informed' customer. By regularly sharing relevant and valuable content, you can position yourself as an expert and be a part of your customer's buying journey.
_____________________________________
B2B MODERN SALES & MARKETING
98 million "Google" search results on "marketing" and "sales" relationships. Mary Shea, Principal Analyst at Forrester, highlights that we are 5 years into the age of the customer and our B2B buyers expect more from organizations than an "endless loop of finger pointing" and lack of alignment. Buyers do not care about our organizational structure; they care about their needs and challenges.
"Your buyers want contextual interactions with both human and digital assets across a holistic but non-linear journey. And, by in large, they want their experiences with salespeople to be high value or frictionless."
Mary recommends that committing to very buyer centric programs like social selling and account-based marketing is a meaningful way to drive collaboration and alignment.
_____________________________________
It's not too late to set some New Year's Resolutions for 2017. If you are in sales, there are some on the Salesforce Blog that will set you up for success. Here are some of our favourites:
Collaborate with Peers: Sharing and learning with your team is an incredible way to continue to get better and grow as a sales organization. Share best practices, successes, challenges, learnings,and failures. Make sure you make a plan when sharing to capture and take action from all the learnings.
Close the Gap: Increase collaboration and alignment between sales and marketing. Your buyers are looking for great content, and, working with marketing, you can build a better buyer focused content strategy. Even small steps of progress to great alignment can make it easier for sales to find and share highly relevant and impactful content for their buyers
Adopt a Customers-First Attitude: Sales reps can no longer rely on a one-size-fits-all approach to pitching customers. In 2017 take on a customer-centric mindset, taking the time to understand and focus on your customers needs and focus on building relationships based on value and trust. Look for ways to add value at every engagement with your customers through insights and education.
Get More Social: Hubspot has identified social selling is a key priority for sales in 2017. Your buyers are already doing their research and engaging on social media. Don't get left behind. Take the time to build your social selling capability in 2017:
"With easy-to-access insights about prospects such as demographics, top challenges, topics they're interested in, what's happening at their company, and what's going on in their industry, sales reps can engage more intelligently with buyers and effectively drive meaningful conversations."
_____________________________________

Industry News
Each week, MarketingProfs shares their #SocialSkim, with updates on the latest in the world of social media marketing. A great way to stay up to date. Here are a few highlights from this week:
The new LinkedIn: What you need to know
A new LinkedIn layout is soon rolling out to for everyone and it is important to understand the changes. And where to find the functions you need.
Homepage: The section now features a lighter, cleaner look, where icons and personal snapshot are more similar mobile app.

Me section: What used to be the Profile section is now called "Me." Here you can edit your profile, adjust privacy settings, etc. Your profile photo is now circular, and the specs for the background photo are now 1536 x 768.

Revamped search: LinkedIn's free version no longer offers advanced search options (names, titles, locations), saved searches, or tagging.

Notifications: These now get their own section, making it easier to view and respond to engagement with your page or profile.
Twitter's Jack Dorsey asks users for a wish list, and they don't hold back
Twitter CEO, Jack Dorsey asked users, (on Twitter of course), what they are hoping Twitter will build in 2017. The most popular request, an edit tweet feature to allow users to make changes to existing tweets without having to delete and start from scratch.
It will be interesting to see how Twitter evolves in 2017.
#SocialSkim is a great resource each week. FYI: You need to sign-up as a member (it is free), to access the articles.
*************************
Hope you found these useful. We look forward to sharing more next week. In the meantime Follow us on Twitter.
Kim