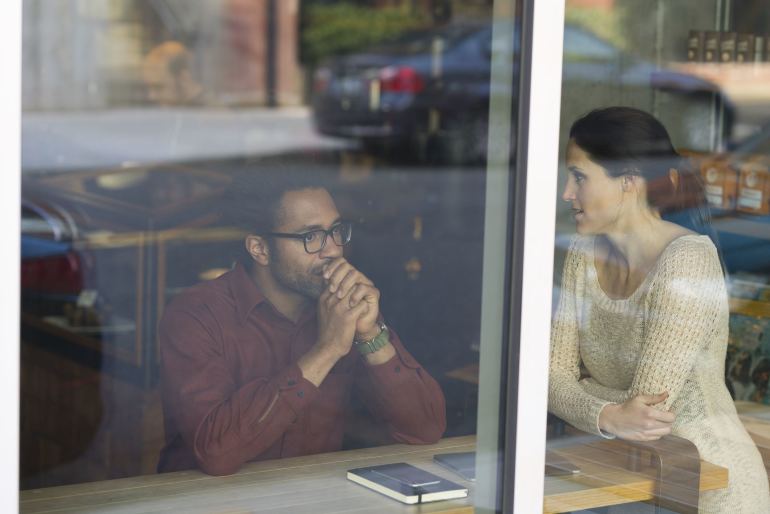 Highlights this week: Graham Hawkins, Experienced B2B Sales Expert and Thought Leader | 17 Plays for Winning at Social Selling | Why Social Selling is Neither "Social"​ Nor "Selling"​ to Most People | How 3 Underdogs Achieved Success with Social Selling | 9 Trends Facing B2B Sales And Marketing In 2017 | How to Sell to Multiple Decision Makers
FEATURED POST
Our featured post this week highlights my interview with Graham Hawkins, experienced B2B sales leader, author, entrepreneur and thought leader on modern sales. We had a rich and engaging conversation filled with powerful nuggets of information and practical advice on the forces of change in B2B sales, the need for sales transformation, the critical role of content and social media.
Here are the highlights of our conversation:
The 5 Forces of 'Change' for Salespeople: 'Bargaining Power of Buyers' and some of the key external forces of change - specifically 'Digital and Social'.
The bargaining power of buyers: Graham highlights that there are more businesses moving towards dealing with fewer vendors. The bargaining power also stems from the information parity shift Graham highlights in his example above of sales in the 1990s. Buyers have access to much more information than ever before. The balance of power has shifted from vendors to the buyer.
"Field Sales was ok when the buyer was in the field, but the buyer is no longer in the field. The buyer is online. Sales has a lot of adjusting to do in the next 3 to 4 years."
Social and Digital:"To be successful at sales you need to be digitally driven and socially connected. You need to have a personal brand online that quickly allows the buyer to see who they are dealing with and understand your unique promise of value. Unless you are bringing a buyer new insights and unique info they cannot get elsewhere, why would they spend an hour of their time to meet with you?"
Sales has to transform how they go to market - focusing not on the sales process but the buying journey.
From 'Generalist to Specialist': The Future of the Sales Profession.
"Salespeople must move up the scale from generalist to specialist. You need to be able to do what the guy at Hubspot did for me: educate the buyer. It sounds common sense and simple but so many do not understand this, we are not seeing this kind of change. I believe we are up for a turbulent period in the next couple of years."
The role of social media and content in modern sales.
Listening: "This power of social is in the opportunity to listen for those buying cues: new insights about a prospect's business, their industry, leadership changes as well as the personal interests and motivations of the buyers. Social is the absolute platform for gathering that information to make you a more knowledgeable and valuable salesperson."
Content to add value and build relationships: "In order to become a specialist and a person of influence in your industry, you need to be creating and sharing content that is on message for what you are all about. You are able to build and nurture relationships by sharing thought leading content that adds value. If you are sharing content regularly, when a customer moves into the into a buying phase, you are top of mind." (Graham's Hubspot example)
On why sales leaders are not embracing, and driving the change needed to engage with the modern buyer.
"Sales is being measured and managed by 20th century metrics - volume metrics: more calls, more meetings and more pipeline. This is driving all of their activities. In many cases they are not being permitted to start to think about the digital landscape and social and the opportunity to share thought leading content to drive inbound leads. This is creating a lot of risk. If you do not take the time to align your business with your buyers,it is only a matter of time that you will be disrupted. An Uber or AirBnB will send you packing."
Some final thoughts.
"The old vendor push doesn't work, don't interrupt. Those days are well and truly over.
The Hubspot example I shared really brings this to life (Sales people must stop pushing…..and start using honey!)
If you can set yourself up for the future of sales by listening, sharing your specialist knowledge, adding value and building and nurturing relationships. That is when you will be successful and you will be valuable to your employer.
Thank you, Graham, for a thoughtful and engaging conversation.
_____________________________________
SOCIAL SELLING & SOCIAL MEDIA
In the spirit of the Super Bowl in the US this weekend, Mark Bajus of Trapit shares plays for winning at social selling. Right upfront he shares some sage advice.
"Winning at social selling does not mean closing a deal and sending over a contract via Facebook Messenger. Instead, winning at social selling means building relationships and trust so that you earn the opportunity to have offline conversations."
Here are some of our favourites:
LinkedIn Plays
Look at the "People Also Viewed" Section
Nowadays, the typical deal involves 6.8 stakeholders. To easily find more stakeholders at key companies head over to the profile of one of your prospects, and then look to the right. The "People Also Viewed" section will show other users similar to him or her, many of which are stakeholders at the same organization.
Avoid Cold Pitches, Especially on InMail
You've probably received a few cold pitches on LinkedIn, and maybe you've thought, Hmm… If other people are cold pitching on LinkedIn, it must be working. Otherwise, why would they be doing it? Just because cold pitches are "out in the wild" doesn't mean that they are successful. In fact, for many buyers, receiving a cold pitch is a huge turn-off.
Focus on adding value instead. Help your buyer. If you are solely talking about your product, social selling will not work for you.
Be Purposeful with Content Sharing
Content sharing needs to be purposeful and focused on building stronger relationships with your audience. When sharing content, ask yourself:
Why am I sharing this piece of content?

Will it help my buyers?

Is this something my audience has not seen?

Am I providing context as I share this piece of content?
That last question is key. Don't just share a link without typing a few words of commentary. Your buyers won't see what you see. Perhaps there's a quote that you love from the article. Perhaps you learned a new statistic. Perhaps you want to share your opinion about the article.
Having a point of view will help you stand out in the LinkedIn newsfeed.
Write a Buyer-Focused Profile
After your photo and headline on LinkedIn, your summary (i.e. your bio) is the most commonly viewed portion of your profile. If you're in sales, your LinkedIn profile should not read like a resume for a hiring manager. Rather, tell your story to a potential customer.
Mark previously shares some great tips. 6 Quick Tips for Perfecting Your LinkedIn Profile for Social Selling
Twitter Plays
Master the Hashtag
Identifying the right hashtags is critical for social selling success. Hashtags allow you to eavesdrop on conversations, join already existing conversations, and start new conversations.
By monitoring conversations, you can learn about your industry and prospects, and by adding value to conversations, you can start to build relationships that could end in a business transaction.
Mark wrote as series of posts on Twitter hashtags. You can find them here:
Listen to Buyers
Before you engage your buyers on the phone, on email, in person, or on social, you need to listen. Listening will help you have more productive conversations.
There are many ways to listen on Twitter. Mark covers many some examples in this guide.
He dives a little deeper on Twitter lists. Twitter lists are an underutilized feature on Twitter. These lists are a tremendous asset for salespeople. A Twitter list allows you to organize a specific subset of people and follow their tweet activity. By creating lists, you can group people together and pare down the number of tweets you see at one time.
Note: You can create private Twitter lists so that no one else can see your list of prospects.
Learn How to Use Advanced Search
Twitter has two search tools on its web-based application. There's the search option in the navigation bar at the top of the page, And then there's the advanced search feature, which gives you more options for searching tweets and its users. Mark shares a blog post: 4 Ways Sales Reps Should Use Twitter's Advanced Search.
Program Management Plays
Mark also shares some critical 'plays' for building a successful social selling program.
It was definitely hard to choose favourites. I definitely recommend checking out the post.
_____________________________________
Alex Hisaka, Head of Content for Linkedin Selling, shares stories of how sales reps were able to overcome obstacles and achieve success through social selling.
Sales leader Scott Logan knew that his his team was not delivering results through email outreach because of their inability to reach and connect with the right decision makers. Social selling looked like the right solution, so Scott conducted a test. The results? The team using social selling outsold the others by 160%. The decision was clear to transition the entire team to social selling. Nine months later, his entire team experienced 215% more revenue.
Eric Mitchell, a sales rep for a cloud-based inventory management company, was struggling with his sales approach. He was buying lists and then cold calling hoping to find the right decision makers. It wasn't working. Looking for a new approach he tried social selling.
"He was immediately impressed by the impact social selling had on his ability to cultivate relationships with prospects. Gone were the awkward, one-sided cold calls. Instead he was conducting mutually-beneficial sales conversations. Eric didn't abolish the phone altogether. He did, however, mandate that before he got on the phone with a prospect he needed to be prepared to lead with insights. Which was made possible by using social media for research"
Such great examples. Alex shares that 72.6% of salespeople who use social selling as a part of their sales process outperformed their sales peers who didn't.
_____________________________________
Mark Hunter, best-selling author and keynote sales speaker, shares some important perspective on social selling in this insightful LinkedIn post. He clearly articulates some of the bad practices that have emerged and provides perspective on how you can effectively use social networks in an impactful and valuable way.
"Too many salespeople are trying to turn social selling into something it's not as a way to practice "pseudo selling." People are embracing it because it's a shiny object they feel won't require them to talk to anyone. They believe all they have to do is spend all day on social media and presto, business will appear. Social selling is not posting some stupid article about how wonderful your company is and the great accolades you've received and then thinking I'm going to be impressed….That's not social selling; it's social stupidity!"

Mark shares a balanced and important perspective of the right way to approach 'social selling':
Social selling is about building relationships and creating opportunity for one-to-one conversations.

Sharing content, commenting on other content and interacting with people to help create awareness, value and build your own knowledge through research and listening.
"There is no magic about the process, but the number of people I've met via social media sites and with whom I have developed quality relationships and done business is huge. The key is one-to-one and understanding. It's not about you, but rather it's about helping the other person. Sales is not about chasing shiny objects and following fads. Sales is about creating one-to-one relationships that allow you to help customers see and achieve an outcome they didn't think was possible."
_____________________________________

B2B MODERN SALES & MARKETING
James Carbary shares a powerful overview of the just-released 2017 Trends and Tech Guide for B2B Sales + Marketing developed by Prezi, Ambition and LeadGenius. James summarizes each of the trends. Here are some highlights:
Managing Millennials in B2B Sales and Marketing: Millennial employees are looking for better visual cues, connectedness, and manager feedback. This can be solved for with new-and-improved digital communication channels and strategies.
Account-Based Marketing & Sales Strategies Come of Age: James refers to this as enterprise sales 2.0. Sales-marketing alignment, social selling, and sales intelligence are all focused on engaging and succeeding with the modern digitally driven buyer. In other words, how do you engage with the 5-7 decision makers in the average B2B buyer to get to a sale.
The New CMO: More and more, B2B marketing leaders are being held accountable for revenue growth. They need to become more savvy at both sales, technology and customer success in order to be successful.
Customer Experience: A Unifying Force for Sales & Marketing: Beyond the buying process, overall customer experience is critical for both marketing and sales. For those getting this right, there is more focus on customer support, product development and advocacy
Personalize Everything: From Messaging to Management: Developing personalized relationships is a challenge for B2B organizations, especially at scale. Technology can be enabler, but should not just be used to reach more people. Generic public and 1to1 automated communications will undermine your efforts to personalize and build relationships.

Great perspective from James, he also includes some of his thoughts on technology tools.
_____________________________________
With the average B2B purchase now involving 6.8 decision makers, it is more important than ever for sales to find ways to connect with multiple decision makers. Judy Tian, Marketing Manager at LinkedIn, talks with SAIT Corporate Training Associate Director Craig Hess about best practices for selling to multiple decision makers. Here are some of the highlights of their conversation:

Craig believes that leveraging your network to build relationships is key - and social is a great way to do that. When looking to better understand a new business, industry or even geographic region, Craig recommends leveraging your network, listening and doing your research digitally to gain insights and better understand an industry, a business and individual buyers prior to engaging. This will definitely ensure you are able to engage and build relationships with multiple key decision makers.
*************************
Hope you found these useful. We look forward to sharing more next week. In the meantime Follow us on Twitter.
Kim