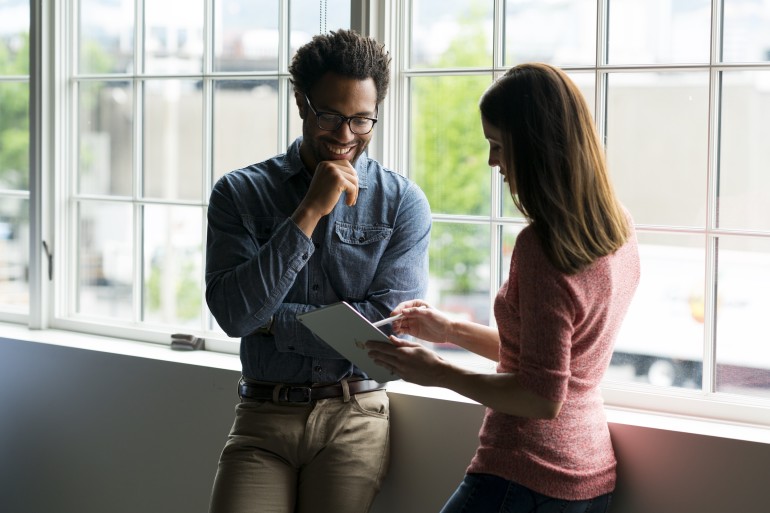 Highlights this week: Interview with Jay Palter, Influencer Marketing Strategist | 7 Practical Ways To Get Your Execs Using Social Media | 6.5 Untraditional Ways to Keep Your Sales Team Informed in Real Time | What You Need to Know About Target Accounts for ABM Success | Working with Industry Influencers | Nine Lessons in B2B Thought Leadership [Research]
FEATURED POST
Our featured post this week highlights my interview with Jay Palter, Chief Engagement Officer at Jay Palter Social Advisory and influencer marketing strategist. Jay shared insights on the value of taking a more personal and value-based approach to working with influencers. He included guidance on how to develop meaningful and valuable relationships with key influencers in your industry. Here are the highlights of our conversation.
The value of working strategically and effectively with influencers.
Every industry has its online influencers, people who have taken the lead in building an online audience based on their interest, expertise and thought leadership around a topic. These people have large online audiences and reach and can move messages effectively. They are very valuable and strategically important to any business.
Conventional "influencer marketing" strategies recognize these people as important, but tend to approach them as targets for marketing. I think this is the wrong approach. Most influencers are not prospects for your business – but they are a gateway to prospects. They are also not paid to be influencers – they have built their trusted audience by sharing insights and adding value.
Influencer outreach: getting beyond marketing.
You want to get to know [influencers], understand what is important to them and figure out how you can help them. This will then lead to influencers showing reciprocal interest in you, your brand and your product. You need to invest time and energy listening, understanding the community and its key influencers. Find out who is out there and what are they talking about.
Content curation is the best way to build your own audience, as well as get the attention of strategically important influencers. I've found through experience that one of the best ways to get to know an influencer and get their attention is to share their content. Curating content is how you facilitate engagement with influencers.
Who should be building the relationships on behalf of an organization?
It should be real people engaging in building real relationships. It is hard for anyone to form a relationship with a logo.Companies need to be investing in their people, helping them to build their digital and social skills so they can effectively build relationships with influencers online.
Ultimately, you want to take someone who has subject matter expertise and help them to become a thought leader and build relationships with the influencers in your industry. Traditionally, marketing and PR are not about empowering people to engage in this way. However, that needs to change. It's important to work with business leaders to improve their online social networking skills and help them build real relationships with online influencers.
It comes back to 'Social Proof.'
In B2B technology sales there is a challenge for buyers to understand the technology they are buying and that it will solve their problems. Humans being humans - you start looking for other signals. What are other people in my role doing? What are they saying about the technology? As a seller, it is important to have those relationships with influencers that can help to provide that social proof for your buyers.
Jay really brings to life the opportunity to build relationships with influencers. There is value to be had in B2B sales and marketing across industries. Social networking and is a big part of that. He sums it up nicely on his LinkedIn Profile:
"People do business with people they know, like and trust. Social networking should be less about "marketing" and more helping people get to KNOW, LIKE and TRUST your company AND the personal brands of your business leaders."
Thank you, Jay, we appreciate your perspective and insights and important topic and dialogue.

SOCIAL SELLING & SOCIAL MEDIA
"Altimeter/LinkedIn research shows that executives at socially engaged companies are 50% more likely to actively encourage employee use of professional social media."

Trail-blazers like T-Mobile's CEO, John Legere, understand the value of social leadership and the importance of listening and engaging with customers on social media. However, 61% of the Fortune 500 CEOs have no social media presence. In her latest blog post, Sarah Goodall of Tribal Impact, shares the best way to support executives get engaged and actively use social media. Here are some highlights:
Pick The Right Executive. Focus on leaders who are interested, open and see the potential value. In many cases,leaders may want to use social, but may need help to get started. Offer support and coaching and ask in turn for them to invest time in building their professional brand online.
Speak In Their Language. This is probably one of the most important tips. It is very important to help leaders understand the value of becoming a social leader in a language they understand. This will look different, depending on the leader and their role. For an HR leader, focus on employer branding, employee engagement and recruitment. For a sales leader, help them understand the role social can play in engaging with the modern buyer (e.g. Achieving quota, finding leads). Be prepared with evidence of value and examples of their peers or competitors that are showing leadership on social media.
Show Them Brand Mentions. Help them understand what is already happening on social media around your brand and your customers. Show them some of your brand social listening reports with real conversations that are happening on social media. Find and show them conversations that your buyers and customers are having about their needs and where there is opportunity to engage.
Make It Easy. Mobile First. Help executives find and follow topics that are highly relevant to them and their role. Support them with content that they can easily share with their networks (ideally with a tool). Recognize they are busy and active on their mobile devices. Show them how they can listen, share and engage on social media via mobile.
These tips are based on Sarah's extensive experience in working with executives to develop their social media presence. She highlights the importance of adjusting your approach based on the individual and their role. Each person will have a different level of digital knowledge and see the potential value of social media differently. Help them find their purpose and value and support them to be successful.
_____________________________________
One of the biggest challenges, sales leaders face is helping their sales teams stay up to date with all of the information they need to be relevant and engage effectively with their buyers. This includes competitive intelligence, what is going on with their target accounts, specific buyers, their buyer's industry and your business and industry.
Mark Bajus of Trapit shares some 'untraditional' ways to keep your sales team informed in real-time:
Keep up with competitor's corporate accounts on social. You can easily follow your competitors on social media to see how they position themselves, hear about major product releases and see who is interacting with their brand online.
Tip: On LinkedIn, the companies you follow are public for others to see. If you want to be more 'stealth', you can create private Twitter lists. To learn how to create Twitter lists, check out this instructional post from Twitter.
Save web searches on your competition. Social networks are a great way to keep tabs on your competition, but they won't tell you everything. Sometimes, you still need to do a web search to see your competitor's press releases and to see what industry experts are saying about them. A tool like Trapit makes it easy for sales reps to create and save web searches for their competitors. That way, they always have the freshest content at their fingertips, and they will always know what's happening.
Follow industry-related hashtags on Twitter. By monitoring conversations, you can stay up to date on your industry, and identify what key influencers and your buyers are saying on topics relevant to them. Not sure how to find hashtags for your industry? Check out this post: How to Find the Best Hashtags for Social Selling on Twitter.
Save a web search for industry-related content. Let's say that you work for a consulting firm that helps companies with their digital transformation initiatives. Not only will your sales reps need to understand your company's take on digital transformation; they need to understand what other people are saying about the topic. In addition to following the #digitaltransformation hashtag, you should create a "digital transformation" web search. That way, they can stay up to date on the latest content and insights on the subject.
Create a private Twitter list of your prospects and their companies. Twitter is a great place to listen to your buyers. By creating a Twitter list, you can group your prospects in whatever way you want: for example, by stage in the buying journey or by account. Twitter lists are a great way to listen for insights, buying triggers and generally be better prepared and more relevant to engage your buyers.
Some great advice, check out the post for all '6.5' ways.
_____________________________________

B2B MODERN SALES & MARKETING
One of the keys to Account-Based Marketing (ABM) success is developing customized content that is highly relevant to your target accounts. This is often cited as one of the biggest challenges for marketers. The key is ensuring you have the required insights on your target accounts to be able to develop highly relevant content that will resonate.
On Customer Think, David Dodd, B2B business and marketing strategist, shares what insights are needed to develop effective ABM content?
The target account. Understand the account's business strategy, performance, strengths, weaknesses, opportunities, and threats. You also need to understand its organizational culture and values. It is critical to understand how they buy and work with vendors and then be able to identify the presence or absence of any recent buying triggers.

The target account's industry. It is critical to understand the key trends, competitors and growth dynamics in the industry where your target account operates.

The buying group. You must be able to identify the members of the buying group and then understand their priorities, drivers and communication preferences.

Account connections. Any existing relationships or connections between the selling company and the target account and/or the members of the buying group
Technology, including social media platforms and social listening capabilities can help to gather and stay up to date with these important insights. It then takes people in marketing and sales to make meaning of and translate these insights into highly relevant content and conversations.
Developing the appropriate level of account insights isn't easy, but it's absolutely essential for ABM success. As Engagio wrote in its ABM Guide, "The entire strategy [ABM] depends on doing your homework and learning as much as you possibly can about target accounts (and key buyers at those accounts) so you can maximize your relevance and resonance within each."
_____________________________________
Working with industry influencers in the B2B world of marketing and sales is key to cultivating relationships that attract and influencer buyers. This blog post on the Salesforce - Pardot blog, shares practical advice for finding the right influencers and effectively engaging and building relationships with them.
How do you find the right influencers for your business and industry?
Work with established influencers. Look for consultants, experts who are speaking about your industry and engaging with your buyers. They may be blogging, sharing posts on LinkedIn and sharing content relevant to the same audience you are trying to reach. These people have already established personal brands and influence.
Build your own. You can support your own leaders to become influencers. Support them with insights and content to have meaningful interactions with buyers and other influencers in your industry both online and offline.
Get your customers involved. Your customers can help you identify influencers. Ask them who they are listening to, and who influences their buying decisions. Although the article does not speak to this specifically, customers can also play an important role in influencing others through case studies, referrals, testimonials and advocacy.
Leverage Social Media. Social Media is a powerful tool for finding influencers, as well as building relationships and engaging with influencers. As Jay Palter mentions in our Featured Post, you can start by sharing and engaging with influencer's content on social media. This is a great way to start to build a relationship online that can then move to offline and other activities.
_____________________________________
"High quality thought leadership can cement an organisation's reputation as a trusted partner. It can underscore perceptions of expertise. It can even help close the deal. However, in an era of seemingly endless content one organisation's words of wisdom must compete for attention like never before."

So "much content fails to hit the mark often navel gazing, generic and conceptual. It is also often supplier-centric when it should be client-centric." On Marketing Insiders Group, Andrew Rogerson of Grist Online shares his research and nine lessons on how to take advantage of the B2B thought leadership opportunity. Here are some highlights:
Be useful. Senior leaders are looking for thought leadership with insights to help them stay ahead of emerging trends (66%) and to help them make better, more informed decisions (60%). Share
Failure comes in threes. Thought leadership is not effective when it is too generic (63%), lacks original insights or ideas (58%) or promotes the product rather than addressing client need (53%).
Share perspectives and content from clients. The perspective of clients (57%) matters more than any other voices or sources. Your buyers want to hear from their peers and others that are finding success with your company. This might include interviews, cases studies or testimonials.
Senior executives rely on multiple sources, online and offline, for insights and thought leadership. The research indicated professional services/advisory firms (44%), industry events (43%) and online search (40%). Look for ways to engage with and share content from other thought leaders and influencers in your industry.
Be concise and compelling. The research indicated, senior executives read on average 31% of all the thought leadership that comes across their desks. To get noticed the content needs to be concise as well as compelling and highly relevant.
*************************
Hope you found these useful. We look forward to sharing more next week. In the meantime Follow us on Twitter.
Kim