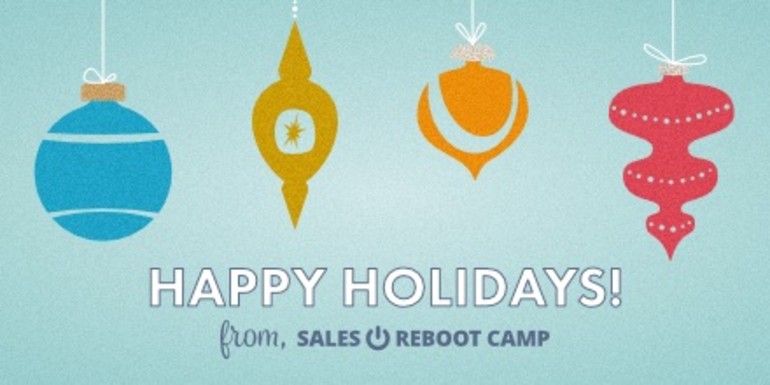 Highlights this week: Happy Holidays | Top 20 Social Selling Content of 2016 | How Social Selling will Dominate | LinkedIn CEO Jeff Weiner Shares 4 Tips for Engaging on Social Media | Secrets for Sales Success with Millennials | ABM: Beyond the Hype | Technology and the Future of Sales
Wishing everyone Happy Holidays!
Thank you to everyone for a great year. It is an absolute pleasure to find and curate some of the best content available on modern B2B sales and marketing each week. There are so many great contributors and curators sharing such insightful and helpful content. Thank you all for 2016, and I look forward to more in 2017.
SOCIAL SELLING & SOCIAL MEDIA
2016 was another big year for social selling. Sales organizations have moved beyond looking for stats to build a business case and are looking for ways to build formal social selling programs. We are definitely seeing this theme in the social selling content this past year. Mark Bajus from Trapit has pulled together a list of the top 20 pieces of content. Here are some highlights:
#1. Change Is Afoot for the Modern B2B Seller [Video]
Today's buyers are more empowered than ever. They use digital and mobile channels to find solutions for their business problems, and sales teams have been slow to respond. Mary Shea of Forrester outlines what this means for B2B sales reps.
#2. Is Sales Being Left out of the Digital Transformation Conversation?
When CEOs paint pictures of digital transformation, they look to their CTOs, their CMOs, their CFOs, and their CIOs. But, as Jill Rowley points out, companies have forgotten about their sales leaders.
#10. How to Use Others' Content to Benefit Your Sales Funnel
Most social sellers want to post as much of their company's content as possible. But posting others' content on your social media channels can benefit your sales funnel. This post from Salesforce looks at how.
#13. LinkedIn Sales Navigator Is Not Enough for Most B2B Sales and Marketing Teams
Kristina Jaramillo acknowledges the virtues of LinkedIn Sales Navigator, but as she points out, the product is not enough. You need a strong strategy in place. Trapit made a similar point in this post: If You're Only Social Selling on LinkedIn, Something's Wrong.
#18. 2016 CSO Insights Sales Enablement Study
CSO Insights did extensive research on sales enablement in 2016. Part of that focuses on social selling. As they point out:
"One of the biggest misconceptions is to equate social selling with tools, especially with LinkedIn. LinkedIn and other tools are vital to social selling, but social selling is about more than just technology. Leveraging social selling effectively requires enablement leaders to develop a strategic, holistic, and integrated social enablement approach that is based on social strategy alignment between marketing and sales and covers the entire customer's journey."
Thank you Mark, this is a great list. Perhaps a little holiday reading.
_____________________________________
Social selling continues to demonstrate its true potential to build business. There are some foundational concepts and approaches that are critical to building an effective social selling program.
Fuse Sales and Marketing: "Social selling will virtually mandate an integration of the sales and marketing groups to create more of a team approach to results." Marketing needs to collaborate with sales to develop highly relevant content. They need to make it easy for sales to find and share the content to educate and influence buyers.
Innovation: Organizations need to find innovative ways to: "connect with customers in an organic way, determine the client's true needs and desires, position a product to satisfy the need, and then provide superior support during and after the sale." Finding the right technology platform is important.
Lead from the Top: Social media and social selling need to be embraced throughout the organization. Marketers may lead, but they must help executive leaders and sales see the benefits of creating an authentic, engaging, active online presence.
"If social media and social selling are allowed to exist in some sort of marketing bubble within a given business, it will never expand to its true potential."
_____________________________________

"If you're one of the 4.8 million people who follow Jeff Weiner on LinkedIn, you probably feel like you know him. Between his likes, shares, comments, and long-form posts, you're likely familiar with his leadership style, his passion for tech, and his support for his employees.
It comes down to authenticity," he told the crowd at Talent Connect 2016. Social media is the place to "authentically communicate what you are most passionate about, what inspires you, and what you've learned or experienced that others can benefit from...The more authentic you can be, the more effective you will be."
Jeff shares some tips for engaging that really make sense whether you are a CEO, in sales, building relationships, your personal brand or all of the above:
Talk about the things that matter to you: This approach will help you be authentic, connect and build relationships with others who share your passions and interests. This can include industry insights, news, recognizing your peers/team, workplace culture and personal passions. For Jeff it is LinkedIn products only 20% of the time. He does not want to sound like a company parrot. But he does find this is a great way to get feedback from customers.
Add your own voice to the content you share: If you only share talking points and content pushed down from your company, the less authentic you are and the less value you create for your audience. People will tune you out. Instead, add your own voice, opinion or ask a question about the content you are sharing.
Do the posting yourself: While your corporate communications or marketing manager might be very capable, simply put - they are not you. Authentic sharing and engagement will drive more shares, likes, and comments. People can tell when it is real, when it is you.
Experiment and make mistakes: Surprisingly, Jeff was nervous when he got started, worried about what to say, how to say it or that he would say the wrong thing. But the first thing you need to do is get started, to try. Jeff shares, "You will also help other people with your unique experiences and perspectives. People will express gratitude in ways you could never fathom. You will connect with people you never would have connected with, and it's enormously powerful."
"Start by simply being yourself, and good things will follow."
_____________________________________

B2B MODERN SALES & MARKETING
"Millennial customers–born between 1980 and 2000, give or take–are a generation that's even larger than the baby boom at its height. And they will soon be bringing to your business the greatest spending power of any generation in history."
B2C and B2B organizations are struggling with how to connect and sell to the increasing number of millennial customers. The first step involves understanding the millennial mindset. They have been shaped by the digital world including search, social and mobile. Millennials also integrate their values into how they shop. In this context, Forbes contributor, Micha Solomon, shares his secrets of finding sales success with millennials, and frankly these are highly relevant for most modern, digitally driven buyers. Here are some highlights:
Strive for unscripted authenticity: Millennials want to deal with a human being, not canned corporate approaches. As a sales professional you need to be yourself, bring your authentic personality to every interaction.
Display an attitude of "You [the customer] have a lot of knowledge, and I respect you for it.": Millennials do not like to be talked down to. Respect what they know, and recognize they have done their research and crowdsourced their knowledge. You need to look for ways to acknowledge this and bring new insights.
Be savvy about technology: Millennials have grown up with technology; it is deeply integrated into their lives. As a sales professional, you need to recognize and embrace this in order to effectively engage with millennial customers.
_____________________________________

"Account-based marketing isn't a new technique, but it's gained an extraordinary amount of attention this year as one of the hottest, most talked-about marketing strategies in the industry. The problem is, B2B marketers aren't entirely sure what it is, what it does, and what it involves."
Pardot, hosted a webinar with Lori Wizdo,Vice President and Principal Analyst at Forrester Research to get 'beyond the hype'. Here is what Lori shared:
Demystifying ABM: Lori defines ABM as a strategy where marketing and sales "jointly obsess over how to pursue, establish and grow relationships with specific customer accounts." The main difference is the focus on a team of buyers at an account vs. a specific individual.
The marketing and sales partnership is key to ABM success. Traditionally, sales has all the insights when it comes to accounts and building relationships. Marketing traditionally focuses on brand-awareness, highlighting product features, and creating content for sales to connect with our customers. Technology and data enable marketing to better understand the buyer and their behavior. It is now possible for marketing and sales to work together in new way - focused on accounts.
Getting started with your strategy: Marketing and sales need to work together from the start, identifying and understanding accounts. The next step is about creating the content that, with the help of sales, guides your accounts through the funnel. With ABM, the post sales relationship is critical. ABM accounts are larger, more profitable accounts with opportunity for growth.
Lori shared that ABM is effective when the sales process is long and complex, when the buying team is large, and when there are fewer accounts. The challenge is around scale and it may not make sense for all organizations. However there are some important best practices that all B2B marketers should look to incorporate: aligning sales and marketing and looking for ways to focus on your customers and integrate personalization.
_____________________________________

"Conventional wisdom says the primary role of technology in sales today is to make us more efficient. But what does that really mean?"
Colleen Francis, President of Engage Selling, shares the impact of technology on sales performance in two places: expectations and opportunity.
Growing Expectations: Leading salespeople know they need to adapt to the modern digital buyer journey. Salespeople expect leading sales enablement technology to help them adapt.
"Technology is no longer optional in sales. Veteran salespeople can adopt, adapt and thrive, or they can resist and be shown the door."
Technology drives opportunity and range of new choices: Colleen shares the example of field sales being given 'beepers' in the 1970s. This enabled a sales rep to be more available, and it created more time to reach and engage with customers. A salesperson was no longer tied to the office to be productive. Fast forward to today and think about the role of mobile devices, CRM and social media. As technology is driving new buyer behaviour, it also creates opportunity for sales to build relationships and engage with their buyers.
"Do not underestimate the influence that technology is already having on sales. It has passed the threshold of being an essential component of how business is done. It's not an option anymore...These are changes that we must welcome, embrace and foster everywhere. Welcome to the future of sales."
*************************
Have a wonderful holidays. We will be taking a short break next week and look forward to sharing more in the new year. In the meantime Follow us on Twitter.
Kim