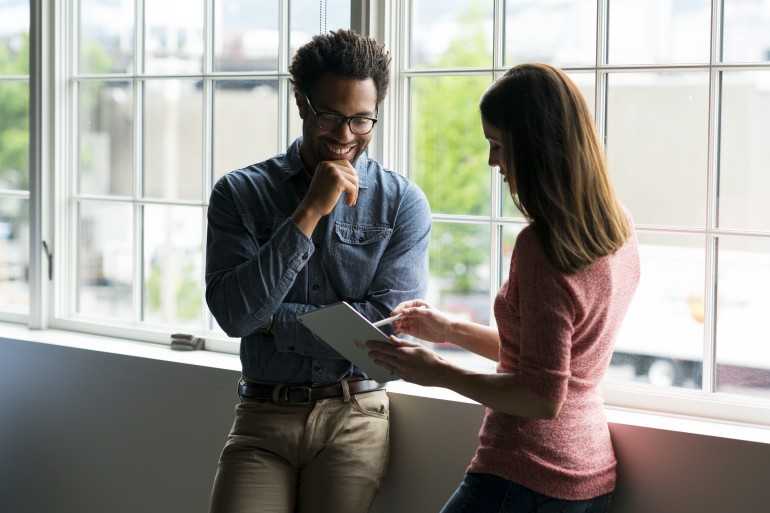 Highlights this week: A CMO on Adapting to the Modern Buyer's Journey | Influencing the Influencers | Lack of Digital Prowess in the Financial Sector | Why Online Prospecting is Too Often Annoying and Lazy | The Self-Transformation of the Digital Leader
FEATURED BLOG POST

(Featured blog post this week on Sales Reboot Camp)
Irene Sandler, AVP and CMO, Emerging Business Accelerator at Cognizant Technology Solutions, shared her perspective on the modern buying journey and the organizational change required for marketing and sales to adjust and adapt to this new reality. Irene wrote a LinkedIn post in June: Here's Why I Deleted Your Email without Reading It. Irene's content and message clearly resonated with a significant number of B2B marketing and sales professionals (24,000 views, 1367 likes and over 150 comments). Why? Because buying and selling have changed, and it is clear sales has some work to do to change their approach to reach and engage with buyers.
How do marketing and sales approach this new reality?
Sales must find a way to share insights, educate buyers and articulate their unique value proposition to multiple decision makers. You need to respect your buyer: their time, new social norms and what is important to them, not you.

Marketing should move from personas to "problem-based marketing," which requires a focus on what problems a company needs to solve rather than an individual buyer's needs.

Organizational change is needed: Alignment of sales and marketing is needed and that requires a cultural change, but changing culture is hard. Recognizing the need for change is a crucial step, as it will be an important driver of change. to be an important driver.
_____________________________________
SOCIAL SELLING & SOCIAL MEDIA

"Let's tweet the CEO of [insert big company name here]! If they see our tweet they will want to buy our product." We all know that is not going to be effective. Andrew Grill shares insights on, social selling without having to "sell." One of the most critical elements in social selling is adding value, especially when it comes to finding and engaging with key influencers. As Andrew notes, the CEO may not use social media or may not use it in a way that facilitates interaction and conversation. . That's when you find the people who use social and are influencing key decision-makers..
"The Chief Executive's personal assistant, chief of staff or strategy director can be some of the most influential people you will never meet."
So how do you influence these influencers? Make sure you are accessible and open to engagement on social media. Share valuable content that educates, is insightful and demonstrates your expertise. Find and build your network with those that are influencing your buyers/the key decision makers.
"People who say that are influential simply aren't. Influence is earned. It is bestowed on you by others. In the business world, influencers come in many forms."
_____________________________________
"The average client-facing professional in the financial industry achieves a score of 20 on LinkedIn's Social Selling Index (SSI.)" That is 20 out of a possible 100. While we know LinkedIn SSI is not the only indicator of social selling or digital literacy, this certainly highlights a challenge (or an opportunity) in the industry. Matt Adler, a digital strategist, points out that this is puzzling given that executives and business owners, the market for the financial services industry, are actively using social media.
Matt highlights specific ways LinkedIn can be used for business development and sales:
Position Yourself and Build Your Brand: Your buyers are searching for you online. Ensure you have a presence on LinkedIn demonstrating your expertise, and positioning yourself and your company as trusted advisors.

Identifying Trigger Events: Listen for trigger events that indicate that someone may be in a position to buy from you. Changing jobs is a great example.

Finding New Clients: LinkedIn has a powerful search tool. You can search by company, past companies worked for, industry, location, education, professional associations and interests. You are able to see how people are connected to you through your network and/or interests.

Attracting New Clients: Be useful and relevant to your buyers with content. This will position you as an expert and attract them to you. The key is sharing useful content related to your area of expertise as well as the industry you are targeting.
This practical guidance is relevant for those in all industries.
_____________________________________
How do we up our game and improve our online prospecting? Sue Barrett, CEO of Barrett Consulting, shares her conversation with John Smibert of Strategic Selling Group. Here are some highlights from the discussion:
John: "...with the advent of social selling many salespeople are having considerable dialog with potential customers before making a phone call – many are engaging with potential customers and building some level of relationship and partly qualifying opportunities before they talk on the phone."
Sue highlights that we are receiving business opportunity requests on LinkedIn daily. Many are unsolicited with no specific reference to us personally or our business needs. This is creating a negative perception around using social media for sales.
Sue: "That is not prospecting that is SPAMMING...I encourage people to pick up the phone and call people….and that will make you stand out in a sea of SPAM LinkedIn messages and emails...I contest that only using online means to prospect is lazy and incredibly annoying to the people we want to reach."
John: "I think we are largely in agreement – I also encourage people to pick up the phone and call people – when the time is right….(you) need to listen on social and engage with ideas in the customer's context and share content of value – again in the customer's business context (no brochure or product information). And when the time is right then take it of social with a phone call….At that point a reasonable level of trusted relationship has been established and the prospective customer will invariably welcome that phone call."
A great dialogue between John and Sue on the topic of prospecting online vs. picking up the phone. It is not one or the other; the two work well together, when used appropriately.
_____________________________________
LinkedIn is a powerful tool for sales professionals to search and find prospects, make connections and share valuable content to add value and develop relationships with buyers. In fact many people and organizations believe LinkedIn Sales Navigator is social selling.
Twitter is an incredible tool for researching and learning about your buyers. People tend to be more open and casual on Twitter, so it is a great way to discover more about your prospects' personalities, communication style and what is important to them. Because people are so open, Twitter is a great way to engage and build relationships with influencers and your prospects.
Mindi Rosser, Social Business Strategist, highlights that the power and opportunity of integrating your social selling efforts across LinkedIn and Twitter.
Use Twitter as a way to nurture the relationships that you are building on LinkedIn. You do not need to pay attention to the 'vanity' metrics of followers, likes and retweets, when your focus is about nurturing those relationships.

Listen and learn on Twitter, focusing on topics that are important to your prospect. Use hashtags and Twitter lists to focus your listening efforts.

Curate and share content on Twitter that demonstrates your expertise and gives prospects a reason to interact with you.

Follow your prospects. Review your contacts and prospects on LinkedIn, find them on Twitter and start to follow them. This will enable you to engage and build relationships.
"Engaging with your prospects on both channels will also keep you top of mind, instead of being just another follower or "guru" hoping to sell them something. Instead, you have the opportunity to develop a more personal connection with them."
_____________________________________
B2B MODERN SALES & MARKETING
"To gain your buyer's trust, reps need to take a leap of faith and stop communicating like it's the 1990s." This week on the Trapit blog, Mark Bajus shares practical guidance on avoiding the annoying sales spam that seems to be a hot topic this week. It is critical that sales reps do not apply dated sales practices to new technology. Sales enablement technology should help sales develop a deeper understanding of buyers. Helping sales to share insights, educate and engage to build relationships with their prospects. Focusing on the mindset and behaviour change is a critical step to ensuring sales teams not only adopt new technology but adapt their behaviours to engage effectively with modern buyers.
Account-based tactics, include taking the time to deeply understand your buyer and sharing content and insights that are relevant to them, including:
Helpful tips and tricks about best practices

Disruptive insight into key issues that a company or an industry faces

A look at how similar companies have addressed the same problem

Expert views on trends and futures (e.g. analyst reports)
Effective B2B marketers have learned how to create and curate content that adds value, rather than annoy, buyers. Sales should be enabled to easily access and use this content to engage with their buyers.
Do you think you have a good understand of 'Good Prospecting or Bad Prospecting'? Mark includes an engaging quiz to test our knowledge.
_____________________________________
For a company's digital transformation to be truly successful, business leaders need to embrace their own personal digital transformation first. Ganesh Ayyar, CEO of Mphasis, and Wharton professor Tyler Wry recently spoke with Knowledge@Wharton about the role of the digital leader.
"If you look at digital transformation, there are many technological elements that can be clubbed as digital, but that doesn't make an enterprise a digital enterprise just because you're using those technological elements.They are enablers, but you really need to embrace the culture, the mindset and how you approach the business, of a digital enterprise." Ganesh Ayyar
Digital transformation requires a culture of continuous innovation, experimentation and speed. For many analogue organizations, this is a considerable shift in culture, especially at companies that may be used to hierarchy and processes that don't support innovation and speed. For a leader to be credible in leading the change, they need to have embraced the cultural and mindset shift.
Ganesh and Tyler do not speak specifically about industries or functions. However we can clearly draw parallels as we look to the need for change in sales organizations. The modern buying journey has changed. A key pillar for transformation is a focus on the customer, the modern buyer. Buyers are engaging with social and digital at all layers of the journey and are more empowered than ever before. As a result, B2B sales organizations need to 'reboot' how they sell. Sales leaders need to transform their mindset and the culture of their organizations in order to lead the change to adapt to the modern, digitally-driven buyer.
*************************
Hope you found these useful. We look forward to sharing more next week. In the meantime Follow us on Twitter.
Kim