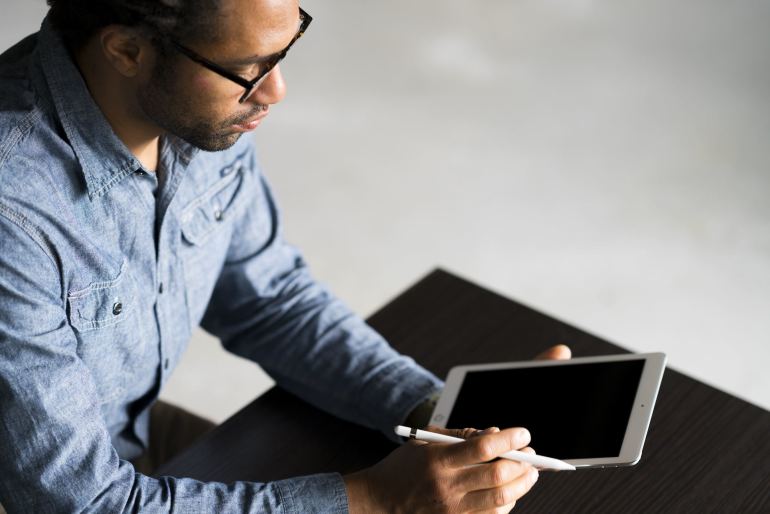 There were lots of gems this week: An Interview with Hank Nothhaft, Jr., CEO of Trapit | Social Media Trends for 2017: Messaging, Trust and Selling | Can You Become an Expert on Social Media? | So Long LinkedIn Premium Features | Why Digital Transformation Is An Empty Catch-Phrase | CMO/CSO Growth Alignment | The Future of Sales Enablement | Bring Back the Humans
Featured Post
I recently had the chance to chat in depth with Hank Nothaft, Jr., the CEO of Trapit. Hank shared his journey and thinking on modern sales. Here are some highlights from the conversation:
How to 'be the smartest person in the room': In the early days of 'social selling', advanced sales reps recognized the value of content in helping their buyers. Their buyers were looking to be educated on industry trends and solutions to their business problems.
"Social Selling is now a thing, but at the time early adopters knew they needed content for listening, research and sharing, to be smarter than their competitors."
Building credibility, influence and earning the right to engage with your buyers: Leading B2B marketing and sales organizations recognize the value of good content enabling their sales reps in earning the right to engage with their buyers.
"If you are great content curator you are in the top 1-5% of people.We are already inundated with an overwhelming amount of content. People are looking for high quality content, people are looking for help and insights. No one wants to follow the sales rep that shares the company blog post every other day."
'Changing the way business does social': For Hank this goes back to the roots of social networking. Originally, it was about real people connecting around shared interests, having informal conversations, learning and engaging with others. The invasion of brands has led to less engagement in unique, authentic voices. It is about enabling people to engage, learn and connect with other people, authentically.
"So when we talk about 'Changing the way business does social.', it is about enabling employees to listen, analyze and engage on social media. To add value, educate, engage, learn and help others."
Is social selling is the right term for modern digital sales?"
"Let's take a step back. Unless you are selling some widget. Most sales in B2B are omni channel. Effective sales needs to be approached through multiple channels...engaging via the phone, email, face to face... We are now in an age where there are a number of digital channels. Social selling is the term du jour. It is about listening not just on social but on the internet, for the opportunity to uncover and share insights, and add value. It is about preparing for offline meetings. You've earned the opportunity for a meeting with a buyer. Use social listening and content to research, prepare, do your homework."
What it takes to build successful social selling programs: Your program needs an ongoing and open dialogue, on what is working, challenges and sharing success stories to drive ongoing adoption. Hank shares that, up until now for many organizations social selling has been a hobby. Only a few organizations are doing it well.
Here are Hank's 2017 prediction: Social Selling in 2017: From Hobby to Strategic Imperative.
_____________________________________
SOCIAL SELLING & SOCIAL MEDIA
"2016 was a big year for social media." Although, you could easily insert 2015, 2014, 2013 etc...Social media has clearly become a persistent and pervasive part of our personal and business lives. B2B buyers are as active and engaged on social media as retail consumers. So what are some of the top social media experts and influencers saying about social media trends in 2017?
# 3. From social networks to social messaging:
Isabelle Mathieu points out, the biggest social messaging apps now have a larger community than the biggest social networks. Market leader WhatsApp hit the 1 billion user mark in February 2016. So what are the implications? From customer support to engaging and communicating with your B2B buyers, messaging needs to in your toolkit.
# 7. Trust is the next frontier
With the increase in fake news, the political environment and brands lacking transparency and overtly amplifying their own agenda, David Amerland and Tim Fargo predict that building trust on social media will be the key to success for brands and people. Building trust on social media is a challenge and also a big opportunity.

"In social media , the desire to get attention should always be governed by the requirement of deserving it." Tim Fargo, CEO of Social Jukebox

It is critical to focus on sharing content and engaging in ways that add value with your audience. Only then will you build trust and valuable relationships with customers and prospects.
#8. Businesses will need to learn to sell on social
As a B2B marketer or sales leader, you need to understand the role social media can play in the buying journey and supporting sales activities. If your buyers are using social media to do their research and are listening and asking questions online, you need to be there too. You need to be there to and find ways to build trust (see #7), credibility and relationships. All part of the buying (and sales) process. With the right program, approach and tools, you will be able to trace revenue back to social media activity.
_____________________________________
Social media is a powerful tool for learning and building your knowledge. With over 2 billion social media users globally, and with many brands and experts sharing their news, knowledge and experience, there is a powerful opportunity to learn. You can find brands, influencers and experts on social media platforms including Facebook, LinkedIn, Twitter and more. Follow or connect with them to:
Stay up to date on business and industry news: This can include the latest on mergers or acquisitions, leadership changes, industry trends and news. Many organizations also share information on economic trends and their own analysis.

Access to influencers: Many of the top business leaders and experts use social media to share their expertise and insights. If they are active and engaged on social media they are often open to answering questions. The best approach is to start by listening, get a sense of their style and openness. Then look for opportunities to engage and ask questions.

Networking opportunities: Social Media presents an incredible opportunity to build your network and learn from others. The best way to get value is to give value. Share insights, helpful content and others will be more open to sharing and engaging with you.
Whether you are early in your career, shifting your industry or an experienced B2B sales professional you can find real value through social media. As a B2B sales rep, it is incredible how powerful social media can be to stay up to date with your buyers, customers, business and industry news. You can easily access influencers and build relationships.
_____________________________________

INDUSTRY NEWS & INSIGHTS
LinkedIn defines Sales Navigator as a product "targeted at Sales Professionals – it lets you keep track of your existing relationships, research your network, and find new leads faster with tailored recommendations." As LinkedIn continues to promote Sales Navigator, we continue to see changes to LinkedIn features previously available for other LinkedIn services. Here are some recently announced changes.
Notes and Tags will be removed on the Premium Account. They allowed you to add notes and tags to your connections. You will be able to download any information you had in Notes and Tags through March 31, 2017.

Premium Search Filters will be only available in Sales Navigator. Advanced Searches are important to finding your ideal client.
LinkedIn will be offering a free three-month trial of Sales Navigator. According to LinkedIn, the trial will give you the ability to transfer and view your existing notes and tags as well as access the Advanced Search Features.
_____________________________________
So, is "digital transformation" the buzz phrase of 2016? It is certainly an important topic. However, Joe McKendrick, Forbes contributor and expert in technology innovations, clearly shares there are some flaws in how many organizations are approaching 'digital transformation'. He emphasizes that leaders need to change how they think about their business before they begin trying to transform processes and implement technology solutions.
"...enacting a "digital transformation" against an organization that is mired in calcified processes, non-customer-friendly behavior and restrictive, top-down thinking will simply add a layer of shiny new systems on top of all this dysfunction. It means doing digital transformation for the sake of digital transformation. Worse, it may mean doing lots of the wrong things even faster."
So what does this change in thinking, look like? Joe shares some impactful examples:
Breaking down silos and encouraging employee innovation at all levels.

Restructuring tradition ways of working and operations to be more nimble and entrepreneurial.

Being 100% focused on your customer internally and externally, 24x7
Ultimately it is about, viewing technology as a tool and enabler of innovation not an end it itself.
Joe cites a recent survey sponsored by SADA Systems, that highlights more of a focus on technology solutions than the people and organizational change needed for real "digital transformation." IT executives highlighted that on spending of $1 million dollars on an enterprise digital transformation effort, only 18% of the budget is allocated to 'change management.'
Most enterprises are focusing their efforts on cloud, data analytics, social media and mobile. In most cases these elements may be driven by IT, finance and marketing. Each are a strategy on their own. In silos they will remain merely a collection of technologies. Alternatively, with greater alignment and focus on business and people transformation first, they can drive increased agility, productivity and opportunities for deeper connections with customers.
____________________________________
B2B MODERN SALES & MARKETING

"CMOs and CSOs need to engage each other continually as real business partners. A strong relationship helps the CSO with sales productivity and deal success, and benefits the CMO by redefining marketing from a cost center to a strategic growth center."

Alan Gonsenhauser, Research Director, CMO and Marketing Executive Strategies at Sirius Decisions shares seven actions to gain alignment between sales and marketing. Here are some highlights:
Beyond the legacy culture: Sales and marketing leaders need to move beyond this legacy culture of animosity to achieve growth through aligned sales and marketing goals, people, processes and technologies.

An aligned view of buyer and customer audiences: Sales and marketing both have critical roles to play in understanding the buyer's journey and customer lifecycle. They need to work together to capture relevant insights in order to develop content and programs that engage buyers and customers effectively.

Aligned planning, common processes and infrastructure. To enable and scale growth, CMOs and CSOs need to establish a common understanding of basic terms, priorities, objectives and processes. The right technology can enable and support productive workflows.

Performance metrics and dashboards. "Sales and marketing must reach agreement on what metrics and KPIs to jointly measure, report on and manage to continuously improve business results."
We recommend checking out the article for more.

_____________________________________
An increased focus on the customer, purposeful change leadership and support for better conversations with buyers have all helped in the evolution of sales enablement. Mike Kunkle, Senior Director of Sales Readiness Consulting at Brainshark shares his views on how sales enablement will evolve in 2017.
Sales Manager enablement: Key to enabling sales reps is to properly enable their managers. Mike sees an increased focus on enabling sales managers to better coach, train and guide behaviour change. This will extend to effective hiring and leveraging analytical skills to lead their teams. Technology enablement will also be a focus for virtual coaching and more.

Enabling the Sales Development Function: Mike predicts a focus on evolving the sales development role to a more experienced, highly skilled and trained function in order to fill the top of the funnel with the quality prospects sales needs.

Enabling across the Customer Lifecycle: Historically, sales has mostly been focused on acquisition. In today's highly competitive market, Mike predicts an increased focus on the customer, adding value through all stages of the customer lifecycle to drive growth and retention.

Overall, Sales Enablement Grows Up: Mike predicts that:

" in 2017, sales enablement will continue to evolve as a profession. It will focus on merging talent development, technology, sales processes, messaging and sales methodology to better train, support, coach and guide sellers as they support buyers through the buying journey and customer lifecycle."
____________________________________
In B2B sales and marketing, the human element is crucial. Automation tools for marketing and sales organizations are easily accessible and can enable greater efficiency. However, Jen Spencer, VP of Sales & Marketing for Allbound. points out we cannot forget our role is still about cultivating relationships with our customers. While automation can drasticly improve how we do things, "...automation fails us sometimes as well, making us a little too comfortable and a little too complacent, all at the expense of customer relationships."

"Automation has stolen some of that personalization and humanization from us. No matter how "personal" we think we're making our communications, all we're doing is programming a database to fill in a blank with a name and send canned responses based on a particular action."

We need to ensure we use automation for the tasks that it is really good at. But not at the expense of the human element in building trust, relationships and engagement with customers.

*************************
Hope you found these useful. We look forward to sharing more next week. In the meantime Follow us on Twitter.
Kim