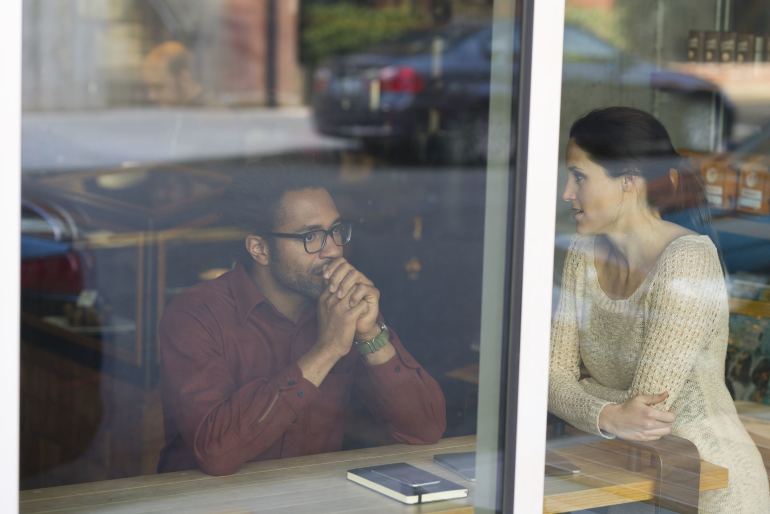 Highlights this week: An Interview with Andrew Grill, Global Managing Partner at IBM and Practical Futurist | Three Ways Salespeople at SAP Are Winning with Social Selling | Social Selling Thriving Globally, Across Industries | 7 Charts Defining the Current State of B2B Sales | How to Combat Decision-Maker Churn at Your Target Accounts
FEATURED POST
I recently had the opportunity to chat with Andrew Grill, Global Managing Partner @IBM and Practical Futurist. We had an engaging conversation, and Andrew shared some powerful insights on digital disruption and what leaders should be doing and thinking about. We covered so much I summarized in 2 posts:
Here are some highlights of our conversation:
Part 1 On Digital Disruption
One of the topics Andrew writes and speaks to senior leaders about is digital disruption, which transcends industries and functions. Whether in a B2C or B2B organization, this is a topic we all need to be thinking about. We need to go beyond just thinking about it, but taking action now. So what is key for business leaders to consider?
● Understand the drivers of digital disruption and the business impact
● Figure out where to start for your organization
● Change your thinking: You cannot look at digital with the same mindset you have always had, you need digital diversity in your thinking
'In order to get digital, you need to be digital'.
For some, this might mean understanding the value of using social media by actually using, listening and participating on the platforms. I recommend to start by listening on social media. You need to understand how your employees, prospects, customers and competitors are using digital.
It is important to make it comfortable for senior leaders to ask questions and learn about digital. Create an environment where they can ask questions: What is a hashtag? What is a retweet? Explain it in a way that is relatable. You want to create an environment where people are comfortable to ask questions and then respond in a way that makes things relevant. For example, a retweet is like forwarding an email.
The need for 'Digital Diversity'
Digital diversity needs to start with the board of the directors and senior management team.
Andrew references a study by Korn Ferry,- Leaders for a digital transformation, that talks about two tribes of people who are key to leading digital disruption.
There are two types of people you need to hire to help combat digital disruption; 'going-digital' and 'born-digital'. You need the "going-digital" people who have a good understanding of digital and see the challenges and opportunity of digital disruption. Most importantly, they are highly adept at navigating an organization. The "born-digital" tribe are those who are natively digital, they have grown up with digital technologies, and they know how to think and act in an agile way. This tribe will have a digital lens on everything, but they are less adept at navigating change in an organization. You need both. The two tribes need to co-exist and they need to work well together.
What it means to be a 'Practical Futurist'
Here's what business leaders can do now to lead and address digital disruption in their business and industry:
● Put a plan together.
● Stop doing something so you have the focus and budget to go digital. Determine what can you do without and set aside some money to focus on digital.
● Build a small innovation team to focus on digital disruption
● Look at your digital maturity. What are market leaders doing, your competitors, the incumbents, but also the disruptors?
● Enable the team to immerse themselves in digital. Eventually they need to re-integrate their work back into the mothership, but to drive fresh new thinking, full immersion is needed.
A digital culture is key. You need a real culture of agility and collaboration. Your efforts will fail if it is just a digital retrofit to today's status quo. You need to do a complete overall to think and act digitally. For a B2B sales organizations, this might mean looking at how you find and source leads? Or how you engage and build relationships with your buyers.This now needs a digital component.
Part 2 - On Digital Eminence and Employee Advocacy
Andrew's journey to becoming a thought leader and influencer on 'Digital Thinking'?
I studied engineering and then fell into marketing while working for a large telco in Australia. I loved marketing, and perhaps should have started there but my background in engineering helps me understand the art of the possible, especially in the context of digital.
Andrew's "feedback moment": when I realized my content and my point of view was resonating with others. I was at a conference in London, and someone came up to me, looked at my name badge and said, "I read your blog." I was so flattered. Initially, I was doing it for love, I was passionate about the topics I was writing about. This person said to me, "I really enjoy and value what you are writing."
This was the feedback moment that I needed to made me realize there was real value in sharing my thoughts and insights. People were reading them, learning and finding them useful. In fact, my blog was also leading to many speaking engagements internationally.
How to get started
I actually advise people to be a "voyeur" on social, and to start by listening, It is important to understand that social media is really another language. You need to listen and learn to understand and then be understood. Even on Twitter understanding the @mention or #hashtag or use of a Retweet is critical to understanding how to communicate and engage on these platforms. You need to understand the language first to be able to communicate effectively.
The hardest part is getting started, but when you get that feedback moment, when others respond and see value in what you are sharing, then you become motivated to continue.
On Employee Advocacy: What is the value of enabling and empowering your employees as brand advocates?
I see real value behind Employee Advocacy. The challenge is that most companies simply send out an email saying, 'Please retweet this'. This does nothing for the corporate message, and does nothing for the employee's personal brand.
Simply put employees are your greatest asset and they have (and should share) insights and value to add to the conversation.
I can always add extra value and insights. I can put the 'Andrew' spin on that message and share other insights based on my knowledge and employee point of view….I know the value of my personal brand. And I know my brand will be impacted if I just retweet company content. People will just view me as a corporate mouthpiece of the PR team. There is no insight, just retweet after retweet of company press releases.
Content and social sharing is so much more authentic coming from the individual than from the company. We know that, in the B2B space, recommendations are key. Ultimately people buy from people, so sharing insights and recommendations can help drive consideration.
Employees are an untapped resource - but don't treat them as just another channel. It is a fine line to ensure you have a value exchange between employer and employee.
On Digital First Impressions
Enabling employees to build their brand on social media is critical in today's B2B sales environment. Andrew captures this brilliantly in his recent blog post: The First 90 Seconds – Your Digital First Impression Counts for More Than You Think
It works both ways, you can also learn a lot about your prospects, especially in the B2B environment. When it comes to sourcing and engaging leads, you should use every signal out there about your target. If I look at someone who is 'Head of Digital' and they have no digital first impression, it gives me a good understanding of their digital mindset and digital maturity. This helps me really prepare for our discussion with these insights.
Andrew is a fan of both Twitter and LinkedIn.
I actively use both of these platforms and have never looked back. They have helped shape my career. They have allowed me to pivot from old-school networking, to building my personal brand online, expanding my network and growing my digital eminence.
But as we talked about – 'to get digital you need to be digital' –I recognize that I need to play with and understand these platforms.
Thank you, Andrew, for an extremely engaging and insightful conversation. What a pleasure to share your thoughts and insights.
I highly recommend checking out Andrew's blog on digital thinking, London Calling. You can also connect with him on Twitter @AndrewGrill and LinkedIn: Andrew Grill.

SOCIAL SELLING and SOCIAL MEDIA
Michael Labate, Kirsten Boileau, and Phil Lurie, social selling leads at SAP, share how their salespeople are finding success with social selling.
SAP started their journey in 2012 with a pilot of 50 sales people. Training was focused on helping sales reps:
Develop their personal brands
Listen to their customers and prospects
Find the right people at target accounts
Engage and share insights and relevant content
The social selling leads share 3 ways their sales reps are winning with social selling:
1. Listening
Listening to buyers allows our team to identify optimal engagement points so they can share the right content with the right person, at the right time, as well as join group buyers' discussions.
2. Engaging and Connecting
Starting with the initial connection point, marketing and sales executives engage buyers via social media, e.g., through an InMail on LinkedIn and LinkedIn Sales Navigator, an introduction request, a connection request, or a direct message on Twitter, WeChat, or Xing.
The team's social selling activity is further supplemented internally and externally by SAP's Jam Social Collaboration tool, which allows employees to elicit sales expertise, serve up timely and relevant content to the customer, and provide a forum for two-way communication and customer engagement.
3. Establishing Trust and Credibility
Social selling moves away from "waiting for the phone" to ring. Instead, our team now listens, learns, and engages with buyers in ways that build trust and credibility much earlier in the buying journey.
Results
SAP has trained more than 7,500 sales and marketing employees in social selling in order to leverage modern selling behaviors...to generate leads, build pipeline, and win business. The results have been well worth the investment.
Ensuring Ongoing Success
SAP takes a top-down and bottom-up approach to adoption of their social selling program. This includes:
Recognition and performance tracking.

Active two-way communications of success stories and sharing best practices.
Congratulations to Michael, Kirsten and Phil as they continue to set the standard for a leading global social selling program.
_____________________________________
It is more apparent than ever that sales professionals are deriving value from social selling strategies across industries and regions.
Spencer Davison, Associate Insights Program Manager at LinkedIn, shares data showing significant growth in the adoption of social selling globally and across industries.
There are various rates of adoption across industries:
The technology sector continues to lead adoption of social selling. Continued growth shows there is still significant opportunity across the industry.

The largest disproportionate gains were seen in engineering, manufacturing, transportation, and retail.
There continues to be significant growth globally.
North America and Europe are experiencing an average 20% yearly increase.

Africa and Latin America saw the steadiest and highest average year over year gains in social selling at 30% and 26%, respectively.
The trends above show social selling gaining popularity amongst a variety of sales professionals. No matter which industry or region, it is key to ensure your company not fall behind in promoting these selling strategies.
_____________________________________

B2B MODERN SALES & MARKETING
We're one quarter into a new year, and if you're like many sales leaders, you're fretting over your team's performance. Perhaps your sales reps missed their number during Q1. Or maybe your team is crushing it, and you want them to crush it even more.
Mark Bajus of Trapit takes a look at the current state of B2B sales. He shares some impactful charts. Here are the highlights:
Buyers Want to Avoid Sales Reps
In 2015, 53% of buyers preferred gathering information online over speaking with sales. In 2016, that number grew to 64%.
In other words, more and more B2B buyers are trying to avoid sales reps. in part, that's because B2B sales reps aren't giving buyers what they want.
Here's What Buyers Want
With the rise of search engines and social media, all that has changed. Buyers are more autonomous, and they know exactly what they want from the buyer-seller relationship.
According to Salesforce's report on the state of sales, buyers want to work with reps who listen to them and take time to understand the unique challenges at their businesses. For their part, sellers need to focus on helping buyers through their journey, as well as acting as trusted advisors.
Social Selling Is Crucial for Engaging Buyers
The CEB surveyed over 1,000 sales reps to discover what made the best reps different from their peers.
Was it making more cold calls? Nope. Was it sending more emails? Nope.
Social selling is the single most powerful behavior separating high performers from core performers. But there's a catch. The high performers don't simply have accounts on LinkedIn and Twitter. According to the CEB's research, the best sales reps use social media to:
Connect with potential customers

Share points of view valuable to customers

Generate leads
If You Don't Have a Social Selling Program, You're Behind
Given the crucial role of social selling in quota attainment, it's no surprise that sales organizations are building out social selling programs. When Altimeter surveyed companies, they found that 43% of them had social selling programs that were being optimized or mature. Another 39% were planning, piloting, and in the first year of implementation.
Going Digital Requires Change Management
As sales teams go digital and social, other departments need to evolve with them. In The Transformation of Selling: How Digital Enables Seamless Selling, Charlene Li and the Altimeter team outline some of the changes that must occur. For example, marketers play a key role in a sales team's success on social. To support reps, marketers need to provide their teams with the right content that will engage customers throughout their entire journey.
To start building your change management plan, check out this post I wrote: To Be a Social Leader, You Must Be a Change Leader. It offers a great framework for mitigating risk while launching new initiatives with your sales team.
__________________________________________
Decision makers come and go from companies faster than ever before. A web of connections within target accounts can protect you from these inevitabilities.

Alex Hisaka, Head of Global Content Marketing at LinkedIn, highlights how you can plan and lay the groundwork ahead of time to combat decision-maker churn during long buying processes.
Call Upon Your Web of Connections & Go Multi-Threaded: Build and maintain strong relationships with multiple influencers and decision makers at your target accounts.
You know key players will eventually leave most of your target accounts, so why not build "redundancies" by strengthening your network around them? With social selling, you have access to a web of connections that includes not only the people you know directly, but all the people they know and so on. LinkedIn gives you the ability to tap into a vast ecosystem of decision makers, all of whom can be traced directly back to your core professional circle.
Twitter is also a powerful platform for finding and building multiple relationships at an organization.
Building multiple relationships means more opportunities in general.
Build relationships to stay top of mind and awareness for you and your brand by sharing engaging content and insights

Listen for insights and buying triggers

Identify opportunities to engage and add value
*************************
Hope you found these useful. We look forward to sharing more next week. In the meantime Follow us on Twitter.
Kim