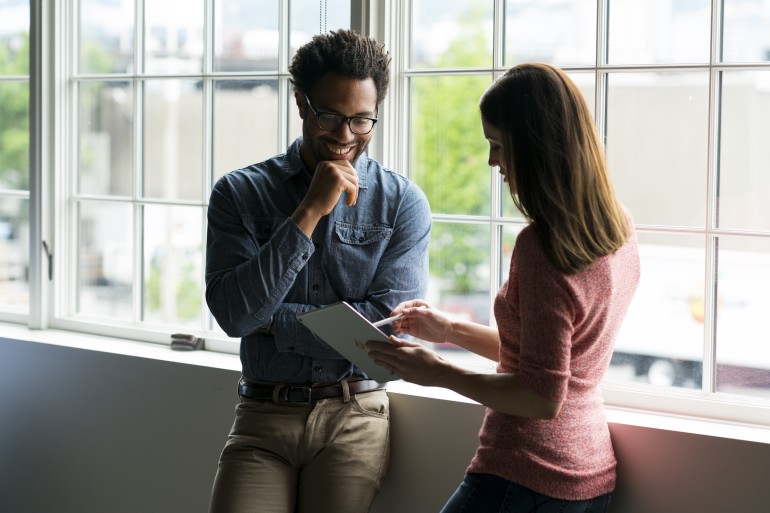 Highlights this week: It Should Be Called 'Social Helping' Not 'Social Selling' | LinkedIn membership reaches 500m | Microsoft Connects LinkedIn and Dynamics 365 for Sales | Live from Marketing Nation Summit: The Engagement Economy, Buyer Empowerment, and Authenticity
SOCIAL SELLING and SOCIAL MEDIA
Tell me the term 'social selling' doesn't conjure up images of a hard-hitting salesman spamming everyone in sight with promotional messaging. Really, if we struck the word 'selling' from this description and replaced it with 'helping', we'd be much better off.
Bryan Kramer, Author of Shareology & Human to Human #H2H, CEO of @PureMatter, cuts to the chase on the fundamentals of 'social selling.'
It's no secret that the most successful salespeople are helpers first.

In fact, they're passionate about it. They listen carefully, they ask the right questions, they get to know their prospects as individuals and assist them in their decision-making process. Social just gives us new and varied channels for helping, not simply 'social selling', especially if you establish a good content pipeline.

Social Helping in Action: Bryan shares a powerful example of how sharing valuable content, answering questions and sharing your expertise on social channels can help drive leads and build business. His focus was not about the hard-sell but 'helping.'
From those initial content touchpoints and social connections, Pitney Bowes turned out to be a major client for us, and our face-to-face connection resulted in a lasting friendship.
Final Advice from Bryan:
Keeping the concept of helping in mind, and using social tools to keep track of contacts, engagement opportunities, and goals is the best way to leverage the relationship building power of sharing, which holds so much more value than just 'selling' alone.
Whatever we choose call it, social networks, listening, sharing valuable content and authentic engagement are key for sales to engage the modern digitally-driven buyer.
__________________________________________

INDUSTRY NEWS
Certainly lots of industry news coming from Microsoft and LinkedIn this week
LinkedIn membership reaches 500m
LinkedIn has announced it has broken through its next big milestone of 500 million members. This is up from the 467 million figure that was announced in October 2016.
In announcing the news on its blog, LinkedIn's head of growth & international products Aatif Awan said: "The impact of half a billion professionals connecting and communicating is very real, and very accessible to anyone who wants to take part today.
LinkedIn also announced Match Audiences: With Matched Audiences, marketers can use LinkedIn to retarget website visitors, market to contacts from customer databases and automation platforms.
By adding Matched Audiences into marketing technology stack, B2B marketers can gain the benefit of matching their own first-party contact data with that mined from the new targeting tool by LinkedIn. This is a powerful and seamless way to engage key accounts, prospects and contacts for simplified retargeting and engagements.
This article provides a good overview of the capabilities:
LinkedIn Matched Audiences Raise the Bar for Account Targeting and Campaign Management
Microsoft connecting LinkedIn and Dynamics 365 for sales teams. Certainly, this is as expected and will prove interesting in the CRM space. Here are few articles that highlight the announcement and capabilities:
TechCrunch: New Microsoft tools integrate LinkedIn data directly into Dynamics 365
Microsoft Updates Dynamics 365 to Include LinkedIn Sales Navigator Integration
__________________________________________
B2B MODERN SALES & MARKETING
Definitely a busy week for marketers with Marketo's Marketing Nation Summit. Lots of insights and dialogue on the modern buyer, the challenge with too much noise and the need to focus on engaging buyers. Here are some highlights relevant for B2B sales and marketing leaders:
The Buyer Has A Louder Voice Than The Brand
Technology has helped advance the expectations and knowledge of our buyers. Our audiences are more focused than ever before on being treated as individuals.

[T] he challenge for marketers, where we're fighting the law of supply and demand. Creating demand has become a de facto goal for many marketers, but the problem is in the supply curve—people have a finite amount of hours, and we have a fixed amount of attention.

The demand model many marketers operate with doesn't account for the new way that buyers access information and how empowered they have become. Today, the buyer has a louder voice than the brand. It is the era of the buyer.
The Problem With Volume
As marketers, our success is hitting a limit—as we bump up against the law of diminishing returns. If an activity is successful, like digital marketing, we invest more and more in it but we've reached the point that the volume is overwhelming for our audience. Our engagement over time needs to be more scarce, and frankly more valuable.
It's not just volume that is making marketing less effective, but the need for a personal relationship with the brand.
Volume, unchecked does damage to our brands. You see buyers that opt out not because they dislike the brand, but they dislike the volume. Buyers still want to be marketed to, in fact, they want a real and lasting relationship with brands that get us. We need to embrace that we are no longer able to prescribe the terms of the relationship. We work for the buyer. Go curate the experience for the buyer.
Leading In The Engagement Economy
So how can you effectively engage your buyer?
Listen to your audience: Listening across every digital channel is paramount. Investing the time and resources to know your buyers.

Learn: Embrace the inner data scientist within us and understand what truly drives lifetime value for customers. It's time to bring in our own data and learn from that data and change what we do and how we measure.

Inspire: Inspire through engagement. Think about how you're engaging today. Is every engagement point inspiring?
Social Selling
Chief Evangelist & startup advisor, Jill Rowley spoke at the conference on the importance of social selling in the engagement economy.
Being #CustomerObsessed and #KnowingThyBuyer and the five pillars of social selling:
From resume to reputation: Do you market yourself on LinkedIn as a 'quota crusher' and 'expert negotiator'? Think again—your buyers don't want to be sold, but everyone is open to being helped. Before you ask for a withdrawal (i.e. 10 minutes on their calendar), you must make deposits by way of adding value.

ABC: always be connecting. Your network is your net worth. Make sure every LinkedIn invite is personalized and relevant. Leverage LinkedIn Sales Navigator to be multi-threaded and find common ground with your pipeline.

Content is currency: Use content as fuel for your social selling. Know what your buyer reads and watches. Don't just share your company's content, but be down with OPC (you know me!)—other people's content.

Social listening for leads: Filter the noise and distraction of social media so that reps are only listening to relevant updates for people in their world & pipeline.

Measure what matters: If you keep measuring the number of sales dials and emails sent in your organization, your reps will keep repeating those same exact behaviors. Instead, sit down with sales management and agree upon a plan to train and invest in your sales team. Sales managers are a force multiplier, and their buy-in is essential to execute a successful social selling program.

It is definitely worth checking out the post and #MKTGNATION on Twitter.
*************************
Hope you found these useful. We look forward to sharing more next week. In the meantime Follow us on Twitter.
Kim