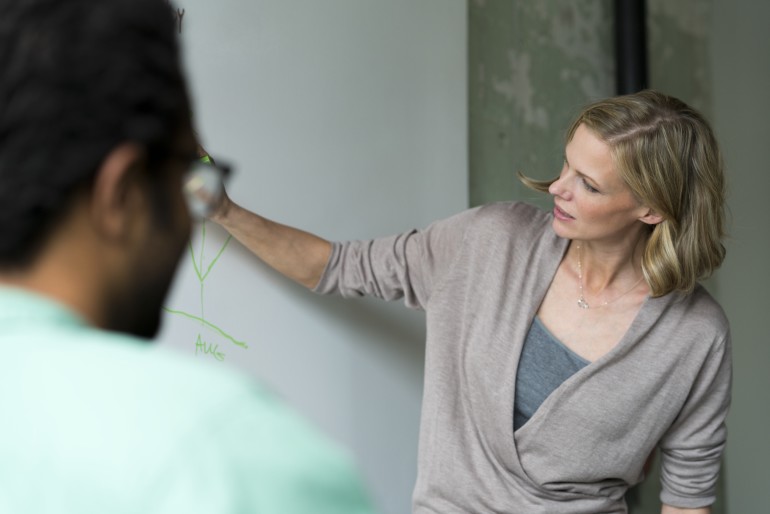 Highlights this week: Brand First is Backwards: How GoDaddy Approaches Employee Advocacy | The Transformation of Selling | How Millennials Can Usher in the Era of Smarter Sales Engagement | 6 Tips to Help Your Sales Team Adopt a New Technology | Strategy Matters More Than Ever: Three Elements to Drive ABM Success | B2B Buyers Are Still Skeptical About Vendor Content
SOCIAL SELLING and SOCIAL MEDIA
If you're thinking brand first, you're thinking backwards...If you do not engage and boost and work with employees, none of it will work. If you're only pushing branded content, you will fall flat.

Whether you are looking to launch an employee advocacy or social selling program, the key is focusing on the employees and what is the value for them. Think about what you can do to elevate and help them. Isaac Irvine shares how he has helped transform GoDaddy's employee advocacy program by focusing on employees first.
Isaac's first step was recognizing that employees are at different levels of knowledge and engagement with social media. He identified three groups of employees and their perspectives on social media:
Social Natives: They have an active social brand already. They share and engage with followers. They are already social rock stars and will be receptive to sharing content.

Detractors: They don't care about your brand and don't want to share your content.

Up and Comers: They want to be social, but they don't know how – yet.
Employee advocacy is not about software: Isaac knew a technology tool by itself is not enough to drive adoption of an employee advocacy program. You need to build a holistic program that is focused on your employees. The tool can help enable the program, but you need to focus on value to the employee and support their adoption with training and two-way communication.
Isaac shared some employee-first approaches to brand advocacy:
Follow the 80/20 rule with content. Eighty percent of content should be about employees and what is important to them and to your audience, not about the brand.

Get them active on social. Show employees how to find people on Twitter, how to use hashtags, and how to start engaging.

Become a thought leader. Think beyond social. Help employees build their own personal brand. Support their personal and professional advancement.

Efficient content curation. Get input and others involved in content curation. They know their audience the best. The content will be more authentic and relevant.

It's all about the employee. Brand first is, 'what will they do for me?' If you flip it, it's, 'what can I do to elevate them?'
__________________________________________
We millennials are continually being held up as the most social and tech-savvy generation yet. But that reputation won't result in meaningful change in our industry unless we start using sales tools with the right intent. Simply put, we need to engage prospects the way we ourselves prefer to interact – by engaging with people who are proactive, considerate, authentic, and helpful.
Judy Tian, Content Marketing Manager at LinkedIn, highlights that while her generation (she is a millennial) might be active on social media and use all the latest technology, they are not necessarily exhibiting the right behaviours for success in sales. Ultimately, Judy Tian highlights keys to social selling success that are critical across generations:
A professional brand. More and more buyers will find you online and often your first interaction is virtual. Your social media profiles must work hard for you. You must cultivate a professional brand that positions you as a valued, trusted resource.
A focus on relationships. Judy highlights the opportunity to leverage your social networks for 'warm introductions.' I would add relationship building through social selling should be much broader than this. Approach social networking authentically and by adding value. This will lead to developing relationships with influencers and prospects.
Finding the right people. Social selling is critical way to find all the key decision makers at your target accounts. You can use social to nurture and develop relationships with multiple decision makers through ongoing engagement. But remember that engagement needs to be about adding value.
Engaging with insights. Social selling in the form of social research and listening is a powerful way to garner insights about your buyers, their business and their industry. Buyers want to you bring value to the table and you can do that both online and offline. By sharing what you learn through social listening and research you can demonstrate your knowledge and bring insights to all your engagement with buyers. You can customize and personalize your communications and the content you share to align with their goals and needs.
Judy concludes:
Our generation is being presented with a huge opportunity to lead an important change in the sales world. Now's the time to step up and prove that the future of sales is about engaging with insights and building deeper relationships.
_________________________________________
Getting on board with social selling is a must for modern sales organizations. Alex Hisaka, Head of Content for @linkedinselling breaks down how to establish a foundation for success from the recent Altimeter report The Transformation of Selling. The foundation starts with leadership engagement, organizational alignment and the right content and training to enable the sales team.
Put digital data and content in the hands of sales reps. Your sales reps are the ones who need to interact with and engage in conversations with prospective buyers. Make it easy for them to access insights and content to engage effectively

Customer-centric training: Train your sales team in customer centric social selling. It should not be about your brand or your product, but about the customer and their needs. Train for specific skills like relationship building to shift from selling to helping

Align organizational structure, process, and metrics. Align roles and measurement to your customer. This should include marketing, sales and customers success. Measuring customer satisfaction or health is often the ultimate unifier across departments.

Socialize big wins. The best way to build momentum and drive adoption of social selling is by demonstrating its impact. In the beginning focus on anecdotes and success stories. You can them move forward with measuring business impact and to your business metrics.
Ultimately the organization need to develop skills to support a new culture:
When organizations embrace a digital transformation of their selling approach, they are changing their culture. As Jill Rowley, social selling evangelist, says in the Altimeter report: "There needs to be a mindset shift, where I recognize that my job isn't to sell, it's to help. That customer at the core mantra needs to be deep in the DNA of the culture."
__________________________________________
B2B MODERN SALES & MARKETING
New sales technology can increase productivity, accelerate deals, and boost revenue. But rolling out a new platform can be tricky. If you're a sales leader trying to implement a global software platform, it can be difficult to secure adoption. But think about it from a sales rep's perspective. If someone told you to adjust your process and use a new tool, you might balk at the idea of adding yet another tool to your sales routine.

You have read the research, talked to experts seen the case studies, build the business case, bought the technology, you know there is value to be had. However you will not realize the value without adoption. Mark Bajus of Trapit highlights 6 tips that are key to driving adoption. Here are some highlights from the post.
Have an Executive Sponsor. An executive sponsor the stage for the team by explaining benefits and setting clear goals. The expectations should be communicated not just to the sales teams, but to adjacent teams like marketing, sales enablement, or customer success. This ensures that everyone is working in unison towards the same goal. Without executive sponsorship, software rollouts often fail because sales reps feel like adoption is optional.
Explain the Why. Implementing a new technology requires a business case. You must be able to demonstrate how the new platform will provide benefits for the organization and for the individual. That last part is key. Sales reps don't want to adopt technology "just because." They want to know what's in it for them. Will the new tech enable sales reps to meet their quotas, which, in turn, means they will make more money? Or will it make them more productive?
If you talk to your employees about the "why," you'll often see a light bulb go off. They understand the pain points of their jobs, and promising to alleviate that pain is a great motivator for change.
Customize training. It is important to recognize your sales team will have different levels of literacy and interest in new technology Take social selling software as an example. Your sellers will have different familiarity with social networks. Some might not have a LinkedIn account. You'll need to tailor your training for different levels of experience.
Make training accessible and easy. Some may enjoy an online training session, while others might want the support of a personal coach. Make sure you offer a variety of learning opportunities. Ensure you contextualize the training. Do not focus on the tool and all the features. Explain how the feature complements existing sales processes and enables reps to achieve their goals. For example, a listening feature in your social selling platform could help reps be more prepared for sales calls.
Highlight and share success stories. Once your employees are using the technology, share successes from your early adopters. Publicizing quick wins encourages other reps to adopt the software. As you communicate these wins, don't focus solely on the numbers. Tell a story, and make them personal by referencing real members of your team. Often times, we rely heavily on statistics and forget to humanize our digital transformation efforts.
__________________________________________
As marketers, we need to expect and accept that many potential buyers will view our content with a skeptical eye. To overcome this skepticism, we need to "go the extra mile" to create content that is objective and non-promotional, and most importantly, content that delivers real value to our potential buyers.

A recent research report by TrustRadius paints a rather sobering picture of the effectiveness of B2B content marketing. David Dodd, B2B marketing strategist, highlights some important takeaways from
Buyers prefer resources that provide direct experience with the product or service. The research found that product demos and trials are viewed as very helpful and very trustworthy.
Buyers value information from third parties. Referrals from friends, colleagues, or peers are viewed as very helpful and very trustworthy. Buyers also ranked user reviews and customer references as very helpful. Information and conversations with industry influencers such as analysts and solution consultants are viewed as highly trustworthy.
Except for product demos, buyers place little value on most types of vendor-provided information.
These research findings should be a wake-up call for B2B marketers. In the 2017 edition of the B2B content marketing survey by the Content Marketing Institute and MarketingProfs, only 34% of B2B marketers rated their content marketing strategy as extremely or very effective. The comparable percentage was 30% in 2016 and 38% in 2015. The buyer attitudes captured in the TrustRadius study explain (at least in part) why only a minority of companies are achieving a high level of success with content marketing.
__________________________________________
Maria Geokezas, VP of Client Services at Heinz Marketing highlights that the key to ABM success is a solid strategy and process to guide their efforts.
Makes sense – if you don't have a strong foundation in place, no amount of budget, resource or technology is going to drive success for your ABM program. One of the key strategic inputs many organizations fail to consider or leverage is the buying committee. It is the crux of ABM.

Understanding the Buying Committee. The CEB has highlighted that the buying committee has grown to include on average 6.8 people. These people come from different functions and you need to make sure you understand each of their roles and objectives. You also need to make sure you understand the dynamics of each in their organization. Are they the decision maker, the sponsor, an internal influencers? How do they communicate?
Developing a content strategy for buying committees. Understanding the buying committee leads to developing content that resonates and addresses each of their needs. Content for a CMO might look very different than content that speaks to someone in finance.
Executive sponsors, typically C-suite titles, are motivated by different issues and experience different pains than someone like a project manager or an individual contributor who is more directly affected by the purchase decision and probably immersed daily in the pain your product could solve. Fortunately, many organizations understand this and are reportedly pouring more resources into content initiatives.
ABM Throughout the Buyer's Journey. Once you understand the buying committee and have developed content for each role, you need to execute throughout the buying journey. Ongoing collaboration between sales and marketing is key.
Working an ABM strategy into your current demand generation program is no small feat. But, if you put a solid foundation in place, with a robust understanding of the buying committee and each role's pains at each stage of their decision process, and encourage collaboration between marketing and sales to drive value throughout the sales funnel, the odds will be stacked in your favor.
*************************
Hope you found these useful. We look forward to sharing more next week. In the meantime Follow us on Twitter.
Kim