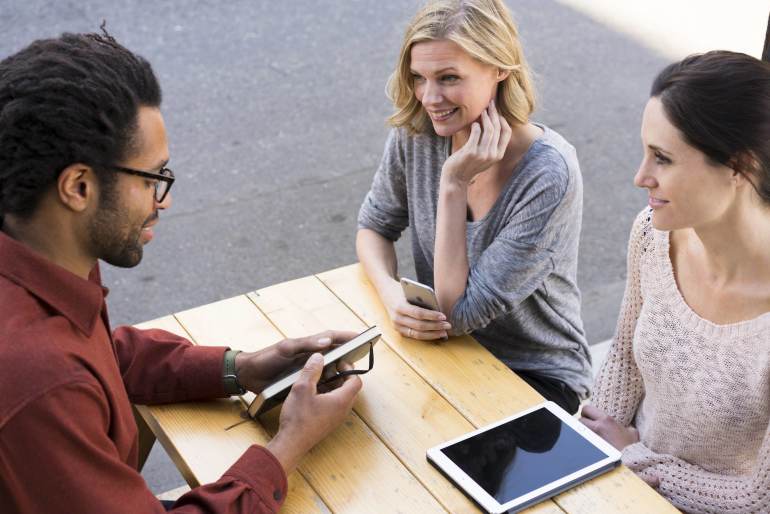 Highlights this week: The Surprising Reason Why CEOs Should be Social Media Savvy | 3 Key Steps in Building Your Personal Brand on LinkedIn | When Automation Does and Doesn't Work in Social Sales | Social Media and Telephone Should Work Together | Three things missing from the #ABMSummit conversation | Kyle Porter, CEO of SalesLoft shares some thoughts on ABM on a LinkedIn update this week
SOCIAL SELLING and SOCIAL MEDIA
Stephanie Neal, a research scientist at DDI's Center for Analytics and Behavioral Research (CABER), conducted a High Resolution Leadership Study looking at the leadership skills of 250 candidates for CEO positions. The study looked at the correlation between the candidates' activity on social media and their leadership skills. The findings clearly indicate those that are active on social exhibit extremely valuable leadership skills.
CEO candidates who are active on social media social are:
89 percent better at empowering others

52 percent stronger at compelling communication

46 percent more influential

36 percent better at cultivating networks

19 percent more passionate for results

16 percent better at making decisions
Stephanie shares a great example of a social CEO:
On Christmas Day 2016, Airbnb CEO Brian Chesky did something unusual: He spent hours on Twitter engaged in market research that would drive Airbnb's market strategies in 2017.He began with a simple question: If @Airbnb could launch anything in 2017, what would it be?

He received hundreds of ideas ranging from how Airbnb could improve the product to how they could improve their corporate social responsibility efforts. This story demonstrates the power of leaders engaging on social, ranging in value from customer engagement to positive brand sentiment. It also encourages leaders to exhibit and grow their capabilities as leaders.
Despite the positive associations between great leadership and an active social media presence, today's CEOs are tentative about social media. While the current generation of leaders may be shy about social media, our study showed that the next wave of executives just below the C-level are twice as likely to engage on those platforms.

In the future, social media savvy may no longer be something that's "nice-to-have" for prospective CEOs. Instead, it could be a powerful selection criterion that helps companies to identify CEOs who are well-prepared to lead.
__________________________________________
Whether you are striving to drive business as a consultant or establishing yourself as a subject matter expert and trusted advisor for your prospective buyers, these 3 key steps will help you build your personal brand on LinkedIn:
#1. Use LinkedIn to be found: Optimize your profile:
Invest in a professional photo.

Use keywords. LinkedIn has a powerful search tool based on keywords. Find out what keywords your target clients use to search for professionals like you.Use those keywords naturally throughout your profile particularly on the headline, summary and the 'experience' section.

Make your headline count. You have 120 characters to tell your audience how you can help them. Make sure you use some keywords that are relevant, but stay authentic, not too many buzzwords.

Craft a well-thought-out summary. Write your summary with your prospective clients in mind, and makes sure you also include the right balance of keywords.
#2 Use LinkedIn to be remembered: Show up, curate content, engage
Show up everyday and be consistent. Update your LinkedIn status everyday. Share insightful content, Read what your connections are sharing and like or comment on their content. Read articles from influencers you follow.

Curate useful content. Share articles that you think may be of benefit to your connections. Become a source for great content that adds value.

Engage. Regularly like or comment articles that resonate with you and your audience. But make sure to avoid generic comments like, "Nice article," or "Great insights.". Be specific and insightful.
#3. Use LinkedIn to be respected: Learn, create content, join group conversations
Listen and learn from industry influencers, your peers, experts, your customers and your prospects. Read their posts and articles.

LinkedIn Learning is a great place to take courses and broaden your skills set.

Use LinkedIn search. Enter a keyword in the search field to find the type of results you want: people, jobs, posts, companies, groups and schools. This is an amazing, organized way to easily find what you're looking for, and can be very useful if you are researching your target company.

Join group conversations. Find relevant groups for your industry and target audience. Joining conversations by sharing meaningful insights and helping other members will help build your brand.
Each of these tips can help you position yourself as a subject matter expert and gain your buyers trust and confidence.
__________________________________________
It's a brave new world for business leaders who are using social selling techniques to connect with their customers in engaging ways. The explosion of digital data combined with sophisticated marketing automation software make it possible to reach a seemingly limitless group of customers with a relatively small investment of time and money.
There are tremendous opportunities to streamline marketing and sales processes through technology. However, Danny Wong, contributor at @HuffingtonPost @EntMagazine @TheNextWeb shares insights on when not to automate and when you can automate your social selling efforts. If you automate the wrong things, you lose the opportunity to build relationships, listen for insights and engaging with value.
In social selling, even a perception of inauthenticity is a non-starter. Danny highlights that if there is a possibility that social media engagement might be perceived as inauthentic, it should not be automated.
Automation does little to improve social listening. Social listening is a valuable way to gain insights about your prospects in order to engage with value.
Social listening is a crucial part of understanding your customers' needs, and it can also provide you with insights to how they feel about your brand as well as your competitors. Sales leaders who rely completely on automation for their social presence are missing out on the opportunity to engage with customers on a deeper level.
If you're going to use automation, get the timing right. One aspect that is useful to automate is content distribution. You can use tools to schedule content to be shared consistently across your social networks at the right time. But remember that even if you automate timing, every piece of content you share needs to provide value to your audience. If you sound like an automated robot or corporate parrot your content will be ignored.
Eventually, most B2B sales will move beyond the digital realm and into real life. While automation can make it easier for you to connect with prospects online, it's no substitute for a sound sales strategy when you come face-to-face with a potential client.

Don't let automation blind you from being well-prepared when it comes time to close the deal.
__________________________________________
Some people argue social media is the new way to prospect – and that the telephone is dead. Others argue that the telephone is still viable and there is no need to put too much emphasis on social media.

I'm tired of this bogus war pitting social media against the telephone. It's time we start seeing both as allies. Sales is too big of a profession – with too much of an impact on the economy – to allow it to be side-tracked by petty arguments.
Mark Hunter, "The Sales Hunter" and author of the book High Profit Prospecting, shares important perspective highlight that social selling should not stand alone, it does not replace the telephone, it is part of an omni-channel sales approach.
Merging Social Media with Phone Calls: Social media and the telephone as well as other channels work brilliantly together.
Social media is a valuable tool for creating connections, building awareness, and even uncovering some needs. A great tool to get to a phone conversation. Once that conversation has happened, social media is also a great way to stay engaged, top of mind and add value. It is another channel to engage, listen and build a relationship.
The Value of Alignment: More Sales Conversations. When we align the two, we'll be able to accelerate the selling process. We will be in a better position to have more conversations.
Thank you Mark for your direct and important perspective on this topic.

B2B MODERN SALES & MARKETING
[At the Marketing Innovation Summit by Demandbase in San Francisco:] There were numerous important discussions around account selection, setting objectives, working with sales, campaign and play execution and much more. But there were three critical ABM discussions I didn't hear often enough, areas that in our opinion could make or break whether an organization succeeds with their ABM efforts.
Matt Heinz, President of Heinz Marketing focuses on three key elements for ABM success:
Consideration for the complex internal buying committee. While most of the discussion on ABM is about choosing the right accounts, it is critical to understand how your buyer's buy. You need to understand who is involved in a buying decision and what is important to them.
According to CEB there are on average 6.8 people involved in that internal buying committee at mid-market and enterprise companies. Who are the decision-makers, influencers and stakeholders? What do they care about individually and how do they work together to make decisions? What do they have in common and where do they disagree?
Understanding the nuances of all those involved and how they work together (or not) is key to driving buying velocity at an account.
Opportunities to impact customer lifetime value. Too often B2B marketers are focused on driving net-new customers. There is huge opportunity, especially in Account-based to improve customer lifetime value after a sales.
It would be easy to argue that customer lifetime value is where you should start ABM programs. What revenue impact would retaining your best customers, your biggest customers, have on your business in the next 12 months?
A phased implementation approach. ABM isn't all or nothing. You shouldn't attempt to implement a full program right away. Greater success if being found by those who start small, learn and build momentum from early results.
Full-force ABM will require new tools, greater investments. But you can start with account selection, internal buying committee understanding, and simply better coordination/messaging/execution between sales and marketing.
__________________________________________
There's no doubt that Account-Based Marketing (ABM) is hot right now. According to the SiriusDecisions 2016 State of ABM, 70% of all B2B companies are focused on driving account-based selling programs. That number is up 350% from the previous year's study.
While many are talking about why you should adopt ABM, it is important to know how to get started. One of the most important steps to getting started with ABM is choosing the right accounts. Brandon Redlinger, Director of Growth @Engagio, shares some important advice on getting started with ABM on the Hubspot blog.
Leverage Data for insights: A study by SiriusDecisions proves better data results in better account selection, which leads to a 35-40% higher average sales selling price (ASP). How much would 35-40% add to your bottom line? Using the right data points allows you to scientifically identify the accounts with the highest likelihood of doing business with you. This data can also tell you which existing customers are likely to expand.
Get Insights on Contacts to Shorten Sales Cycles. Next, identify the contacts you'll need to reach out to within your target accounts. Take the time upfront to research the customer stakeholders, their place on the organizational chart, personal goals, and the level of influence they each have. Targeted sales prospecting lets you get to the right people in less time.
Getting Access to Decision Makers with Market Insights. Use market industry and research to deliver highly relevant business insights to your target accounts. Take the time to:
Understand the target's industry and market trends

Conduct a SWOT analysis of the target account

Understand the decision makers and relationships inside the account

Understand your connections to the account
This approach will enable you to provide compelling insights to be more relevant, build credibility and trust with an account.
__________________________________________

Kyle Porter, CEO SalesLoft shares some thoughts on ABM on a LinkedIn update this week.

With all the dialogue on Account-based so far in 2017, it continues to be an important topic in our 'Best of the Week'. This week, Kyle Porter, CEO of SalesLoft, shared his thoughts:
Bad words:
Account-based marketing
Account-based sales
Account-based sales development
Good words:
Account-based...
Initiative
Campaign
Approach
System
Program
Revenue
Engagement
Or just plain old "account-based"
Account-based is the opposite of functional silos.
It's the alignment of sales, marketing, and customer success to run the best engagement campaigns to the right people at the right accounts in order to earn the most lifetime revenue.
Our industry really needs to get the alignment piece right and it starts with semantics.

Thank you Kyle for your insights.

*************************
Hope you found these useful. We look forward to sharing more next week. In the meantime Follow us on Twitter.
Kim