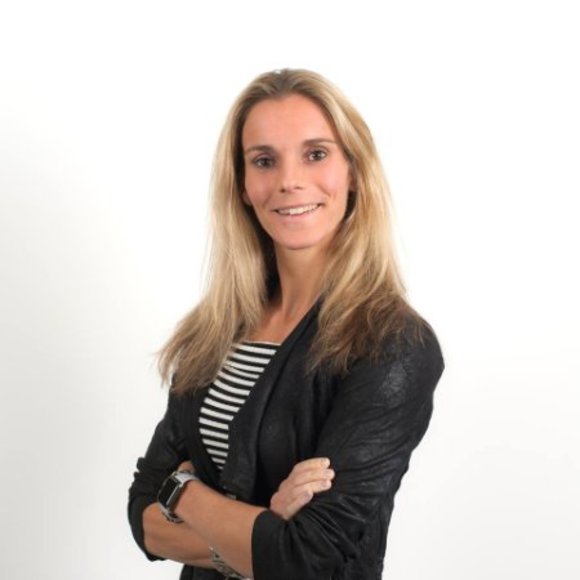 An interview with Wendy van Gilst on building social selling programs and best practices for successful social sellers.
I recently had the chance to connect with Wendy van Gilst, social media and social selling expert. What a pleasure to have a conversation offline and gain insight into her background, approach and thinking. When I first discovered Wendy on Twitter, I was struck by her openness to share her knowledge and help others - a true community builder. On that theme, she has recently launched the LinkedIn Group Social Selling Experts. The group is focused on social selling practitioners, sharing their knowledge and experience with others. Wendy's content and advice is practical, accessible and highly relevant for those just getting started with social selling, as well as those looking to continue to build their expertise. Wendy, openly shares her knowledge on her blog on Wendy van Gilst - Social Media and Digital Selling. Her goal, "to make you successful with Social Media!" Her expertise is clear as she covers topics on social media platforms, content, engagement, building social selling programs and best practices.

Wendy takes a very thoughtful approach to getting started with social selling, what it takes to becoming a successful social seller and how organizations should develop a strategy and measure for success.

Here are some lightly edited highlights from our conversation:

Q: How did you first start to get involved and develop your expertise in social selling?

3 Years ago I moved from The Netherlands to Dublin. The IT world was new for me and I started in a business development role. I found out really fast that LinkedIn is extremely important to set up appointments and to generate leads. At that time I didn't know it was called social selling but I believed it was very powerful so I started to share my success stories. After a couple of months I joined the social media team and started to train people on social selling.
For me at the time, this was not a strategy, it was the best way to do my job. I was positioning myself as a consultant and was genuinely interested in their business. This made my job easier and more interesting. It all starts with listening.
Kim: I love this story! You approached your business development role with a mindset of taking the time to understand your customer, their needs and then positioning yourself and an expert and trusted advisor to help them solve their problems. All the best practices of a great social seller. Wendy doesn't have a sales background, it just made sense to her.
At the time I was working for a large technology organization. This is where I really learned the importance of change management in building a social selling program. I understood the challenges of changing behaviour and mindset.
Q: What prompted you to launch the LinkedIn Group "Social Selling Experts"?
When I attended the LinkedIn Social Selling Roadshow in London two months ago I spoke with a lot of people and I found out a lot of people work on similar challenges and projects around social selling. I realized there is not one specific place where social sellers can meet and discuss this. That why I set up the Social Selling Experts Group.
Social selling is new, still nascent, my goal is for us to teach other and learn from each other. Eventually I would like to bring this community together face to face, and perhaps build and eBook.
Kim: Thank you. What a great resource, a real community for people to share and learn together.

Q: What are some of the most important first steps for salespeople to get started with social selling?
It is very important to understand what social selling is and what the benefits are for salespeople.People need to understand "What is in it for me" (WIIFM), how is it going to help them. How it helps the business is secondary, when you are trying to get salespeople to adopt social selling. I believe it is really important that salespeople understand that social selling is not extra work but makes their daily jobs easier.
Wendy's blog post: The 5 benefits of Social Selling that everybody should know
Once they understand the benefits, the next step for a social seller is to create customer centric social media profiles.
Everybody goes through 4 stages to become a social seller. It is important that salespeople get the right training in every stage. In the beginning they may need more support. Bringing groups together that are at the same stage to tailor training and adoption is a key to success. Finding and sharing success stories between peers and colleagues is very important.
Wendy's blog post: The 4 stages of becoming a Social Seller

Q: What do you think separates the most best social sellers from their peers that are just moderately effective?
Successful social sellers see social media as something that is part of their daily job. They see the value and view social selling as part of the customer experience. Their social media profiles are as important as their phones. Successful social sellers get enough support from their company to share content and to get the right training. Support from their company is considered a requirement for modern sellers. Leading modern sellers expect companies to be up to date with new platforms and innovations.

Q: What is the role of content in social selling. What is your perspective on sharing a balance of brand, product and 3rd Party content? Why is 3rd Party content important?
Content is extremely important. Social Sellers educate and support their prospects. That's part of building relationships. Content is needed during the whole process. 3rd party content is critical. I like to use the 4-1-1 rule. Four times you share content that is about the market you are selling into and the industry you are active in (this should not be related to your brand). One time you share company content. And one time you share personal content to show you are a human and to make it easier for people to connect and engage with you. This is a guideline and should depend on the platform. Personal content makes more sense on Twitter, but on LinkedIn you should keep it more business and industry specific.
Content provides support and advice for your audience, positioning you as an expert. If prospects see you as an industry expert, they are more willing to consume your brand content.
Wendy's blog post: 4-1-1 rule to share the right content for Social Selling
Q: What is the best way to approach measuring social selling efforts?
This really depends on which department wants to measure social selling success. When you set up KPI's per department and you set goals that are specific for a target group of social sellers, it is easier to measure success.
In the early stages you need to assess where your company is in terms of the 4 stages of becoming a social seller. In the beginning you may want to measure how many have customer centric social media profiles. As an organization you could measure how many of your sales people are at each stage. This can show progress of people moving through each of the stages.
Sales and results focused measurement is important, however you need to measure adoption to start. LinkedIn SSI is an aspect, however I freak out when I hear that someone is just being measured on sharing the most content. This does not make you a social seller. You should not be rewarded or recognized for this behaviour alone. Volume of content is not the most critical, you need to consider quality of content, networks and engagement.
Wendy shared her insights on quantity vs. quality of your network. She takes a very thoughtful approach to building and managing her network as a community.
I do not see the value in connecting with 5000 people. You need to think more about quality and relevance in your network. If you have people in your network where the content is relevant. Then you are engaging and adding value to your network. If someone send me an invitation to connect on LinkedIn and they have not personalized the invite, I will respond back and ask them why they want to connect with me. I want to ensure what I share is relevant to them.
She created a great video on this topic: This is how you keep your followers

Q: There are lots of sales organizations that are trying to get started in social selling. Some are finding early success. However, there are not many organizations that have fully adopted social selling into their sales teams. How do you think organizations can truly integrate social selling into their sales teams daily practices?
I believe that companies need a strategy with social selling goals and KPI's. A detailed strategy and clear goals help to be successful. C-level executives need to buy in and support social selling.
Training is key for success and a lot of success stories need to be shared. It is not just giving people a Sales Navigator licence. Training people on Sales Navigator - we can all do that in an hour. That is not social selling. Sales needs to be trained on the why and how of social selling and it needs to be integrated into coaching and 1on1 meetings with managers. Engaging and getting buy-in from sales managers is important to achieve ongoing success.
Ultimately every employee has a role to play in representing the company on social. Training should extend beyond sales.

Q: What do you think is the biggest barriers to change that organizations are facing adopting social selling?
A lot of companies don't have dedicated social selling managers. They think social selling can be done as part of somebody's job. But managing social selling is a full time job and needs a senior manager. The social selling manager can get executive buy-in, develop strategy, set goals and build an annual plan including onboarding, training, adoption, measurement and communicating progress and success stories. They also are needed to develop and execute content and training strategies.
Many of the people making decisions don't know what social selling really means - so they don't know what it takes to invest in a program. In the future I expect c-level executives will be educated and influenced by a new wave of sales who expect social selling capabilities and enablement.
It is our role to spread the message on why social selling is important and what it takes to be successful. As early adopters we need to share our experience and knowledge - educate up.
Q: What is your favourite social media platform or network and why?
I spend most of my time on LinkedIn, Twitter and Instagram. LinkedIn is great to connect with people. Twitter is a great place to find good content. Instagram is very visual which I really like. I use these channels to promote my content and to build relationships with new people.
All of these platforms can work well together. Twitter is more easy going and you can get to know people. With LinkedIn you can take it to the next level and have more in depth conversations.
We are seeing more and more live video. I recently used live video at an event to give people an idea of what was going on. There was a significant engagement. With live video it doesn't need to be perfect, it just needs to be real.
**************

Thank you Wendy for your time and sharing your knowledge and insights. What a pleasure to speak to someone who is such an expert, deeply thoughtful and passionate about social media and sales. Your committment to sharing your knowledge and experience will help us all move forward to develop as successful social sellers.