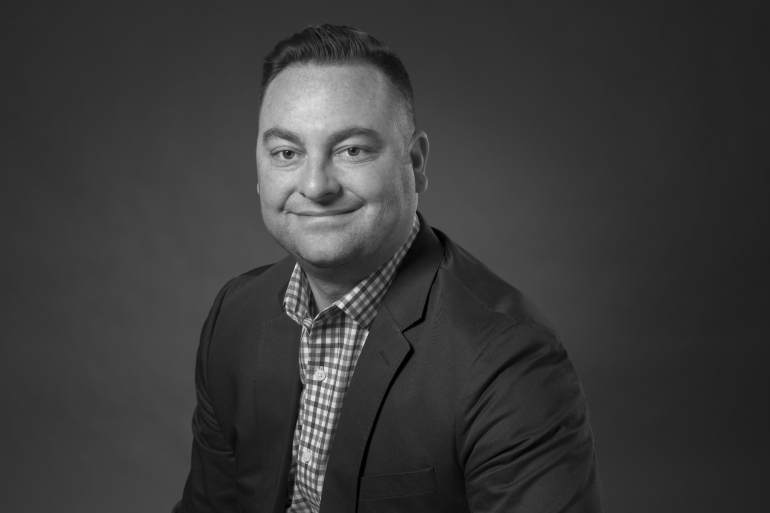 A dynamic and insightful conversation with Chris Hutson, Business Social Selling Strategist at Sprint. Chris shares practical guidance and insights from his experience in building, optimizing and scaling an enterprise social selling program at Sprint.
********************************************************
I recently had the opportunity to speak with Chris Hutson, Business Social Selling Strategist at Sprint. Chris is currently building a leading social selling program at Sprint. Chris shared practical insights and guidance on his experience, learning and what it takes to build a successful social selling program.
Here are the highlights of our conversation.
Chris's background: well positioned to lead social selling at a Sprint
Chris has been at Sprint for about 15 years. He has held a wide variety of roles ranging from retail operations, to program management to inside sales. He left Sprint for a period to build his sales experience at Clearwire and also built upon his social media expertise consulting on social media for a local craft brewer. Most recently Chris has focused on social selling and has now moved from the sales business unit to marketing. This wide range of experience has positioned Chris well to lead the social selling program at Sprint.
One thing that is clear is that Chris gets what it takes to build and scale a social selling program. He understands the importance of leadership engagement, change management, training and support. Because of his depth of experience and success in sales (he has been to President's Club multiple times) he has real credibility with the Sprint sales team.
I understand the sales role, I understand their goals, how they work and what drives their success. This gives me more credibility with sales reps when I talk to them about the value and role of social selling.
An emerging social selling program at Sprint.
Chris highlighted that their CEO Marcelo Claure, has always been active on social media, and since day one at Sprint has been championing social media as a way to listen and engage with customers.
When Marcelo joined Sprint, one of the first things he observed was that the sales team had very poor LinkedIn profiles. They were inconsistent and did not reflect the brand. It was hard to even identify people as Sprint sales professionals. He tasked the VP of Brand, Advertising and Social Media with getting this fixed.

This was the beginning of our social selling program. We decided to take a pilot approach so we could learn, capture best practices and successes in order to scale the program.

We identified a sales executive as a key leader to drive engagement and support the success of the program. 100 sales reps were chosen to be a part of a pilot program.
Chris worked with Sales for Life for the Sprint social selling pilot. Sales for Life provided training and social selling program expertise for the pilot. Overall it was a successful program, and they are working on scaling the the program across the organization. He shared his learnings and what it takes to build an enterprise social selling program.
On where should social selling be in the organization.
Social selling program management is really about sales enablement. But ultimately it needs to be where it has strategic focus and executive sponsorship. The social selling program manager role needs to be in a part of the business that believes in it and sees the value. For us at Sprint this is in marketing.

Most companies need to find the right place to champion, fund and sustain the program. For some it is sales ops or sales enablement. That didn't make sense for us at Sprint. Social selling needed the strategic thought and innovation from the marketing leadership at Sprint.
On training and support
This was not our usual training at Sprint on our products and services. It was modern sales training, professional development for the sales team to grow in their roles and their careers.

Our goal was to help the sales team understand the importance and value of building their social media presence and to effectively use social to help them sell. They needed to stop cold calling and door knocking and build their personal brand online, position themselves as subject matter experts and trusted advisors. Training is the important foundation to help change behaviour. You do not want to give a 16 year old a Ferrari who doesn't know how to drive.
Chris emphasized that once training was complete, ongoing coach and support were key to drive adoption and the mindset change needed for long term success.
You ultimately need to break old school sales mentality. If forecast and funnel are down you often focus on more calls and booking more appointments. This puts you back in the cold calling, door knocking approach, not the more effective and efficient social selling space. It is muscle memory thing. You need to focus on developing social selling as part of how you sell.

It is important to ensure social selling practices and behaviour change are enforced in team meetings and 1on1's. Sales leadership needs to embrace, support and lead the change.

Ongoing support and communication are also key. I have held multiple best practice reinforcement sessions, where we talked about social selling behaviours and best practices. If the team lost momentum, I would remind them 'remember when you were socially surrounding your buyer and getting more appointments. You said this was amazing, and now you have stopped.' This helped them think about the value and get back on track.
On measurement
Chris measured a number of factors to capture the adoption and success of Sprint's social selling pilot program. Initially it was about measuring training and adoption.
Training: 100 people participated in the training program and 90% completed the training and are now certified social sellers.

Adoption: The LinkedIn SSI score was used as an indicator that the pilot participants were adopting social selling best practices.
What the SSI score was capturing was the behaviour change. We saw an average increase of 40% in 10 weeks.

Chris also tracked the impact of social selling on business results. He was able to capture sales data directly attributable to social selling activities for the pilot participants.
One of Chris's key learnings was the importance of capturing opportunities coming from social in your CRM. Based on his sales experience, Chris knew this was important.
CRM data is what sales leadership focuses on, it is the book of record for tracking and reporting on sales opportunities. Incorporating social attribution in your CRM is an important way to give visibility to the impact and value of social selling. I knew this was important and I will definitely make sure we have a solution for social attribution as we scale our program.

Kim: I think what is key for others to know is that you need to be able to understand, attribute and communicate the impact of social selling activities on sales results.
On content
Chris and I discussed the important role of content in social selling.
Content is key to help position yourself as an expert and trusted advisor. A good sales rep will not just share information about the latest product offer. You need to find the right balance of content to nurture your buyers through the buying process.
Kim: Absolutely, by sharing the right balance relevant third party content you are able to help your buyers and position yourself as an expert. You are more relevant and valuable to your buyers. Sharing third party content, really earns you the opportunity to share your brand content. There are lots of guidelines 80% third party and 20% brand or 4-1-1. Ultimately it is about the right balance. Enabling sales with the right balance of content is key to feeding and fueling a social selling program.
Chris has a great perspective on content and optimizing your LinkedIn profile. Because of his experience and credibility he is able to be very direct with sales reps to help them understand what they need to be successful.
Ok guys, your Linkedin profile shows you are an amazing salesperson, and you have made President's Club 15 years in a row. But that is a turnoff for buyers who are looking for someone to educate them and help through the buying process. LinkedIn is not a resume, you need to shape your profile to show you are an expert and that you have provided value to customers.
Chris shared a great success story
One of the best anecdotal stories from the pilot was one of our sales reps that had been trying to get time with a prospect for 3 years. During the pilot she build her personal brand online and started sharing valuable content regularly. The buyer was influenced by what she was sharing on LinkedIn. He actually reached out to her and said I will give you that 45 minute meeting you have been trying to get if you can show me how your network is better and can meet my needs. She educated him and caught his attention through the content she was sharing.

This is now a thousand phone line opportunity in Salesforce because she was out there sharing the right content not just offers. It is not just about a deal on a bunch of iPhones. It is about how you can add value and solve the customer's business problems.
What is key to building a successful social selling program?
You need executive leadership who understands the value of social selling and a program manager with full support from the organization. Visibility and accountability at all levels, from executive leadership to sales reps, to the program manager, helps to drive buy-in, adoption and momentum for your social selling program
Chris shared that one of the keys to a building a successful social selling program is a dedicated program manager. However, it is not just about someone with program management skills and capabilities. A social selling program manager needs to have passion for the social selling opportunity, they need to have knowledge about sales, marketing and social media. They also need to have credibility and influence to be able to align and engage stakeholders at all levels of the organization. Chris certainly exhibits the right balance of experience, skills and influence to lead an enterprise social selling program. He really understands what it takes to drive organizational change and build a scalable program.
Executive leadership is key - Change is hard and change is especially hard in big business. We need radical change and we are getting there through our leadership and focus on innovation. Marcelo, our CEO is driving a culture where our people are more open to change which is key to where we are today and where we are trying to go.
What's next for your program?
We are looking to build off the learnings and success of our pilot and scale our social selling program at Sprint.

Beyond that, our next step is to take the true believers, the leaders in the program and support them to become thought leaders and key influencers for Sprint. I am looking at some of the branch managers, a couple of sales directors and some of our executives. We will help them develop their own voice and influence. They will be our brand influencers, an intersection of our social selling, employee advocacy and influencer strategy. This is part of our overall social business strategy, along with working to develop external influencers. Inside and outside influencers are an important part of both our B2B and B2C strategy.
What is your favourite social media platform or network and why?
For business, I like LinkedIn. LinkedIn is the golden standard for business, you have content, learning and networking all in one place.
Any final thoughts?
As I shared and cannot emphasize enough, a strong program manager is really what is needed to deliver results for a social selling program. They need to understand sales and having actual sales experience is ideal. The also need to understand marketing, have strong program management experience and have the ability to work with all levels of the organization. For a successful pilot and program you need someone who can wear all these hats. You cannot just hire someone who tweets all day. A program manager needs to understand the value of social selling and how to measure and communicate the value.

For us, at Sprint it was a successful pilot and that is why we are moving forward with phase two. Social selling is a critical component for B2B sales. Companies can no longer sit on the sideline in this space.

Thank you Chris for an engaging conversation. Your experience and insights are very valuable for sales and marketing leaders getting started in building their social selling programs.